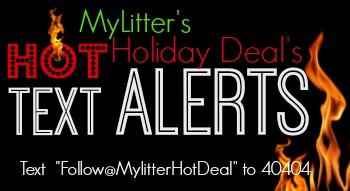 When you were asked if you wanted this feature, the answer was an astounding YES! So, here's how you can get hot holiday deal alerts via text from MyLitter!
Grab your cell phone (or other text messaging device)
Send a message to 40404 that says Follow @MyLitterHotDeal
You should quickly get a message back saying you are following tweets for @MyLitterHotDeal
*Don't freak out – you do not need to have a twitter account and this is not the main MyLitter account that is more active. This account is ONLY getting hot deals hand posted to it! However, if you are on Twitter and want to follow HERE, you can.
I promise not to overwhelm you with too many texts a day, the goal is random alerts through October, 2-3 per day at the beginning of November, and 5-6 as it gets busier and if things get really crazy maybe a few more. There's no scheduled time, these alerts will go out as great deals pop up.
*Standard text messaging rates may apply, check with your carrier. You can cancel the alerts at any time by replying "OFF" to any of the messages.
If texts aren't your thing, but Facebook is – Join the Christmas Deals 2014 Group for the best deals!