As a mom I know how important it is for your kids to be comfortable in water.
But when they are REALLY little they can make YOU uncomfortable in water (while you are building the giant biceps only moms have).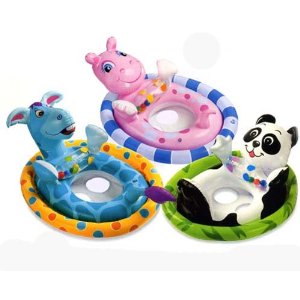 These Intex Inflatable See Me Sit Pool Ride (Assorted Styles, Color and Style may Vary) can be a big help with that.  Basically it's a bouncy seat for the pool.
  So your child still gets to kick around in the water and you get a break from holding them.
They are on sale right now for $11.17- 57% off the regular price.  They are eligible for FREE Super Saver Shipping and Prime.
The description says that it is for 2 – 5 year old but from the reviews I would say it's more 9 months to 3 years.
This could be a great tool for the pool this summer.
Thanks A Frugal Chick!