I asked on Facebook last night and you guys wanted me to tell my remodel disaster story. So here I am. It is a mess and we are still in the middle of it, it is not close to being over and I am actually embarrassed to tell anyone had bad I screwed this one up.
This was my living room before. Nothing wrong with it. Previously there was beautiful wood paneling that was painted over before we bought it, but since the railing on the stairs and the balcony just didn't look right to me. They looked awesome in pictures we have seen with all wood. But painted they have bugged me. I thought it would look much better with wrought iron. I priced it out and waited a while. I priced it out again and figured I had a few options.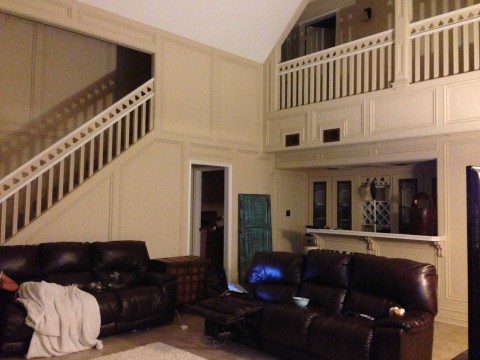 I could buy a kit from Home Depot, and have it look just like everyone else's in town. OR, I could buy the materials and have someone build me a "custom" banister that would really be awesome with all the cool old features of this house.
Pricing it out, I thought I would be about $300 more for the custom which over the 30 years we plan on living here seemed like it would be worth it.
I had 3 people/companies come and give me estimates. Well, they were supposed to anyway. No one EVER got back to me with the actual estimate! I called each of them back and reminded them, and still no estimate. I started to think something was wrong with me or my house. In talking to friends I am finding this is very common, it is difficult to get someone to actually get back to you. Weird. After a month of looking I finally placed an add on Craigslist asking for a welder with experience. Still crickets.
After a month and I had forgotten the ad, a man emailed me and asked if he could come give me an estimate. We talked on the phone and he seemed really motivated to work and was sending me some pictures over of work he had done.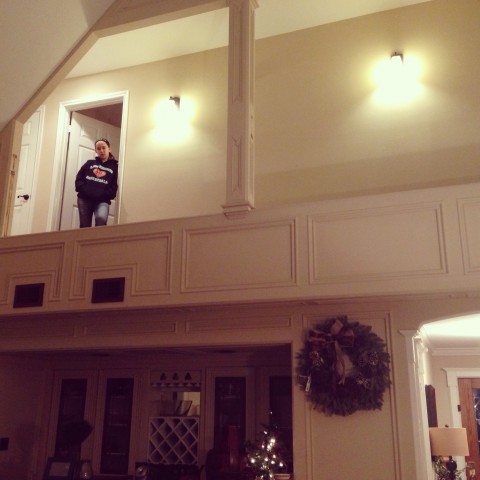 He came by and after a very lengthy conversation, he works another full time job but wanted to do this on the side for some extra Christmas money. He talked a good talk and we agreed to buy the material and he would start Saturday. When asked what he was charging, he said I need to make $200 a day, and it will take 2 days. I am figuring on $400 for labor and about $400 in supplies….
$800 in supplies later, and he doesn't show up on Saturday. Sunday he gets there with a friend and they announce they had to rent a welding machine which they want us to pay for. My husband is finally involved and was like, "um, don't bid a job if you don't have the tools" so they decide that they will pay for it. They rip out all the wood railings and get a few things welded and decide they are done for the day. Ummm, what am I supposed to do without railing and little kids???!!!! OMG! My husband rigs something up and they promise to be back next Saturday. My house is tore up and we make it clear we have a huge birthday party in 2 weeks and MUST have it be safe for all the kids coming over.
My husband getting the wood ready for the railing that doesn't exist.
Long, long, long story kinda short. He finally just doesn't show up because I think he was actually so embarrassed over the fact he had no idea what he was doing and had wasted so much material and time. He never showed up on time, everything was done sloppy, he didn't appear to have any welding skills, he seemed to be stoned (I am not joking) occasionally, he built the rail that goes up the stairs completely wrong to the point of not being able to save the material. All this and we had paid him $650 up to this point. Why? Because I guess we are stupid and fell for his sob story, after story, even my husband who isn't a softie felt like he was telling the truth. *oh and I have to have a birthday party here filmed for a commercial with no railing. Awesome.
* oh wait, AND this guy took all the leftover and messed up material and WON'T return it.
My husband determined to not let me screw this up even more hires someone to come fix it.
This guy has a company name this time, written on the side of his truck, actually writes us an estimate and is supposed to start in 2 days. We go and RE-BUY all the material again. This guy doesn't show up for a few days and gets working on it. His estimate was around $400 to build the rail going up the stairs. Should take him a day. Three days later and he goes to install it, IT DOES NOT FIT. He did the same stupid thing as the first guy and didn't build a frame first and all the pickets were off at the top.
Not only does the railing going up the stairs not fit, but the 2 sections at the top don't fit. See, I guess the welding gets so hot that it can warp the iron if you are not welding it on a jig. They were not. The entire sections are warped and can't be used unless you can bend iron, and they can't do it. MORE WASTED MATERIAL.
My husband is soooooo pissed, he tells this guy to go home. It is right before Christmas and we are just too tired to deal with it. Oh, and at this point, the second guy has been paid $600.
At this point we are out $2900 and have nothing to show for it.
Last week, the 2nd guy starts texting my husband again asking if we got it done or if he can try again. We are both just so sick of it, that I think we are getting used to the no rail on the stairs and the weird set up that we have keeping kids from falling out of the hallway, that we considered giving him another shot. Paul goes AND BUYS MATERIALS AGAIN. He has to, no matter who does it, we have to have the materials for them to do it. This is the THRID time.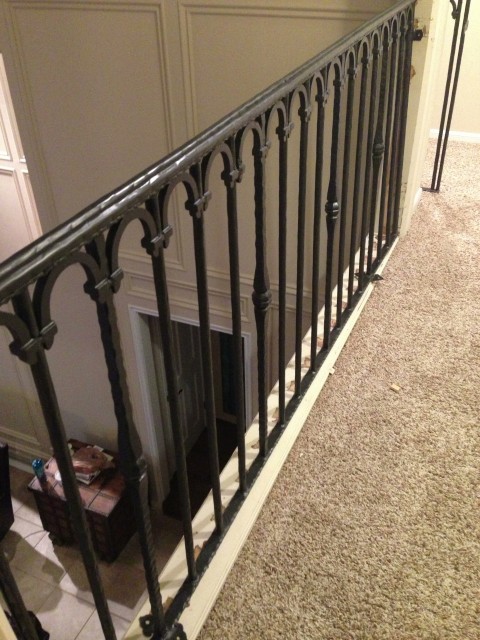 This piece is so warped it won't fit in the space.
The guy comes by, they talk for a couple hours about what to do. He leaves with some of the pieces and then starts texting back "when can he come by and pick up some money?" Umm, I am sorry, what? So far he has been paid $650, and we have nothing to show for it, and he wants more cash? His argument is that he can't work for free. Ours is that we have already paid him for the stairs and have nothing. It is not our fault he screwed it up the first time, he needs to make it right. We will absolutely pay him to fix the 2 top sections the other guy did… but pay him to do the stairs over again? Nope.
He kept arguing he wanted more money and so my husband just said goodbye.
In the mean time we have called 2 other places who are supposed to come out and give us estimates, but they have been a little flaky just on the phone. In a city this size why is it so hard to find someone who can weld and is competent?
I should have just left a perfectly good railing alone. I am out $3700 at this point and have nothing to show for it. I am so sick to my stomach when I look at it, that I am afraid I will never like anything that is there. I have always done all my own remodeling, from kitchens to bathrooms and have never messed anything up so badly. We have had to use money that was set aside for far more important things to try and fix this, I feel horrible.
Any advice?
P.S. I will say I had to leave so much of this story out as far as the guys we were dealing with or you would have never been able to read it! But I think you get the point of what we were dealing with and how I got into the mess.