We knew this was coming. Driving across the country this summer, we saw first hand the drought that was affecting much of the country. I told Paul that I was betting we could expect sky rocketing prices this fall. Sure enough I saw a report last week and another one again today.
Midwesterners are seeing the worst drought in 50 years. Eighty-eight percent of  U.S. farmland where corn is grown is now drought-stricken. Stunted feed corn and withered grasslands are forcing some ranchers to cull their herds.
"We're expecting another year of tough food prices, bad news for consumers," said USDA food economist Richard Volpe.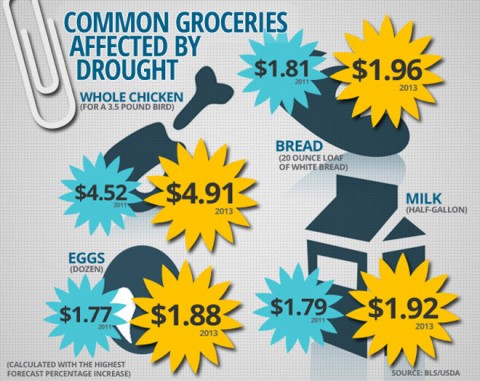 Last year we were told that peanut butter prices and a few other things were going to go up. Many brands have gone up 30% this year, as we can see at the store.
What can you do to prepare for this?
In my opinion these are the things you can do now: 
Start stocking up on the staples. Buy a few extra things each time you are in the store.
Learn to coupon.
Shop the generics and find the store brand items you like.
Learn to make meals at home with simple ingredients.
Have an emergency fund.
Learn how to save and stretch food.
Attend my frugal living class this fall 🙂
Get your family involved now.
When the price of food goes up, it seems that everything else does as well. Eating out will cost more, and assistance programs already struggling will be in real trouble.
You can be prepared and not hit as hard if you start paying attention and preparing now.
On Thursday's after we get the new ad on Wednesday's, if people are interested we can start making a list of things that are a extra good price and start stocking up on a few extra while you are already at the store. You don't want to stress yourself out financially by trying to do things all at once. If you do a little at a time, you might not even notice a difference.
What are your ideas to adjust to the higher prices of food that we will be seeing?