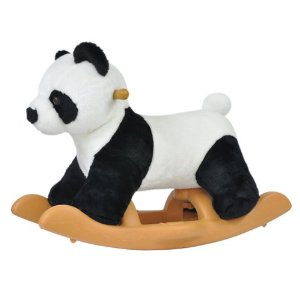 There is a DARLING little panda bear rocker that you can get on Amazon today for only $14.99. The regular price is $59, shipping will be $7.99, so $22 total. Thanks Family Friendly Frugality. 
There is a Tiger as well that is marked down.
Product Features
Rocking Tiger/Panda is pre-assembled
Has a soft plush body
Has a rocking range limiting stub for safe use
Supports up to 125 pounds
The handle allows for easy use when rocking
These are NOT as big as the Rock A By's that I have posted in the past. They are smaller, but good for a little child.
Go HERE to take a look.