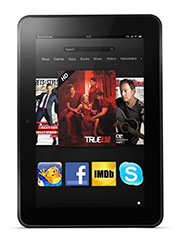 If you are looking for an AWESOME Valentines Day present OR just want a deal on a Kindle Fire…
Through February 8th, 2013, save $30 on Kindle Fire HD 8.9" or $50 on Kindle Fire HD 8.9″ 4G LTE. Enter promotional code FIRELOVE at checkout.
Kindle Fires are really nice to have, not only can you get all the free Kindle books, you can browse the internet, watch movies and get cool apps.
You will get 30 days free Amazon Prime and free Kindle Freetime, which is for kids to make sure they are looking at things they should be and to help you find age appropriate apps, movies and more!
Go HERE to take a look!