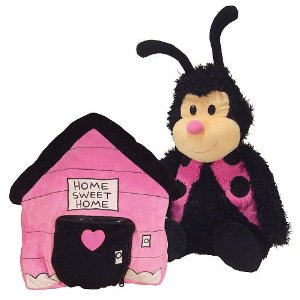 Amazon has these darling Happy Nappers today marked down quite a bit. I guess these are the "Pillow Pets" for this year! These will ship free with a $25 purchase.
From the Manufacturer
Happy Nappers "The Perfect Play Pillow" reverses from a house-shaped pillow into a cuddly friend and back again. Ring the house's doorbell to hear your Happy Napper's Sleepy sounds. Simply unzip the door of the house, pop out your Happy Napper, and then tuck the house away behind them. Cuddly companions for long trips of vacations. Happy Nappers "the perfect play pillow". A perfect carry case to keep all your birds in one place. Ring the Doorbell to hear your Happy Napper's Sleepy Sounds. 21″ in Size. Collect all of the Styles.
Happy Nappers Bear – $7.99
Happy Nappers Dragon – $9.53
Happy Nappers LadyBug – $9.88
Happy Nappers Unicorn – $12.95
Happy Nappers Dog – $13.30
Happy Nappers Penguin/Igloo – $14.93
Happy Nappers Cow – $14.98