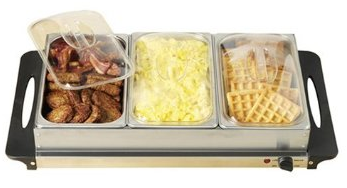 I told you how much I love my warming tray earlier today, and I wanted to point out this great deal, because I checked prices at Target and this is a lot cheaper.
Amazon has the Nostalgia Electrics 3 section Buffet and Warming Tray for $29 and it will ship free. They say the original price is $79.99 but I think it should be more in the $50 price rang. But this is still a great deal and you are saving $20.
3-section buffet and warming-tray unit with 3 variable heat controls
3, stainless, 2-1/2-quart chafing dishes hold 20 4-ounce servings each
Clear PC (polycarbonate) lids lift easily thanks to indentations on top
Stand-alone warming tray; 2 cool-touch handles; 4 non-skid feet; easy to clean
Measures 25-1/2 by 15 by 8 inches; 90-day limited warranty
I use mine about 5 times a year and am so glad to have it every time I pull it out! Last night we had a taco bar and I had the different meats warming all evening. I have used it for breakfast and Christmas brunch. I have had friends borrow it a few times, just handy to have!
Go HERE to take a look!