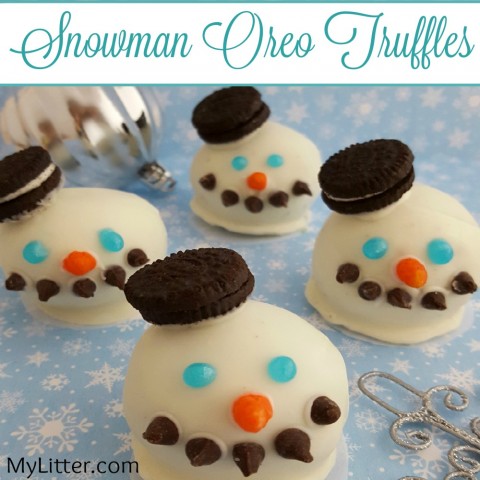 Everyone will absolutely adore this cute Snowman Oreo Truffles Recipe.  They are somewhere between a cake pop and a truffle, and sure to delight everyone who loves the classic cookies & cream flavors of the Oreo cookie.  With upcoming holiday parties and events to attend, this is a great choice that kids and adults will all enjoy eating!
Snowman Oreo Truffles Recipe
This recipe for Oreo cookie balls is simple to prepare.  The most difficult part comes when you are decorating them to look like a snowman.  I recommend setting these up on parchment paper and creating an assembly line method for decorating.  You can even get the kids involved to help you by having each person do one thing in the decorations.
Ingredients:
1 15.5 oz package Oreo Cookies
8 oz Cream Cheese, softened
Mini Oreo Bite Size Cookies (25-30)
16 oz. White Chocolate Chips or Almond Bark if preferred
Candy Corn (25-30 pieces)
16 oz. Mini chocolate chips
Blue gel icing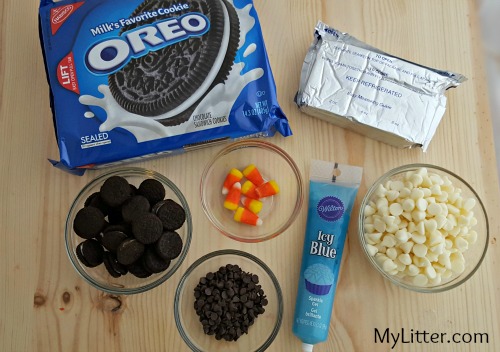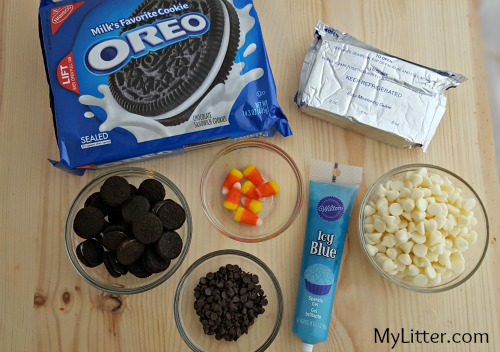 Your first real step in making these Oreo truffles is to grab your package of regular Oreo's and blend them until they are just crumbs.  You'll want your mini Oreo cookies for decorating, so don't include them in this step.  You can use a food processor or even a high powered blender like a Ninja if you prefer.  You just want the cookie crumbs to be fairly fine with minimal chunks.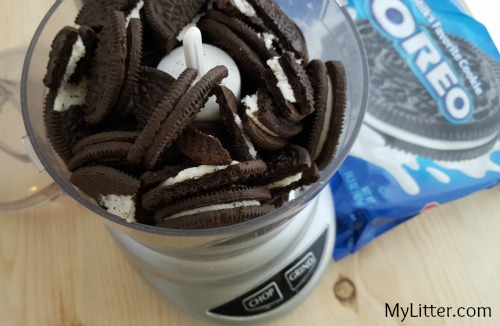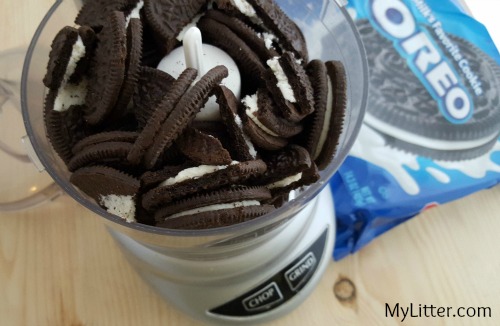 Next you'll want to combine those crumbs with your cream cheese.  We use a stand mixer, but you can also do this by hand or with a high powered hand mixer.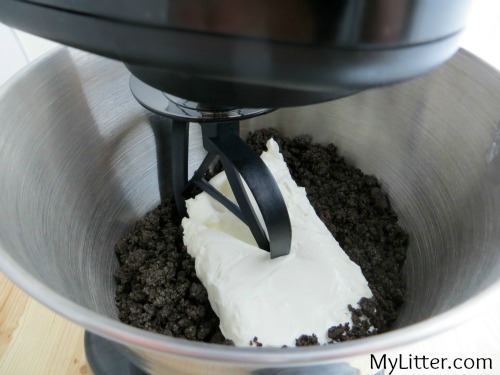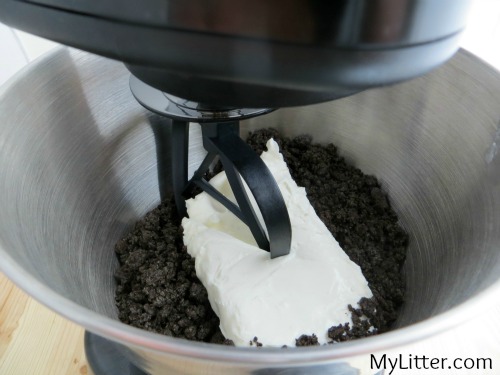 The fun part comes with rolling the Oreo truffles.  You want clean hands, and a parchment paper lined baking sheet handy. Roll the cookie mixture into 1-1 1/2″ balls.  Place on the parchment paper and then freeze your Oreo truffles for at least 30 minutes.  If you don't freeze them before dipping into the white chocolate, you will find they melt and it becomes a big gooey mess.  Delicious, but not what you are looking for.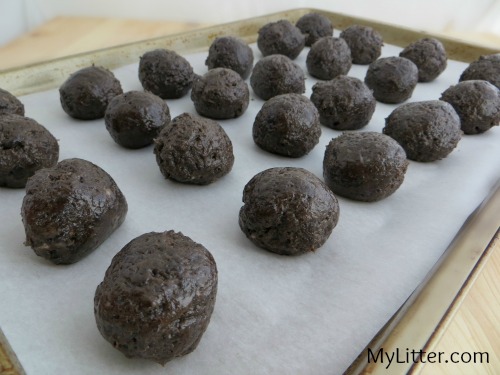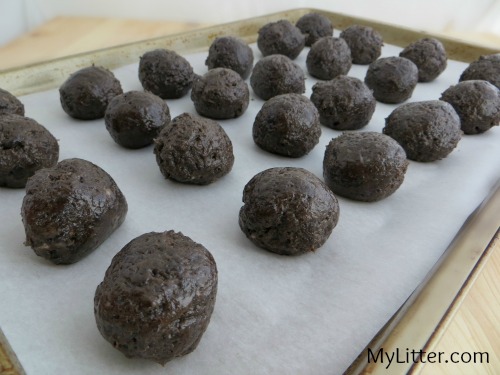 While your Oreo truffles are freezing, you can cut apart your candy corn to make noses.  You'll remove the white and yellow part of the candy, then roll the orange into a longer nose shape.  This is a fun project for the kids to help with.
Once they have frozen for a bit, you'll melt your chocolate and get ready to dip them.  You can do this by hand (the messy way), or use two forks to coat the truffles without making a mess.  You will drop an Oreo truffle into the melted chocolate, then use your forks to roll it gently making sure it is completely coated.  You'll lift the truffle out of the chocolate tapping off any excess and then gently use the fork to lift and place onto the parchment paper.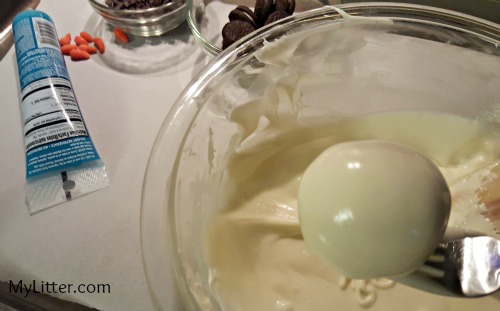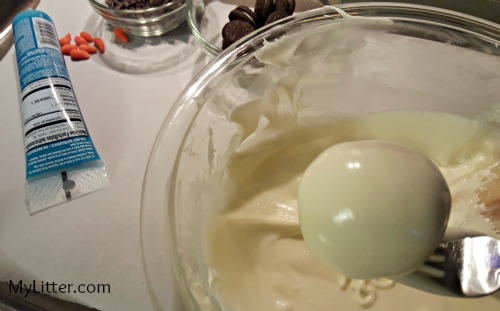 Once the truffles chocolate coating has set, you can start decorating.  You'll use a bit of the remaining melted white chocolate to help you with this process. You'll dip your mini Oreo cookies into the white chocolate just enough to get a bit on the bottom so they can then be added to the top of the truffle.  You'll then put a drop of melted white chocolate onto the mini chocolate chips to create a smile.  Add your candy corn nose with another drop of melted white chocolate.  The final step is to add two blue gel icing eyes.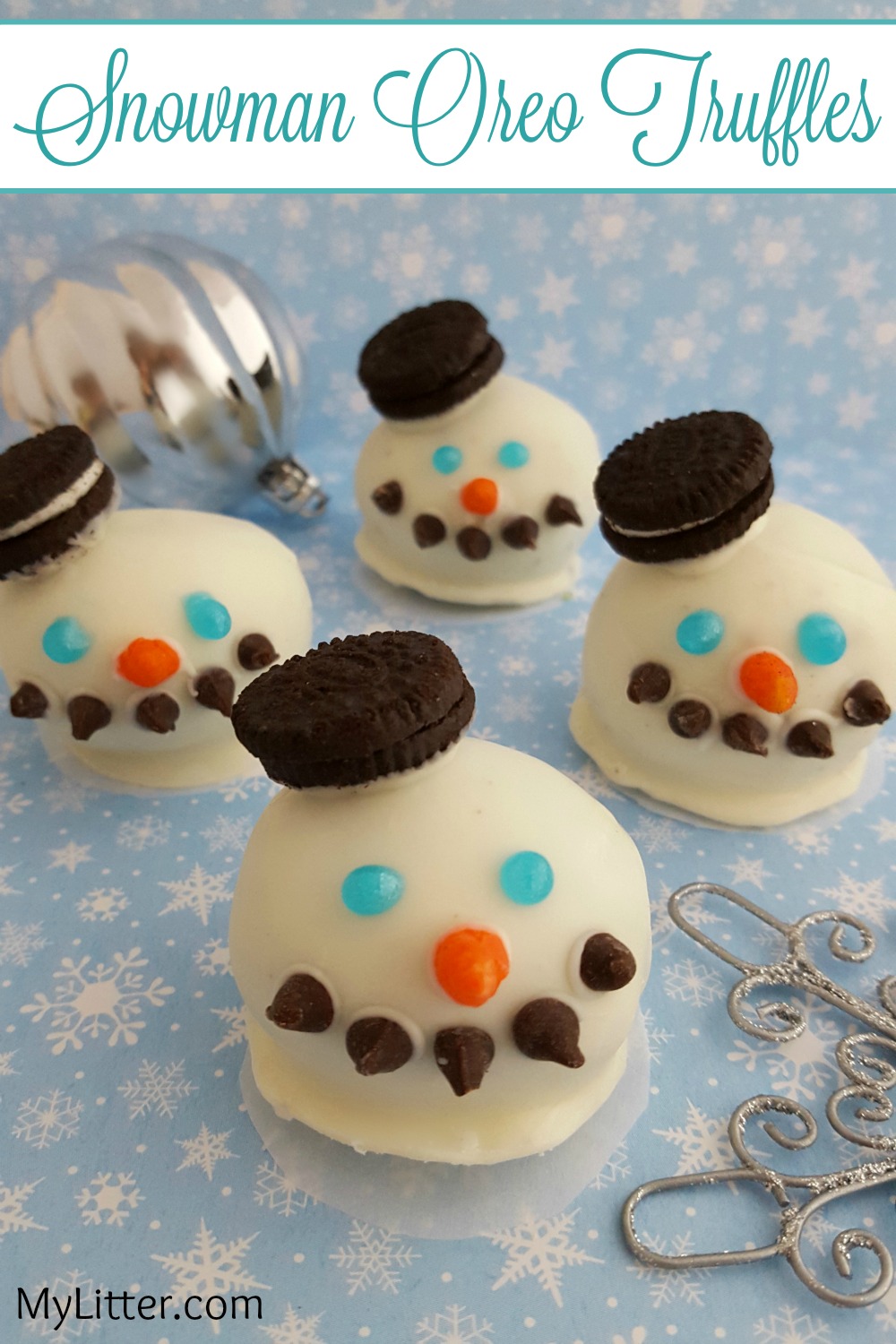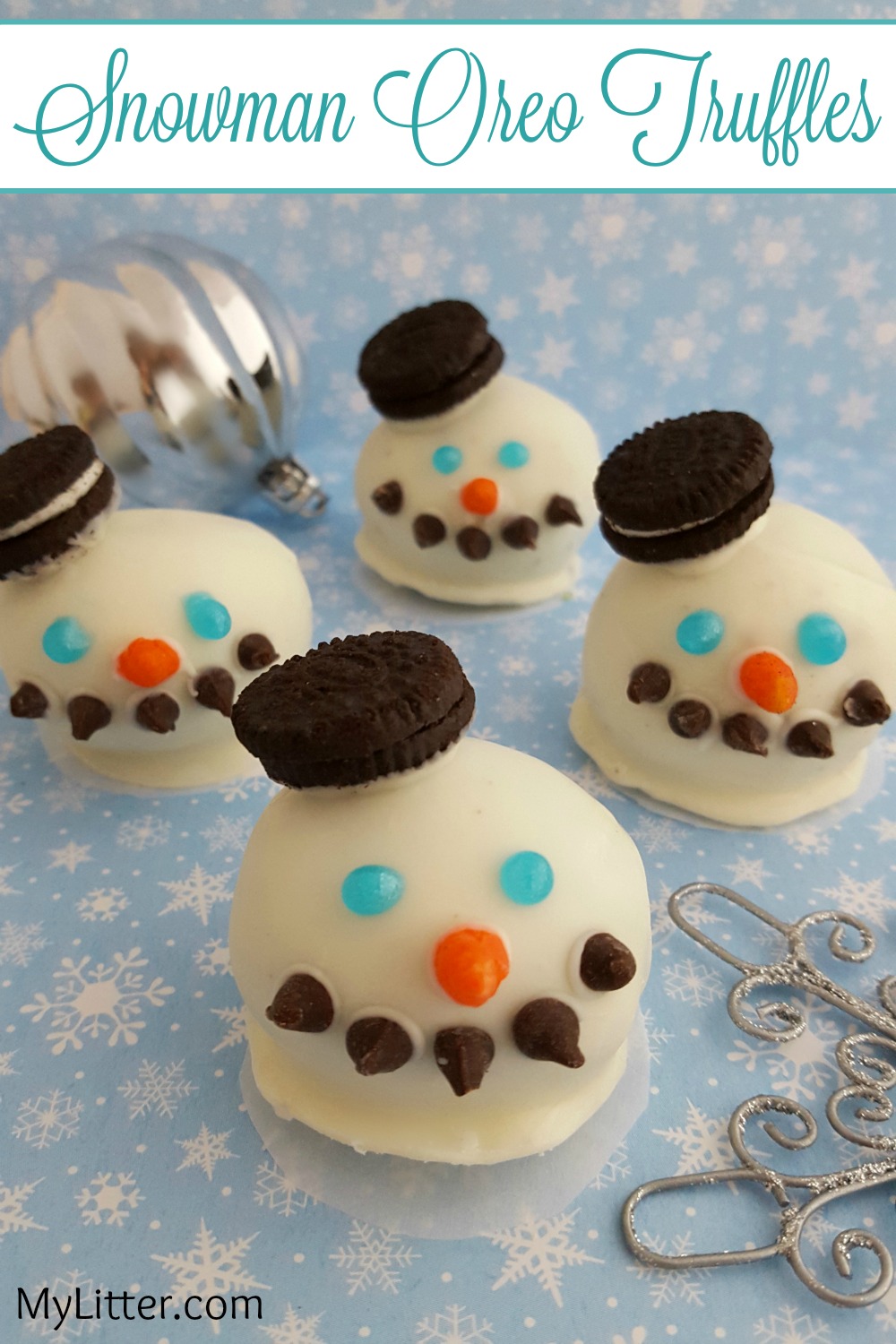 Snowman Oreo Truffles Recipe
Prep time:
Cook time:
Total time:
Ingredients
1 15.5 oz package Oreo Cookies
8 oz Cream Cheese, softened
Mini Oreo Bite Size Cookies (25-30)
16 oz. White Chocolate Chips or Almond Bark if preferred
Candy Corn (25-30 pieces)
16 oz. Mini chocolate chips
Blue gel icing
Instructions
Process the Oreos (entire cookie including filling) in a food processor or blender. Pulse until crumbs are formed.
Using a hand-held or stand mixer fitted with a paddle attachment, beat the Oreo crumbs and cream cheese until combined. The mixture will be thick and sticky.
Using your hands, roll into 30-35 balls. Place balls on a parchment paper lined baking sheet or a silicone mat-lined baking sheet. Freeze the truffles for at least 30 minutes. If they are not cold and solid, the melted chocolate will not coat the balls properly.
To make candy corn look like a carrot: cut off the yellow and white sections. Roll orange candy between two fingers, and pinch end to form a tip.
Melt the white chocolate in a bowl as directed on packaging. Working with one truffle at a time, completely coat the outside of each ball. To do this, simply drop a truffle into the chocolate, swirl it around with a fork and then pick it up using the fork's prongs. Tap the fork on the edge of the bowl to allow the excess coating to drip off, and place on lined baking sheet.
Dip the backs of mini Oreo cookies in the excess white chocolate and place on the top of each truffle for the snowman's hat. Use the blue gel icing to dot two eyes. Dip mini chocolate chips in white chocolate and add to each truffle to create a smile on the snowman.
Refrigerate the truffles for at least 10 minutes so the chocolate sets. Truffles must always be chilled and will stay fresh for up to 5 days in the refrigerator.
 These Snowman Oreo Truffles are a perfect choice for you and your family to make and share this holiday season.  You can add these to a tray of treats for your kids class party, or serve them in holiday tins as part of a homemade gift for friends, family, and neighbors.
Check out some other great Oreo treats and other delicious desserts we love below!
Oreo Cookie Cupcake Recipe (with cookies & cream frosting recipe!)
You may also enjoy: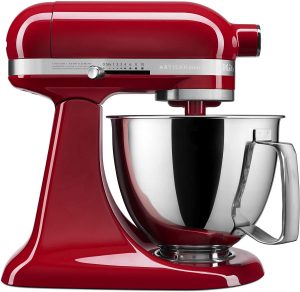 KitchenAid Artisan Mini Stand Mixers, 3.5 quarts, Empire Red
Turn your stand mixer into a culinary center with over 10 available attachments.

3.5 quart brushed stainless steel bowl to mix up to 5 dozen cookies, a loaf of bread and more

10 optimized speeds powerful enough for nearly any task or recipe

Soft start helps to avoid ingredient splash and flour puff by starting at a lower speed

Tilt-head design allows clear access to the bowl to easily add ingredients for a recipe.
AmazonBasics Silicone Baking Mat Sheet, Set of 2
2 non-stick silicone baking mats for easy and convenient baking

No need for oil, cooking sprays, or parchment paper

Oven-safe up to 480 degrees F

Fits half-sheet size pans; easy to clean

Each baking mat measures approximately 11.6×16.5 inches (LxW)
Rachael Ray Nonstick Bakeware Set
Baking pan set is made from durable steel that resists warping; long-lasting nonstick provides excellent food release and easy cleanup

9-Inch x 13-Inch Cookie Pan, 10-Inch x 15-Inch Cookie Pan, 11-Inch x 17-Inch Cookie Pan

Roasting pans feature long-lasting all-over nonstick for excellent food release and easy cleanup

Bold-colored, extra-wide grippy handles on the pans provide a confident grasp and are oven safe to 500 degrees F

A portion of the proceeds goes to Yum-o!(r), Rachael's nonprofit that helps kids and parents develop healthy relationships with food
Want more out of your Prime Membership?

*Remember that Amazon prices change frequently, and without notice. Please verify price before ordering.