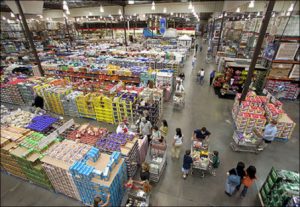 People ask all the time if I shop at Sams Club or Costco. The answer is…. sometimes. The first few kids we had we shopped at Sams club all the time. I always bought in bulk just like my Mom had with my large family growing up. But after I started couponing and paying attention the cost per ounce on items, I quickly found that I was paying less at the grocery stores with coupons. For 5 years we didn't have a membership. My parents still had theirs and occasionally I would tag along to see what I was missing, especially on Saturdays to get the samples. 🙂
These are the things that I buy personally at Sams Club because I think they are cheaper.
1. Gas. At our Sams Club here the gas is a good $.10 cheaper. This would be my #1 reason to have a card again.
2. Twin Mattresses. Weird I know, but in our experience we have gotten the best deals consistently at Sams on mattresses for our kids. If you figure a mattress and box spring for 7 kids we have bought a few! I always do my research and we always find the best deal at Sams Club. We paid $119 for a nice pillow top twin in June.
3. Honey. We use A LOT of honey around here. Price per ounce Sams has the best deal. Plus, there is not always coupons for honey and when there is, they are the more expensive brands.
4. Dinner Rolls. I buy the big bags of 25 for around $2.50. We use these all year long for school lunches. They are the perfect size for sandwiches for the kids. Probably not worth the membership alone, but I always grab a bag when we are in.
5. Tilapia Fillets. Price per pound I can't beat the price for the individually wrapped frozen tilapia fillets. We eat a lot of fish so I watch for it to go on sale, I can't beat the everyday price at Sams.
Do you shop at the warehouse stores? What do you buy?
Stay tuned for the 5 things I will NOT buy….