Hey! I am combining a HOT M&M deal and some really cute ideas on Pinterest today for our 31 days of Pinterest! First lets talk about the deal and then we can see what we can do with the M&M's!
If you have a Staples, you can order online a HUGE bag of M&M's and get one free! Thanks for the deal Hip!
This is what to do:
Go HERE and in the search type " 27 oz  M&M's" they are priced at just $9.99 AND buy 1 get 1 FREE (after the coupon code below), so you can snatch up 2 HUGE bags for the price of 1!
Use coupon code 95333 during checkout – which will deduct the cost of 1 bag.
Under delivery information, click on "Delivery to a Store Near You?" And then select a store near your home to score FREE site to store shipping!
Now, when you get all those M&M's what can you do with them?
Photo Credit
Just melt Hershey's kisses onto tiny twist pretzels
(place in oven at 275 for 3 minutes)
remove from oven and immediately press a
single M&M on top of melted chocolate
Refrigerate until time to eat as to make sure they are
deliciously solid. Enjoy!!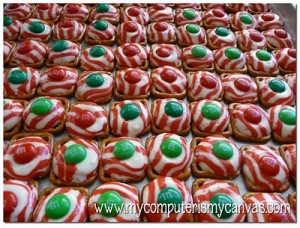 Photo Credit
These are darling for Christmas! There is also a REALLY cute poem that goes with it! If you haven't every heard of the M&M Nativity Legend… you are in for a real treat (literally)!  It's a very cute manger legend and you can get a printable sheet of them if you go HERE. I pinned this one HERE.