It's HERE! This is my favorite deal around! 140 free address return labels are here! 
The options are endless and you can use them for anything. With over 7,000 of designs to choose from, these labels are extremely versatile. You are sure to find a design that suits your style. Unsure where to start? Sort by style or theme or search for a specific color or image!
My girls design their own and use them for all their school supplies! You can also get started on your Christmas return labels! Make the really cute personalized caricature labels that are really expensive other places!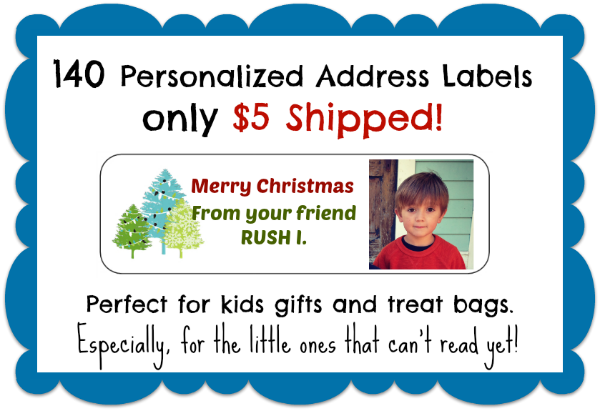 What I have used them for:
Return Christmas Labels
Teachers Gifts for Christmas
Labeling sports equipment
For my kids sippy cups
When people borrow books I put one in the front cover
Stocking stuffers for my kids ( with their names in them)
On Christmas cookies plates ( Made by the "Jones Family")
Create gift tags and stick the ends together to seal a twisted goodie bag or stick them on top of a gift or baked treat.
Use them as "property of" or "belongs to" labels for your children's school supplies.
Design your own jar labels for baking ingredients like flour and sugar for a spin on the classic chalkboard labels.
Send a couple their own personalized set with their names and new address after their wedding or move.
Upload your own design or pictures to wrap around toothpicks to create adorable cupcake flags for a special occasion.
To get these cute labels just click HERE and choose the free sample of Return Address Labels.
Click Get Started and under Browse Design by Industry select "Education and Childcare."
Then design the label with the message you wish to use.
Once you are satisfied, continue to check out.
Make sure not to add anything else to your cart.
Choose the cheapest shipping for 140 custom labels!
Let me know what you made your for! Go HERE to get started! * You MUST choose 14 day shipping to get free shipping
Meri on Facebook had a brilliant idea I wanted to share with you all! I just made 4 sets of 140 labels FREE for my kids for them to use for gift bags. Shipping is under $5.
Meri suggested uploading a picture of your child with a little message, because so many of the little kids can't read yet, but they can see their friends picture!!
These will be placed on my kids goody bags for their birthday, the presents they give, and on cards! That way their friends know who it is from!
Shipping is under $5 for PRIORITY shipping!
BRILLAINT!!!
P.S. if you want to order more then 1 set, all you have to do is click HERE and make a set. Check out. Come back and click HERE and do another. No extra email address needed!