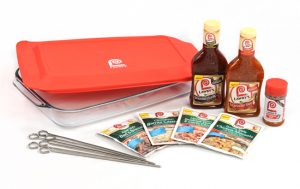 Lawry's newest marinades allow you to infuse your meals with exotic flavors without ever leaving your home. Inspired by the sun-drenched villages of Italy, the Tuscan Sun-Dried Tomato Marinade features extra virgin olive oil, sun-dried tomatoes, sweet red bell peppers and the perfect blend of herbs. The Szechuan Sweet & Sour BBQ Marinade gives meat a delicious sweet and sour flavor with a touch of Szechuan heat.
For more ways to put a fresh spin on your go-to grilling menu, check out these new pairings from the recently released McCormick® Flavor Forecast™ 2010: Grilling Edition:
Applewood & Plum – Juicy plums accent smoky applewood and add flair to all-American barbecue.
Cilantro & Lime – Cutting across the diverse cuisines, this bright and zingy pair is a refreshing taste of summertime.
Rosemary & Fig – Figs are an unexpected and regionally inspired match for aromatic rosemary.
Chipotle & Maple – This culinary comingling deliver a fresh take on smoky, spicy and sweet.
Brown Sugar & Bourbon – This duo brings a delicious dose of Southern charm to the patio.
Cinnamon & Coffee – Bold and confident – with just the right edge of bitterness.
Red Chili Sauce & Mango – The flavor of mango takes hot or sweet red chili sauce far beyond mere "condiment status."
Now for what you can win:
Thanks to Lawry's and My Blog Spark, I am able to give away a great prize pack to one lucky reader! The winner will receive a Lawry's "Get Grilling Kit" that includes Both of the new Lawry's marinades – Tuscan Sun-Dried Tomato and Szechuan Sweet & Sour BBQ – a set of skewers and a marinating dish.
How to Enter:
Leave a comment telling me what your flavor preference is (tart, spicy, sweet or savory)!
Bonus Entries:
Blog about this giveaway (Please leave a link to your post)
Grab my button and post it on your blog.
Follow my blog (or tell me you are a follower)
Spread the word about the giveaway using whichever social networking method you prefer (Facebook, Twitter, etc.) One comment per method used.