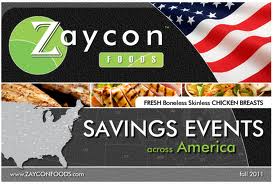 Zaycon is offering seafood! The locations are open all over the country, you can go HERE to see if there is a location for pick up in your area. You need to sign up and look under "account" and it will show you the closest locations!
Zaycon is a wholesale meat/seafood/fruit company that comes into certain locations every month with different products. This is who I get my chicken from! It is a great way to stock up at a cheaper price than the grocery store.
** Leave a comment if you are interested in splitting a case with someone! Make sure to leave an email address and your location so people can get in touch with you! 
Alaskan True Cod - ONLY $5.39/lb.
White 31/40 Shrimp (cooked) - ONLY $6.39/lb.
Tilapia - ONLY $2.99/lb.
Alaskan True Cod
Flash Frozen Fillets
20 lbs. per case
Caught in the cold waters of Alaska
White 31/40 Shrimp 
Flash Frozen and Fully Cooked
Comes in 5 – 2lb. bags per case.  (2 cases per order) Totally 20 pound purchase.
Farm Raised
Tilapia
Flash Frozen Fillets
Comes in a 20 pound case.
Farm raised
This round we are getting the Tilapia, it is a really good price and my kids eat it like chicken! You can see our favorite Tilapia recipe HERE.