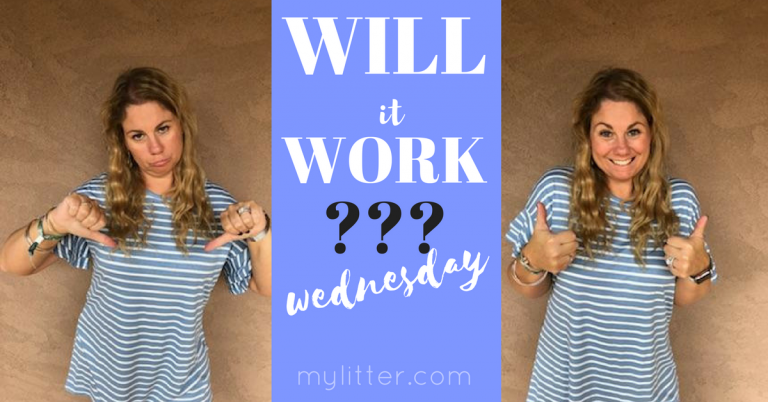 Each week on Will it Work Wednesday the MyLitter 'Try-It Team' is testing out a new product or lifehack to see if it really works!
This week Geri tested out Magnetic Eyelashes for longer fuller eyelashes that we've been seeing in viral videos

Here's how it went….
Magnetic eyelashes are all the rage right now and we wanted to know why? Are they really as awesome as everyone is saying? Are they easy to put on? Do they feel and look real? All of these questions were answered on the Facebook Live
I was lucky enough to try these Triple Magnetic Full Size False Eyelashes Extension Set. They look simple enough, you put one of the eyelashes over your natural eyelash and the matching set underneath. The 3 magnetic are going to "snap" together and BAM you have beautiful eyelashes quickly without the mess.
They aren't as easy as I thought they would be.  When I tried to apply them as 2 whole pieces the were "snapping" together too quickly to position them correctly. I took some advice and cut the bottom lashes (ones with the red dots) into 3 pieces (so that each piece had a magnet). That way I could work and position each section with some additional control. That did work better and I think that the more I do it, the easier it will be.
Something to think about: with magnetic lashes you have a strand on top of your natural lashes and the bottom. So if it looks full in the package, it will be twice as thick and full on your eyes. I didn't think of that when I ordered them and they do look fake. Next time, I would opt for a more natural look, like these lashes but I am very glad I choose a triple magnet lash vs the double. I had more security that they would stay on.
Our Verdict:
3 out of 5. I didn't like that the container came with no instructions or brand name on them. They do work but will take lots of practice.
They are sturdy and will stay on your eyes, provided you can get them attacked. 😉
These are very affordable, ranging from $4.99-$25
Check out all our Will it Work Wednesdays here!