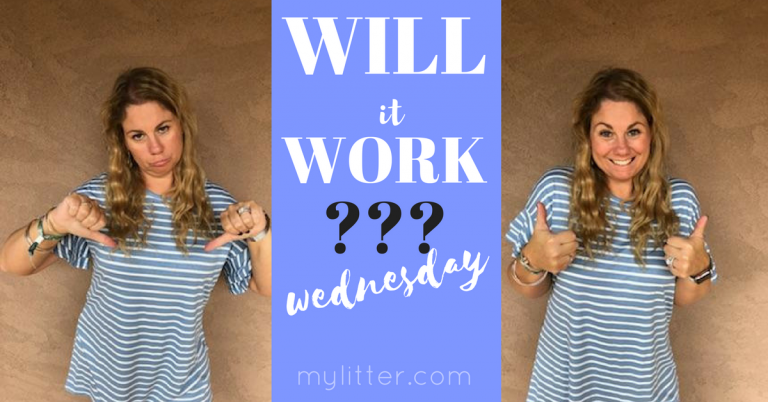 Each week on Will it Work Wednesday the MyLitter 'Try-It Team' is testing out a new product or lifehack to see if it really works!
This week Geri tested out Dollar Shave Club Starter Kit for a closer shave .

Here's how it went….
Dollar Shave Club is a popular monthly box that you customize to your shaving needs. Razors come straight to your house, no messing around at that store. Are they really all that and a bag of chips? Are they going to slice my leg up when I shave with them? All of these questions were answered and more.
Today, I tried the Dollar Shave Club Starter Kit live on Facebook in front of everyone, to find out those answers. It looks easy enough. This razor is the 6 blade Executive razor.
Dollar Shave Club isn't just for the boys, girls can use them too. I show you, by demonstrating live how the Shave Butter and Executive Razor works on my leg as a guinea pig. I have never used a shave butter so that was interesting. It is similar to a lotion and not a shave "cream" but it worked beautifully. The razor was nice and glided along my legs grabbing only the unwanted hair. Thanks goodness!
I purchased the Starter Kit which comes with the Executive Razor handle, 4 refills, Dr. Carver's Easy Shave Butter, Wanderer Amber Lavender Body Cleanser, 3- One Wipe Charlies for only $5. Next month, a refill set of razor refills will come for the low price of $9. I can change the time between refills and cancel anytime. I love that I am in control and the settings are not difficult to change.
Our Verdict:
5 out of 5. I like that they come straight to my door and it only took a few days
It is a strong and sturdy razor
These are very affordable, ranging from $5-9
Check out all our Will it Work Wednesdays here!