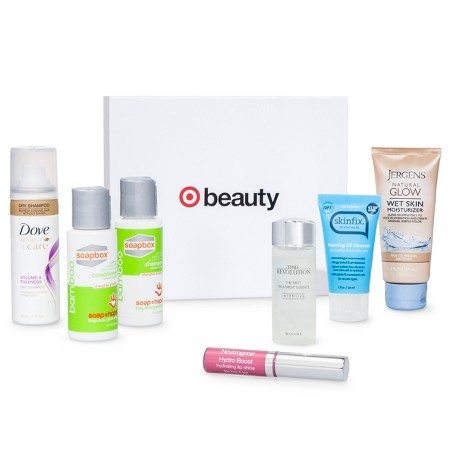 The March 2017 Beauty Box is available on Target.com!  Right now you can grab it for only $7!  In order for more of our guests to enjoy the Beauty Box, there will be a purchase limit of 1 box per order.
Here is what's included:
MISSHA Time Revolution First Treatment Essence
Made with 80% fermented yeast extract to hydrate, restore and reduce the appearance of fine lines.
SoapBox Bamboo Shampoo & Conditioner
Bamboo strengthens and fortifies hair while helping retain moisture for ultra-lush, healthy looking locks.
Jergens Natural Glow Wet Skin Moisturizer
Instantly locks in moisture and gradually builds natural-looking color with each use. Apply to damp skin.
Dove Volume & Fullness Dry Shampoo
Add oomph to day-two 'dos. Weightless formula instantly absorbs oil to clean, revive and volumize hair.
Neutrogena Hydro Boost Lip Shine
Hydration-infused lip gloss moisturizes and plumps with hyaluronic acid for healthy, young-looking lips.
Skinfix Foaming Oil Cleanser
Mild coconut-based cleanser nourishes skin and replenishes depleted lipids to restore skin's delicate barrier.
Do you want to know How to Roll Gift Card Deals at Target? Or maybe you want to learn How Target Cartwheel Coupons Work?