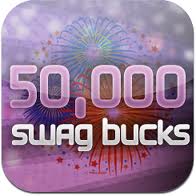 Friday is Mega Swagbucks day, that means that you should get more bucks today doing searches. Some of you have been looking for ways to get more Swagbucks and so I wanted to take a few Fridays to point out some of the ways that I use to find my Swagbucks.
*** If you are NEW get an extra 100 bucks when you use the sign up code HOLIDAYSWAG ,  you must enter code during the signup process and it is good until 12/31.
In Jan I will post officially how much I spent on Christmas this year, as soon as I have a second to go through all of it! But a majority of it was from Amazon and I used Swagbucks!
1. Play Swagbucks Games – Over HERE you can see what games they have that you can play, I don't like playing games on the computer, but I get my kids to do it!
2. Swagbucks Fabebook – Follow Swagbucks on Facebook! There is so much information on here and great ideas of what works to get more bucks!
3. Swagbucks on Twitter – Follow them on Twitter! I am not a Twitter user… but I know that many of you are. You will get exclusive codes and there are weekly winners of 100 Swagbucks.
Go HERE to signup!
Go HERE to see last weeks 3 tips!