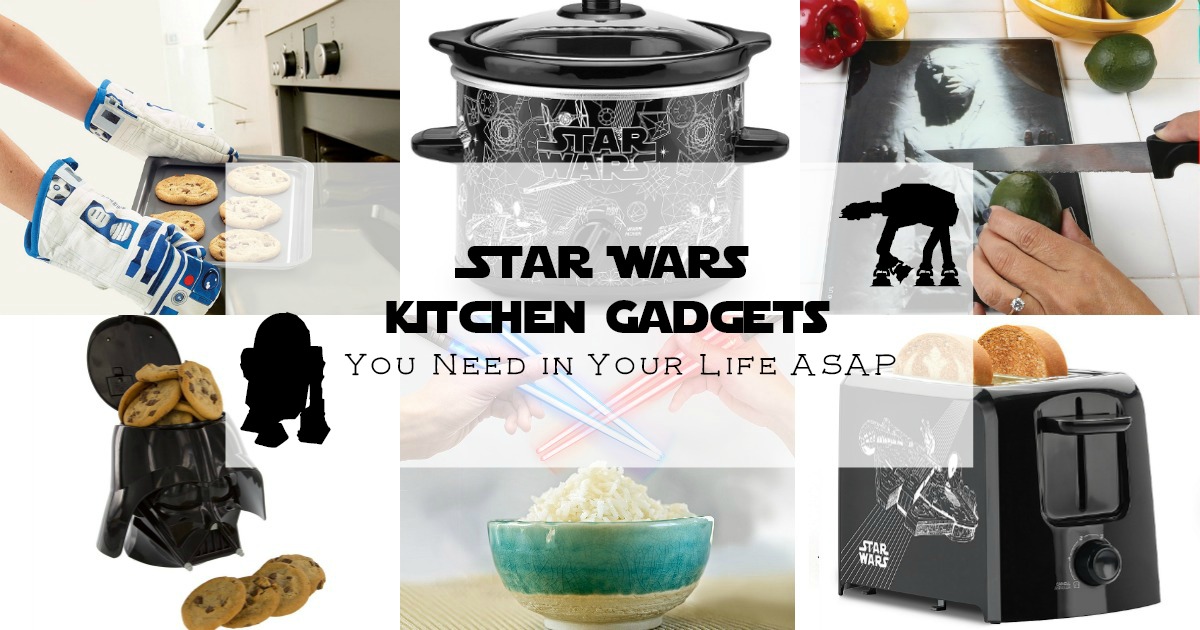 Whether you're pulling for the Jedi side or the Sith side you kinda need some of these kitchen gadgets to show every single person who ever comes over how much you really love Star Wars. We're going to be honest though, some of these items are amazingly over the top but nonetheless epic, meaning you still need to buy them no matter how ridiculous they may seem.
There are STILL Star Wars Movies coming out in theaters (like the Solo: A Star Wars Story coming out in May 2018) and there's even more to be announced. So all you die-hard fans have got plenty to cheer about in between movies by just cooking your next meal with your favorite Star Wars kitchen gadgets.
This Star Wars Slow Cooker is likely going to be the most "tame" and ordinary Star Wars items on this entire list but it gets the point across that you like Star Wars and it's a thing. This slow cooker is one of the smallest sizes they make so don't go trying to Jedi mind trick a huge meal into this tiny little fellow.
So we're totally going to scare the crap out of people with this Star Wars Kitchen Timer that emits a green laser and makes laser pew pew sounds when the time is up. This timer does require batteries to become one with the universe and can time up to 60 minutes. Just don't aim this bad boy at your eyes when the timer goes off.
For those drawn to the dark side, you can own this Star Wars Pizza Cutter that is made in the image of the very weapon Darth Vader wages wars with.  Apparently it also makes lightsaber sounds when it cuts (what force is this that tells it when it's actually being used??) and it does come with batteries so it's ready to lock and cut…lock and load?
Enjoy your breakfast young Padawan with this Star Wars 2 Slice Toaster. The design does take some well done toast to appear and depending on your bread it may get cut off if you use tiny pieces. Or if you like Yoda more, grab this Yoda Face Toaster.
Ok, even we have to admit these Lightsaber Chopsticks are over the top cool. Plus you get BOTH the red and blue set when you order. So if you're a house divided for the light and dark you can still share your favorite foods and even have a battle of sides in the process too.
Darth…you have my cookies! This "bad boy" can hold enough cookies to feed the dark side. Beware of this Dark Vader Cookie Jar as it also makes the well known Dark Vader breathing sounds, which we can't decide is super creepy or just cool.
Poor Han Solo, now you can cut your fruits and veggies on one of the most well known images in the Star Wars galaxy. This Han Solo Cutting Board is made of tempered glass so it's sure to last the test of time, much like Han Solo in carbonite.
These just might the droids you're looking for in these Star Wars R2-D2 Oven Mitt Set. These oven mitts have the complete R2-D2 look all the way around instead of repeating the design on each side. You could also hang these up as decor or….stay with me here, you and a friend can each put one on and have a droid war in arm wrestling mode.
Wait….wait….this exists? Not only does this depict the most amazing Star Wars Death Star but it's actually functionally. This Death Star contains a full set of Stacking Measuring Cups! We love that this set is contained inside the Death Star and hides away until needed. There's also a Jedi set with the R2-D2 Stacking Measuring Cups too.
Have a house divided between Jedis or Siths? Well now you can bake in a complete house with this Star Wars Rolling Pin. Does anyone else get the image of your grandma holding an old school rolling pin above their heads yelling at you when you see ANY rolling pin now? Just us? OK.
Whether you're just a starter in the kitchen or a seasoned pro, you're sure to hold any of these Star Wars Kitchen Memorabilia above your head and yell with all your might on at least one occasion "I have the Force" when you succeed on that next meal! These actually make the best gift ideas for just about EVERY holiday there is you can gift someone a present.