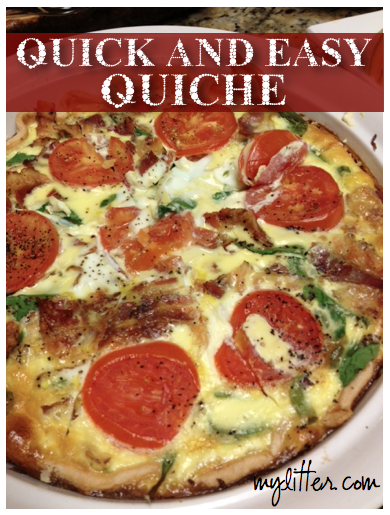 I make quiche a lot at my house. A LOT. Like, all the time. Because it is easy and fast and doesn' t cost much. Plus I figure there is a lot of protein and I can hide veggies in there as well. My kids love quiche!
I use a already made poll out pie crust. Nikki found some at Kroger this week for $.99, the Pillsbury kind. They freeze really well, so if you find them cheap, buy a bunch and toss them in the freezer.
Next there is not really a recipe, because  you can add WHATEVER you want! But the base is 2 cups whole milk or half & half and 6 beaten eggs.
I roll out the crust, put it in the oven for about 10 minutes. I don't cook the crust all the way, but just get it going. Then add what you want inside. Some popular combos are ham, bacon, spinach, swiss cheese, cheddar, mushrooms, anything you have on hand. I have even done a pepperoni and cheddar quiche before that was a hit.
This one above, I baked the crust for a few minutes pulled it out added a little swiss cheese, bacon, spinach, tomatoes and poured the milk and egg mixture over the top. I added a little cheese to the top again and bake it until the center is not jiggly and cooked all the way, maybe about 20 minutes!