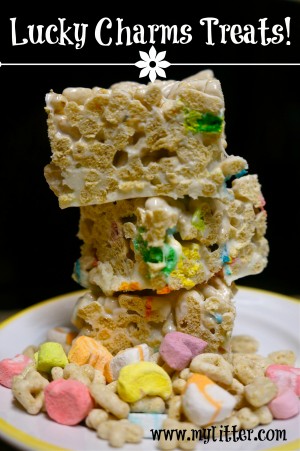 Continuing with my St. Patrick's theme with sweets this week, we made Luck Charms Treats the other day with the kids and they were good!
I might be a fan of plain old Rice Krispie Treats best, but the kids sure liked the fun little marshmallows!
You make these the same way you would regular treats just add Lucky Charms instead of Rice Krispies. Plus, there is a coupon you can use $0.50 off ONE BOX Lucky Charms cereal.
Lucky Charms Treats
Ingredients
3 tablespoons butter or margarine
1 package (10 oz., about 40) regular marshmallows
– OR –
4 cups miniature marshmallows
6 cups Lucky Charms cereal
1. In large saucepan melt butter over low heat. Add marshmallows and stir until completely melted. Remove from heat.
2. Add Lucky Charms cereal. Stir until well coated.
3. Using buttered spatula or wax paper evenly press mixture into 13 x 9 x 2-inch pan coated with cooking spray. Cool. Cut into 2-inch squares. Best if served the same day.