Every now and then, I make the kids Homemade Animal Cookies. They are supposed to be crackers, but I use sugar cookie dough and so they are REALLY INSANELY GOOD!
You can get crazy and ice them, then they look like these bad boys. But then you are 
adding more calories and since I plan on eating at least 100 of these, I am going to skip the frosting.
Now, the cost about evens out if you are buying or making your own. The problem is the time factor. I double the recipe and get about 200 of them out of it depending on how much dough we eat making them.
But have to be in the kitchen for a while. The bonus is that they are soooo much better and I get to spend time with the kids. This is a worth while project for me.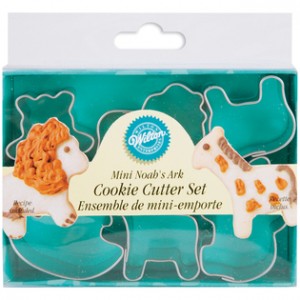 I use the Wilton Mini Noahs Ark cookie cutters they are the perfect size. Plus, you can get about 30 on a cookie sheet. After they are done baking and cooled. I store them in a Lock & Lock container with a piece of bread, that will keep them soft. I give them a few every for lunch every day and they eat them after school for snack.
Sour Cream Sugar Cookies for Animal Cookies!
Ingredients
1 1/2 cups white sugar
1 cup butter
1 teaspoon vanilla extract
2 eggs
1 cup sour cream
5 cups all-purpose flour
1/2 teaspoon salt
1 teaspoon baking powder
1 teaspoon baking soda
1 (8 ounce) package cream cheese
2 tablespoons evaporated milk
1 teaspoon vanilla extract
1/8 teaspoon salt
4 cups confectioners' sugar
 Directions
Cream together 1 1/2 cups white sugar, butter or margarine, 1 teaspoon vanilla, and eggs. Add sour cream.
Mix together 5 cups flour, 1/2 teaspoon salt, baking powder and baking soda. Gradually add to the egg-sugar mixture.
Cover and chill dough for 1 hour.
Preheat oven to 375 degrees F
Roll out on lightly floured surface to 1/4 inch thick. Cut out cookies. Bake on lightly greased cookie sheet for 10 – 12 minutes.
To Make Frosting: In small bowl, with mixer at medium speed, beat together the softened cream cheese and evaporated milk until smooth. Add 1 teaspoon vanilla, 1/8 teaspoon salt and confectioners' sugar. Beat until well blended. Color as desired and frost cooled cookies.
Pin It