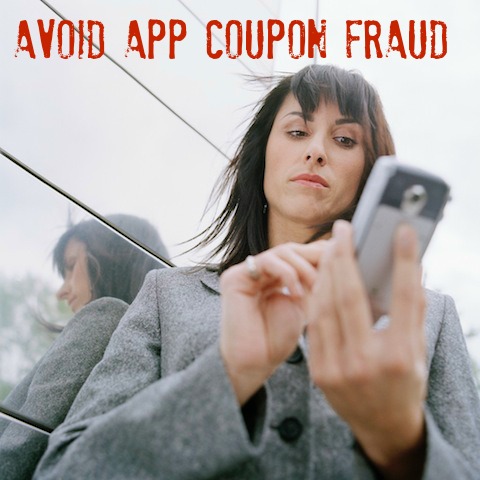 ::UPDATE AT BOTTOM!::
Ok so I HATE just hate to talk about coupon fraud and a specific way people are doing it because I don't want to give anyone any ideas. Yes, there are people out there like that. 🙁
BUT, there was an app featured this morning on a very large network and a few other places it has been  mentioned. the past few months a I am getting more and more emails about it. I felt like I should address it.
Remember how we have learned that if we actually know and understand the "life cycle" of a coupon, we know that the brands require a manufacturer coupon to be physically redeemed by the store in order for the store to get reimbursed.
PLUS we know that the brands only distribute a certain number of coupons to be used and on the coupons it says; coupons are void if copied, scanned, transferred, purchased, sold, prohibited by law, or appear altered in any way. 
Well there is an app that allows you to scan a coupon and upload it into their system to be accessed by ANYONE and scanned at the stores. WHOA! Anyone see a problem with this right away???
Using this app this woman STOLE $2,000 worth of merchandise from Kmart. SHE STOLE IT. Using this app and a coupon that was NOT for just anyone to use, and to use over and over again she made TONS of transactions with this coupon. She should be in JAIL. It is disgusting. Thanks Jill Cataldo for the link.
YOU CAN NOT REPEATEDLY USE A MANUFACTURER COUPON OR COPY A COUPON. 
I am sick of hearing about and seeing this, so I took to the apps Facebook page to ask how they are doing this? Shockingly the CEO started arguing with me and actually refused to answer a YES or NO question and skirted around the question. Really?
So I had to help him answer the question: 
Ted, since you refuse to actually answer the question and instead continue to give everyone the run around, I will help you answer it… YES, there are manufacturer coupons in the app, but you don't encourage or "support" the use of them. You try and remove them but you don't get them all, and people are still able to redeem them with an uneducated cashier thus committing coupon fraud and stores getting ripped off. Also, since Target coupons state; coupons are void if copied, scanned, transferred, purchased, sold, prohibited by law, or appear altered in any way. They do not accept coupons in this app but you are still letting people scan them and add them in. Again, promoting coupon fraud. You didn't think this app through, and launched it too soon without proper knowledge of how coupons actually work. Because of people like you, coupons are being limited and even done away with in many stores. The responsible thing to do would be to pull this app until you can figure out a way to control the coupon fraud that you are "supporting."
OH, and Ted? Do you not look at your own app?? There are manufacturer coupons all over it. PLUS clearly fake coupons that are posted. He says, "manufacturer coupons cannot be shared or redeemed through the app. Period." Again, it is like he does not use his own app. There is nothing stopping you from pulling them up and using them in a store. What I think is happening here is a little bit of "it depends on what your definition of 'IS,' is" They are going to skirt around the issue and not really answer the question.
Today I called and talked to Target Corporate and they said: "You can find our Target coupon policy here.  As is stated there, coupons are void if copied, scanned, transferred, purchased, sold, prohibited by law, or appear altered in any way. Therefore we do not accept coupons in this app."
But, regardless, this app continues to promote and push the use of fraudulent coupons on cell phones. They also tell you how to get around the Starbucks rewards program and teach you to bypass CVS's coupon policy. They also try in the Terms of Service to make sure you know that they are not responsible for any of the content on their app. I am not a lawyer, but if I was providing fraudulent coupons but telling people I am not responsible for how they use them, I can bet you I would be shut down.
Why do I care? Because when people are scamming the system and abusing coupons, it hurts ALL of us. There are less coupons, stores give you a hard time, the value of the coupons is less and on and on. If you coupon or like to use a coupon, even at a restaurant, this HURTS YOU!!!! Like those free panties at Victoria's Secret coupons you get? Well, they don't like this app either and I bet they stop sending those out 🙁
::UPDATE::
I wrote this post up and left for my daughters softball game Friday. At the game my cell phone rings and it was the CEO of Snip Snap. Creepy? Just a little. I would love to know how he got my CELL PHONE NUMBER weirdo. After a short conversation where I realized quickly that he was an amateur wannabe extreme couponer who says cliche things such as "well if it does't beep" and "the cashier let me" that there was no point in continuing the conversation as he clearly has no clue.
After the weekend I was hoping that Snip Snap had cleaned up their app. Apparently NOT.
We still have manufacturer Kroger catalina's that you can attempt to redeem. Wonder how Huggies feels about this!
Oh, and thousands of coupons where you can clearly read the fine print telling you that you CAN NOT reproduce, copy or distribute on the internet. Buy hey, rules are for the little people right?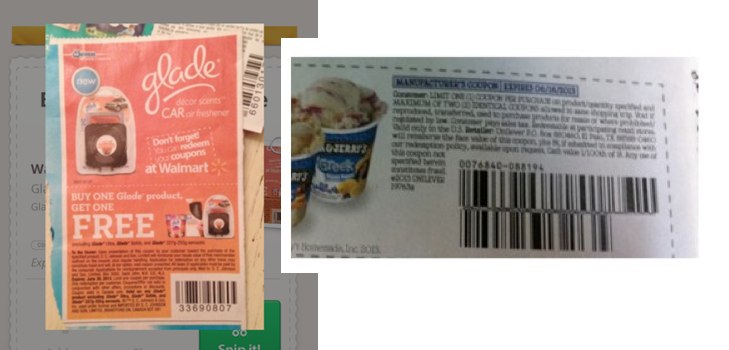 Oh and look! More manufacturer coupons! 🙁
Finally, I am sure Kroger had no intention of their FREE personalized coupons to be used more then once or twice or in some cases on Snip Snap, 4,000 times. I wonder how long it takes before Kroger stops sending out rewards coupons because of this idiot.
Oh and look, and apparently Ellen Harmer (her name is all over the Hallmark rewards) uploaded her Hallmark Rewards voucher for all the world to use. So sad.
Finally to close, on Jill's site today the CEO left this comment which sums up the kind of guy he is: "Is it in violation of its policy? I suppose. Does that mean you shouldn't do it? Not really."
What a guy! 🙁