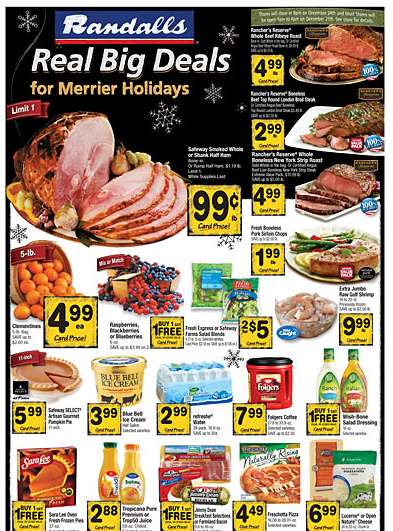 Here are the Randalls/Safeway weekly deals and coupon matchups for December 12th. Randalls is an affiliate store of Safeway. You can go HERE and check out the coupon policy, what coupons they take, where to get coupons and e-coupons to use at Randalls!
If you are looking for a deal on an iTunes gift card, you can head on over to yourRandalls/Safeway site and login to your Just 4 You account.
Under "Coupon Center" and "Special Offers" you will find a $15 off a $50 iTunes gift card purchase! PLUS, there is also a $10 off a $50 GAP card!
My personalized deals also had milk for cheap and avocados, so check that out as well!
::UPDATE::
From reader Lanie: I just wanted to give back by letting you know that if you purchase 2 of the multi-pack Itunes gift cards, you will also get $4.50 off each pack.. it stacks with the $15 electronic coupon.. Each pack has 3 cards of $10 each ($30 total), so if you buy 2 packs – it will be $60.. Then you get off the $9 ($4.50 x 2), plus the $15 E-coupon. So it makes $60 worth of Itunes cards – only $36 out of pocket. I did it yesterday. and I am going to try to sweeten it – and do it again..
Under personalized deals – mine had a $6 off $60 Ecoupon – I am going to try to do the deal again and see if the $6 comes as well (I have a few more items to buy in case the $9 EQ deduction interferes with the $6 off $60 EQ)..
::WEEKLY DEALS::

This post may contain affiliate links.