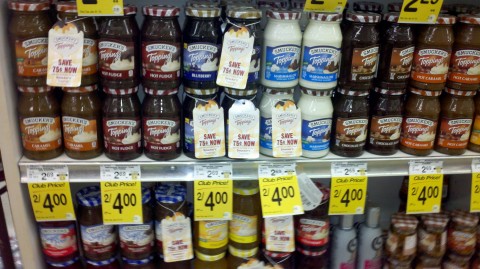 Here are some unadvertised deals you might be able to find in your Randalls or Safeway store. My store will double and triple coupons, so if I have a $.50 coupon or under, I save it for Randalls. Thanks FamilyFrugalFun!
You can see all the Randalls/Safeway weekly deals HERE.
Smuckers Ice Cream Toppings $2.00
Use $0.75 off any Smucker's Toppings product
Total: $1.25
Krusteaz Cookie Mix $1.89
Use the $1/1 coupon for Krusteaz here
Total: $.89!
L'Oreal Kids Shampoo on Clearance $1.69
Use the 75¢/1 coupon for L'Oreal from the 11/4
Total: $.94
McCormick Spices on sale buy 2 get 1 FREE  (Price good through Christmas)
Use the $1./2 or 50¢/1 McCormick Spices coupon from the 12/2 RP
AND STACK WITH the $2./1 McCormick's coupon in the Safeway Just for U coupon center (load to card limit 2)
Total:  Different spices vary in price but this should be an EXCELLENT deal!
Mars Holiday M&M's candies bag $3.50 (Price good through Christmas)
Use $1.00 off 2 MARS Holiday Bags
Total: $3.00 each!
This post may contain affiliate links.