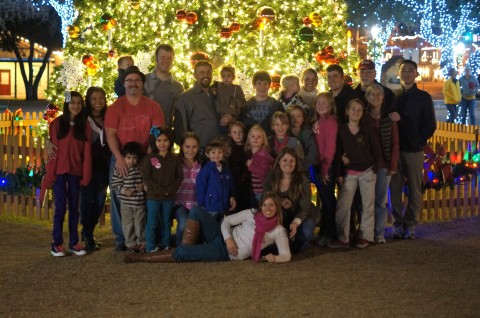 We got back from one of the best family trips we have ever had! It has become tradition to all meet in the Texas hill country for Christmas. I am the oldest of 6 kids and it is fun to have a chance to see everyone that can possibly make it, together in one place. My kids ADORE their aunts, uncles and cousins.
We met at the Hill Country Bungalow just outside Fredericksburg TX. Home to Enchanted Rock state park.
I had a new lens for my camera, a macro lens, and so I was learning how to use it. The center of town had the most beautiful Christmas Tree, and although it was dark I was able to get some good pictures of everyone.
This is my little sister Anna and her husband and son.
My brother Ben, and his beautiful wife and family were there. They have 5 girls who are EXACTLY the same ages as my 5 little ones. They are the best of friends.
This is us. Everyone is getting so big!
The kids had a HUGE game of Duck, Duck, Goose going. My Uncle Dan and his family met us there as well. He and my Mom are 2 of 15 kids in their family!
Look at that face. Try and say no to that!
My parents were here from Beijing China. Aren't they cute?
Back at the cabin, this is what pure happiness is… 2 girls getting exactly what they had asked for from Santa!
A little boy gets a bike, and a SIL gets the boots she has been asking for all year long!
And, thanks to Amazon this year, I went to about 3 actual stores to Christmas shop! That Brave horse was a BIG hit this year!
The cabin was beautiful. This red silo you see actually holds the hot tub. The large barn has a bunk house and upstairs a game room.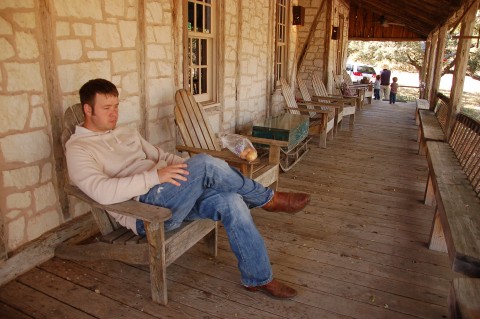 The main house is an authentic 1800′s cabin that was added onto. The little details and feeling is so quaint and comfortable. I LOVED this place.
The front porch was PERFECT!
P.S. I hate that I even have to say this…. Just my own opinions. No one gave us ANY kind of discount or anything like that! We paid full price! 
Each room was decorated with all 1800′s antiques. It was BEAUTIFUL!
My sister took pictures of my kids. I am not sure that I am really happy about that. They are so BIG! When did they grow up?? She does an amazing job.
Finally, these little kids all had so much fun, and got to spend time with their Grandparents, Uncles, Aunts, Cousins, and siblings and that is all they really wanted to do!
This post may contain affiliate links.