Yesterday really sucked. Today sucks just as bad. I am on the internet and connected to social media all day everyday. I try and avoid any story associated with something bad happening to a child, I don't handle it well at all and will let it affect me for days. Obviously, you can not ignore what happened yesterday, nor should you really. But personally, I don't want details, I don't need to hear that it is already bad enough.
As humans we don't need guns or knifes to hurt each other. We are unfortunately capable of doing it with words and actions as well. We have a problem as a society that these things are happening. I have a guess as to why, but those are my personal feelings, and I am sure that we all feel differently about a lot of things.
What can we do?
This week, we are going to focus on serving as a family. Personally, Paul and I have adopted a few families for Christmas and we are going to pour our hearts even more into it. We have talked to our older kids, a lot in the past 24 hours. We asked them to find some things that they can do to feel positive and make a difference. We told them to ask for help if they needed it. I need to stay busy. This doesn't mean forgetting what happened, but I will let it ruin the day for my family if I dwell on what has happened.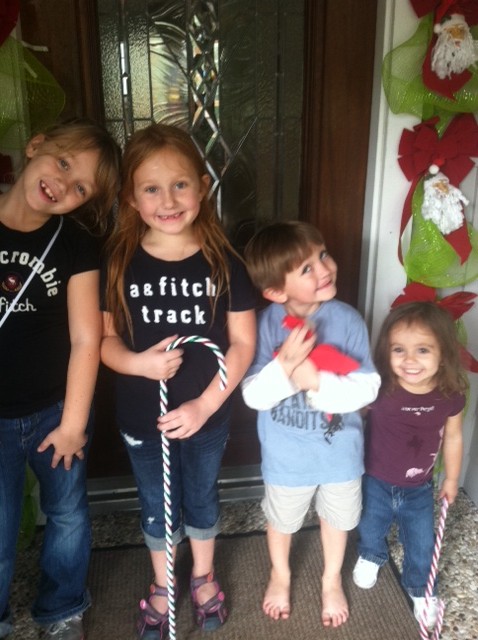 (Photo Credit – Paige Ivanovsky – 20 minutes ago!)
There is so much good in the world that goes unnoticed. Today I was blessed with seeing a series of 26 Moments that Restored our Faith in Humanity This Year 2012, I just sobbed all the way through. I silently added to the list the AMAZING things that I have personally been able to witness this year. Plus, I thought back to all the random acts of kindness that my family has been blessed with.
Five years ago in a Walmart parking lot a woman watched Paul and I load our kids in our car. She walked up to me and introduced herself, and handed me $20. She said, " I don't think you NEED this $20, I just want you to have it. Take your beautiful children out for ice cream on me. I have a very sick little granddaughter and your kids reminded me of her, she lives out of state." I cried and she cried and we hugged. There isn't a week that goes by in 5 years that I have not thought about her.
We have a good friend who every Christmas Eve dresses up as Santa and makes a drive by to some families they know. My kids HIGHLIGHT of Christmas Eve is hoping he comes by! He knows their names and hands them candy canes and reindeer food. I am sure his wife needs him home wrapping presents, he has little kids himself. But he does this as a service for other families. This might seem like a little thing, but it is such a blessing to others.
My husband is a great example to me of someone who gives and gives, not wanting anything in return. I bet more then 100 times he has purchased the groceries of someone in line in front of him, hoping to help them out some. He has bought gas for people at the pump who worried about paying for it. He has bought breakfast more then once for someone in military gear, or an older person alone. Paul once pulled our car over along a busy road, jumped out grabbed my stroller from the back, walked over and set it up for a woman struggling to carry a sleeping child and groceries as she was walking down the street.
This week we will remember all the times we have been blessed by our readers thoughtful emails and comments. By the notes home from our kids teachers telling us how good our kids had been that week. And all the other wonderful things that we see each day.
If you need something to keep you going today, I suggest taking a look at these 26 stories, and finding something you can do to make a difference in someones life, no matter small YOU think it might be.
This post may contain affiliate links.