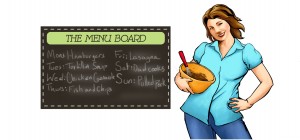 Who is tired of ham?! The kids are, but I am really not yet! This week is going to have to be cheap meals, for some reason I really killed my budget the last 2 weeks and need to make this week stretch.
I grabbed some leg quarters at HEB this week already seasoned, they were only $.99 a pound. The entire package was $3 and will feed everyone. My kids love it when chicken is roasted in the oven so that is what we are having tonight.
::UPDATE – Randalls/Safeway has the leg quarters for only $.59/lb until TUESDAY night! 
MONDAY – Seasoned Leg Quarters from HEB, only $.99 a /lb. 7UP biscuits and corn on the cob.
TUESDAY – Shepherds Pie - Easy and inexpensive this is a great budget dish as well as the fact that you probably have everything already! Serve this with a side salad and you have a meal for under about $8!
WEDNESDAY – Roasted Chicken – I am pulling a whole chicken out of the freezer today to make for Wednesday. I picked it up really cheap a few weeks ago for about $.49 a pound. If you have not roasted a chicken before it is SUPER EASY to do and really good when you are done! Plus, I often do a few at a time and pull the meat off to make for other meals. That is what I am doing with this one. I am sticking 2 in to cook. Go HERE for good directions on how to roast a chicken.
 THURSDAY – Easy Chicken Enchiladas – The chicken in this recipe I am getting from the roasted chicken I made the night before. In fact, I usually pull the chicken off that night and will probably make the enchiladas right then so it is ready for the next day. Have some salad or fruit and you have a meal. My kids love this recipe because it is a creamy white sauce and no red sauce chicken.
 FRIDAY – Slow Cooker Beef Ribs (Crock Pot) - Buy your beef ribs from Randalls/Safeway BEFORE Tuesday when the $1.99/lb sale ends! These are easy to toss in the crock pot (or oven) and do all day. Your house will smell AMAZING and your family will love you! Have some rice or another cheap side and you are set!
Slow Cooker Beef Ribs
Ingredients:
1/3 cup flour
1 teaspoon salt
1/4 teaspoon pepper
2 1/2 lbs boneless beef short ribs
1/4 cup butter
1 cup chopped onion
1 cup beef broth
3/4 cup red wine vinegar
3/4 cup brown sugar
1/4 cup chili sauce
2 tablespoons catsup
2 tablespoons Worcestershire sauce
2 tablespoons minced garlic
1 teaspoon chili powder
Directions:
Put flour, salt and pepper in a bag.

Add ribs and shake to coat.

Brown ribs in butter in a lg skillet.

Put in slow cooker.

In same skillet, combine remaining ingredients.

Bring to a boil, stirring.

Pour over ribs.

Cover and cook on low for 9 hours.

This post may contain affiliate links.