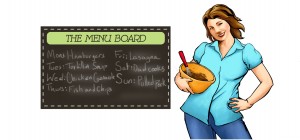 My house is trashed, how about yours? End of school kills me! However, I have been cooking up a storm in the last week and LOVING it!
This might be weird, but I really love to cook. I hate the mess, but I love to make food for my family. I love it when they all come in and are excited about dinner because they can smell it. I love that my oldest always wants his friends to eat over because "we have good food" which I think is his way of saying thank you. I just wish I had more time to cook a little more.
OK we have a TON of great options this week at all the stores!!
::KROGER::
Pork Loin Chops $1.99/lb
Ground Round $2.99/lb
Bratwurst $2.99
Kroger Boneless Skinless Chicken Breasts $1.99/lb.
Pork Country Style Ribs $2.79/lb
:: RANDALLS ::
Boneless Skinless Chicken Breasts $1.99/lb
Boneless Prok Top Loin Chops $2.99/lb
Pork Country Style Ribs $2.49/lb
Boneless Pork Loin $1.99/lb
Boneless Beef Tip Round Roast $2.99/lb
Safeway Chicken legs, drumsticks, thighs, $.99/lb
::HEB::
Center Cut Pork Loin $1.97/lb
Tyson Any'tizers – Save $2 Coupon
::THURSDAY:: – Honey Roasted Chicken Salad - These are on sale at HEB and this is the last day of school so things are crazy and this is easy and quick!
::FRIDAY:: Homemade Pizza – Never gets old for us! We always have homemade pizza on Friday's and it gives me a chance to clean out my fridge and make all kinds of pizzas depending on what leftovers I have!
::SATURDAY:: Man Pleasing Chicken - LOVE this recipe and I already made it earlier this week, but changed it up a bit, and so I will be posting that recipe in a day or so, but give this a try it is awesome!
Randalls and Kroger – Chicken breasts $1.99
::SUNDAY:: – Bacon Wrapped Chicken – This easy and yummy dish is really nice for Sunday! Make a salad and some rolls and you are good to go!
:: MONDAY:: – Chili Verde - This is a recipe from my sister in law Tonia, that is awesome! Plus make extra for the next day!
Chili Verde This is exactly how my mom gave it to me. I have never used a 3-5 lb pork, mine are usually between 1-3 pounds so I only use 1 onion and 1-2 cans of green chili's. I use about 2 tsp of garlic though and I usually skip the searing and make it in the crockpot. About 6 hours on high in a crockpot, or 2 1/2-3 hours in a roasting pan, or 1 hour in a pressure cooker.
3-5 lb boneless pork roast
1-3 yellow onions (chopped)
4 cans Ortega chopped green chili's
olive oil
1/4 tsp minced or chopped garlic
(more if you like garlic)
salt and pepper to taste
2 Tbs flour
3/4 cup water
Heat oil in roasting pan and sear meat. Pour 1/2 cup water in bottom of roasting pan. Place in roast, chopped onions, garlic, salt and pepper. Cover pan and bake at 350 degrees 2 hours or until internal temp. reaches 155 (or meat shreds easily with a fork). Let meat set 1/2 hour and then shred. Set aside.
Take 2 Tbs flour and mix with 1/4 cup water thoroughly (no lumps). Add water to drippings and cook over med heat to make gravy. If desired add more water, flour and (if needed) chicken bouillon for more gravy. Salt to taste. Add green chile's and shredded meat. Serve over rice.
My kids like it with soy sauce and rice. The next day we wrap it in burritos with cheese and sour cream. The burritos are excellent when fried in a pan on both sides, more sauce dumped on top and coated in cheese. (not healthy though). Enjoy!
::TUESDAY:: – Pork Tacos - Using the leftover pork from the day before I am going to make simple pulled pork tacos with cheese, tomatoes, sour cream, guac, and salsa. I might add a salad and some fruit.