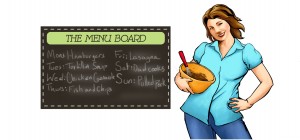 I am not in the mood for cooking this week and I am not sure why? I will be making it as easy as possible!
Here are some free printables if you need them:
Start with the protein part of your meal when you are planning a meal, because that is where you will be spending the most of your money!
::THURSDAY:: – Caesar Salad with Chicken – I posted our "recipe" that we make all the time, like every night almost! I am just going to add some chicken from a rotisserie chicken I bought last night.
::FRIDAY:: – Baked Pork Chops - A pork chop recipe that is quick and easy. You may have all the ingredients already in the house. Try serving over rice!
Kroger – Pork Chops $1.99
Randalls – Pork Chops $1.99
::Saturday:: – Taco Pasta – So easy and quick! It is our anniversary and so hopefully we will be eating out and this is what the kids can have!
Kroger – Groupon Chuck $2.99
::Sunday:: - Sweet and Sour Drumettes - This is a great chicken recipe using chicken drumettes. Note: you may double the sauce, if you have a lot of chicken pieces or like extra sauce.
::Monday:: – Tyson Chicken Tenders – I know already that we will be very busy this night and so I plan on throwing in the BOGO Tyson tenders, serve with a fruit and salad.