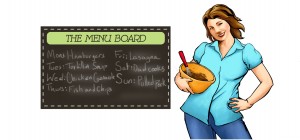 ::Last Day for these prices to your store:: 
*Heads up! I am going to be posting the weekly menu plan on Thursday's from now on. I have always posted them on Monday's just because it was the start of the week, but I do my personal one when the new ads come out. It just seems more natural and makes more sense that way. I hate giving you a plan with prices that expire in 2 days. Forgive me if I mess up your mojo by doing it on Thursday, but I am figuring it give you more time to shop as well.
* I will be going to Randalls/Safeway today because I am getting a bunch of the frozen food items to have as sides during the week. I am also using the $10 catalina I get to buy ground beef for another meal.
Here are some free printables if you need them:
OK, the kids are home this week and I had some help from the oldest girls in making a menu plan. The more you involve your kids the better they eat IMO. Let them have some ownership in the recipes you make!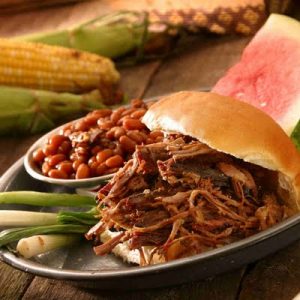 THURSDAY – Slow Cooker Root Beer Pulled Pork – Since HEB has the pork ribeye roast on sale for $1.97/lb I am picking up a few of these. You can make the ribeye roast in the crock pot, grill it, or bake it. I am going to stick mine in the crock pot today. I might even do 2 crock pots full so I have left over pulled pork.
Kroger: Buns $1 (if you want them on a bun, I like tortillas)
Recipe: Mix together 1 cup of BBQ sauce and a can of root beer. Pour the root beer mix over the pork roast in the slow cooker. Sprinkle garlic powder and smoked paprika over top. Turn on high for a few hours and then turn down on low.  After eight hours, if your roast has any bones, you will be able to just shred the meat off the bone and throw the bone away. Shred meat and if you have too much liquid you can pour off some. You don't want it dry, just not soggy!
FRIDAY – Quesadilla Pizzas! – Taking the left over pulled pork, and adding pepperoni for some, we are making quesadilla pizzas. These are really simple and you will take the same ingredients that you would make pizzas with and make quesadillas. I am making ours with the pulled pork from the night before and adding some black olives, Monterey jack cheese and red onion. The kids will want pepperoni, olives, and cojack cheese.
Kroger has Pase salsa ($2.50) and sour cream ($1.97) on sale, Kraft Cheese $2.50
Randalls: Armour pepperoni $2.50 ( I am getting this at the start of the week)
SATURDAY – Roasted Chicken – Super simple… If you have not tried this, become Martha Stewart and do it!! HEB has got whole natural chickens on sale this weekend for $1.97/lb. so I am picking up a few chickens. If you don't want to do a whole chicken get some boneless chicken breasts (they are not on sale this week anywhere) or pull some out of the freezer. Here is a good article on how to roast a chicken, but don't make it more complicated then it really is
I just salt and pepper and stick it in the oven. Now I am going to get my son to pull all the meat off for me. Saturday night we will have roasted chicken with a side salad and bread.
HEB: Whole NaturalChickens $1.97/lb
Randalls: Fresh Express Salad $2.50
SUNDAY – Chicken Poppyseed Casserole – This is one of my kids favorite casseroles, they are weird, they like casserole as you can see in the pictures! I also have them help me make it.
Kroger: Town House (you can use these and not Ritz if you want)  crackers $2.00, Sour Cream $1.98, Canned Cream of Chicken Soup
HEB: Broccoli Crowns$1.88
MONDAY – Frozen Food Night
- Randalls/Safeway stores have a deal going for frozen food month where you buy $30 of frozen food get $10 back, or buy $20 get $5 back. I am going to buy a few things and we are having them this night!
::Randalls::
Buy 1 Van De Kamp Seafood item get 1 free. I am buying 4 fish sticks at $3.99 each, 2 will be free.
3 Birdseye veggies get 1 free at $1.99 each.
Birdseye Viola meal $3.99 (after coupon $2.99)
2 Green Giant Frozen $2 ($1 after coupon)
2 Newmans Own Skillet Meals $6.99 ( $5.99 after coupon)
$0.50/1 Birds Eye Voila Product printable
$0.50/1 Green Giant Seasoned Steamers, exp. 4/6/13 (SS 02/10/13 R)
$0.60/3 Green Giant Frozen Boxed Vegetables, exp. 4/6/13 (SS 02/10/13 R)
$1.00 off ONE Newman's Own Complete Skillet Meal
Total: $30.90
Get Back $10 catalina
Now, with that $10 catalina I am quickly walking back and grabbing about $8 worth of ground beef and 2 packages of the Armour pepperoni at $2/5 and using this coupon $1/2 Armour Pepperoni printable and the $10 catalina. I will be maybe a $1 out of my pocket!
TUESDAY – Spaghetti – Kroger agan this week has the Ragu sauce and noodles deal. When you buy 3 jars of Ragu sauce for $5 you get 2 packages of noodles for free. I am going to add a little ground beef to it and a side salad and call it dinner!
Kroger: Buy 3 Ragu at Kroger, get 2 free boxes of noodles $5 total.
::My shopping list::
Kroger:
Buy 3 Ragu at Kroger, get 2 free boxes of noodles $5
Town House (you can use these and not Ritz if you want)  crackers $2.00
Sour Cream $1.98
Canned Cream of Chicken Soup 1 can
Kraft Cheese $2.50
Buns $1
HEB:  (probably price matching at Walmart)
Pork Ribeye Roast $1.97
Broccoli Crowns$1.88
Randalls/Safeway: 
4 Fresh Express Salad $2.50
Armour pepperoni $2.50
Buy 1 Van De Kamp Seafood item get 1 free. I am buying 4 fish sticks at $3.99 each, 2 will be free.
3 Birdseye veggies get 1 free at $1.99 each.
Birdseye Viola meal $3.99 (after coupon $2.99)
2 Green Giant Frozen $2 ($1 after coupon)
2 Newmans Own Skillet Meals $6.99 ( $5.99 after coupon)
Ground Beef
What I have at Home: 
BBQ Sauce
Salad dressing
Parmesan Cheese
Pin It