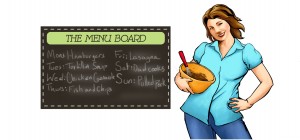 Are you recovering from the Superbowl? We are, and I made extra taco chicken yesterday so I could make chicken tortilla soup with the leftovers! Dinner, done for tonight!
The more I talk to people the more I am convinced that meal planning is probably the key for most families right now to save the most money. Maybe even more than couponing. When it comes down to it, the amount of money spent on food is the 2nd largest bill that we have next to your mortgage or lease. Obviously we need food to survive and much entertainment is centered around food, but we can all spend much less than we are.
Meal planning is KEY to saving money on food. Coupons come in a close 2nd. The more I plan my meals, the more I save. It isn't glamours, and I know it seems like a chore, but give it a try!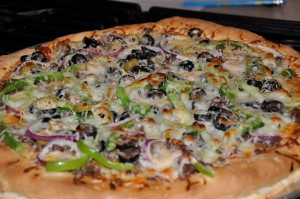 Monday – Chicken Tortilla Soup – I doubled my chicken taco meat yesterday in the croc pot so that I would have extra today. You can use this meat for chicken enchiladas, soup, casseroles and so much more.
Tuesday – Baked Ziti – Using my Italian Sausage that I got from Kroger this week on the mega event. $1.00 off ONE package Johnsonville Italian Sausage is the coupon I used. I will also double this and make 2 9×13 pans. I am going to freeze one pan so that I can pull it out this weekend and already have dinner made one night.
Wednesday – Tuna Casserole - My kids might be weird but they love tuna casserole. This is another very inexpensive meal to make and you can double the 9×13 and freeze one for another dinner. I bought tuna at the Kroger mega event $0.55 off 2 StarKist Single Serve Pouch Products for $.73. If you do not like tuna, use canned chicken in it's place! $1.00 off 2 HORMEL Chicken Breast products.
Thursday – Baked Potato Bar – From the Kroger mega event I am stocking up on Canned Chili and we will have that on the potatoes, with cheese, sour cream and green onions. $0.55 off 2 HORMEL Chili products coupon will get you a can for only $.73. This is a REALLY cheap meal!
Friday – Homemade Pizza -  It has been a while since we have had Pizza and so we are having some tonight! $1.00 off 2 HORMEL Pepperoni packages or $1.00 off two (2) packages of ARMOUR Pepperoni.
Pin It
This post may contain affiliate links.