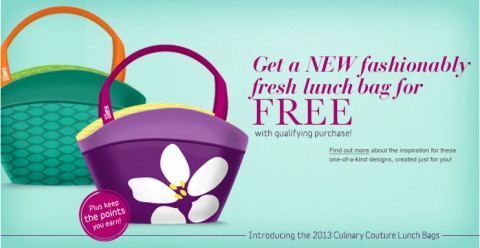 The FREE Lean Cuisine Lunch bag is back! You might remember this deal, as I have posted it a few times in the past years! Thanks Mission to Save.
Lean Cuisine will offer a free insulated lunch bag when you submit 20 codes from the Lean Cuisine packages.
Read and accept the Full Offer Details.
Collect and enter 20 NEW codes from inside LEAN CUISINE varieties (excluding LEAN CUISINE bagged products) from January 3—March 31, 2013.
Redeem the bag of your choice.
Keep the points you earn—they'll be added to your balance as you go.
There are a few deals out there right now in which you can get some Lean Cuisines cheap, the Kroger deal is posted below, and there is also a $5 Target gift card deal you can score!
::AT KROGER::
Lean Cuisine Entrée (5.2-12 oz) – $2.00
FREE EDY'S ICE CREAM (48 oz) OR SKINNY COW NOVELTY (4-12 ct wyb (6) Lean Cuisine Culinary Collection or Simple Favorites Entrées
::DEAL IDEA::
Buy (6) Lean Cuisine Simple Favorites Entrees
Buy (1) Edy's Ice Cream or Skinny Cow
Use B4G1 Lean Cuisine Simple Favorites Entrees printable
Final price= $1.67 each + FREE Ice Cream!
Plus Keep Lean Cuisine Codes for Free Lunch Bag Offer
This post may contain affiliate links.