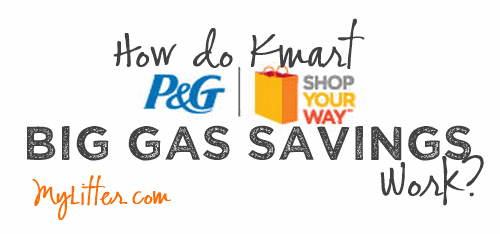 Let's start this one by saying, if you haven't seen the new videos that the marketing department at Kmart has come up with recently, you need to check out the Big Gas Savings video HERE. And on the same note, The School Bus is My Limo and Yo Momma are worth the watch too.
How Do Kmart Big Gas Savings Work?
Kmart is offering a $0.30 reward off gas when you spend $50 or more in many stores.
How do you earn?
First, check to make sure your local store participates, you should call ahead and ask, not all stores do.
You must be a Shop Your Way Rewards member, it's free to join.
Then you need to make sure you have the cashier scan your card when you make a $50 purchase. Depending on your store/area, your savings will be $0.30 off a gallon at either BP or Speedway.
How do you redeem?
Take the voucher you received at checkout to the gas station you will get your savings at. At BP you will have a pin code to enter at the pump, at Speedway you must be a Speedy Rewards member (also free to join).
What else you need to know
Maximum fill up for the discount is 20 gallons at BP and 15 at Speedway.
Pay attention to the dates on your rewards. They are not instantly redeemable and have a short redemption period!
Save even more when they have special bonus earnings. July 27-Aug 3 they are offering $1.00 off per gallon when you make a $50 purchase of JUST Proctor & Gamble Products.
Purchase requirements are before taxes and after other discounts (however, coupons are considered a form of payment in most cases and should be able to be used to bring your total under $50).
Some items are excluded.
You DO earn your Shop Your Way Rewards points on your purchases as well.
Have you earned with this program yet?