These are the GORGEOUS canvas's that the kids from the preschool made for the Christmas silent auction this past week.
Each one has all the kids from the class footprint or their handprint.
If you need a last minute gift idea for someone special these are very quick, easy and inexpensive. You can even just have one child make the canvas and use only their handprints or feet. So, don't think you need a bunch of kids to make it work!
The canvas sized we used were 18×24. Use acrylic paint and add a little acrylic paint medium for the best results. The medium adds some depth to the paint. You can really use ANY paint and skip the medium, I am just suggesting what has looked the best when done.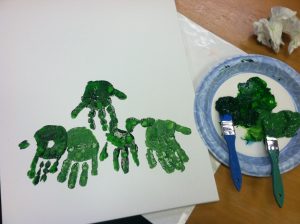 Use different colors of green to get a more layered look. This is the Christmas tree above. I like it with the hands facing down, but I have seen it with the hands up as well, up to you!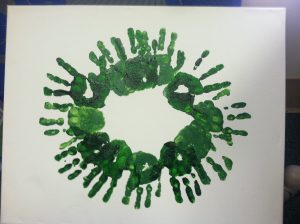 This was the holly wreath. Take a bowl and with a pencil lightly trace a circle so you can judge where the palms of the hands should be to end up with a circle when you are done.
Then just add some little details when done. Like holly berries, Christmas lights and a star on the tree. You can even let the kids do it to make it more homemade looking.
All of these supplies can be found at ANY craft store. Hobby Lobby has a 40% off coupon HERE and Michaels has one HERE for 50% off! 
When they are done, they are so fun and special, I would LOVE, LOVE, LOVE to open this on Christmas day!
This post may contain affiliate links.