You might have noticed that YoCrunch "dresses up" their cookie & candy topped YoCrunch Cups and Multipacks to add some fun to the dairy case for holiday's!  With all the candy consumption around Halloween, YoCrunch is a great alternate choice for a sweet treat with all goodness of yogurt and all the excitement of your favorite cookie and candy toppings.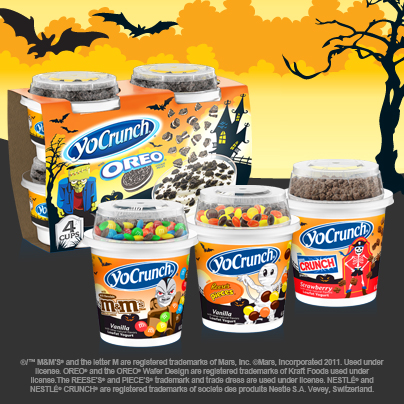 This year, the Halloween characters are taking over the website and Facebook pages to bring fun messaging and activities and a few special coupon offers.
Giveaway:
YoCrunch is giving away 5 Coupons to GET ONE YoCrunch Multipack FREE and a YoCrunch Halloween Party Pack that includes 2 cases of YoCrunch Yogurt (assorted flavors) Halloween Decorations and Halloween Paper goods for MyLitter Readers! 6 winners total!
How to enter: 
** YoCrunch is ALSO providing the snack break at the Readers Conference ( tickets still available) plus they are giving you free product coupons! 
This post may contain affiliate links.