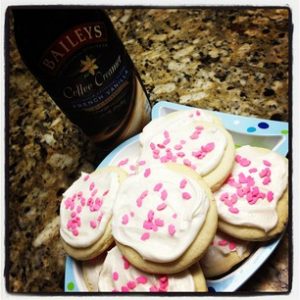 Remember when I posted this YUMMY sugar cookie recipe, ohh, about 2 weeks ago? Well, I FORGOT to pick the winners until today when I pulled out the coupons!
Winners of the Bailey's Free Product coupons are: 
Misty - emouakamom@ - I love this recipe!! I will definitely be trying this one out. Over the weekend I tried a recipe that had only 2 ingredients. A can of diet coke and a box of devil's food cake. Mixed it together, put it in a 9×13 greased pan and bake it at 350 for about 20 minutes or so until done. Then I put a tub of thawed whipped cream on it and topped it with strawberries. It was great and I could eat the whole cake without feeling guilty!!
Perla - pacardenas@ - My ALL-TIME favorite cookies are the Snickerdoodles-they are DEEEELICIOUS with some ICE, COLD-milk!!! Look forward to winning the coupons for Free Bailey's CREAM!!!! 
Lindsay C. - lagilbride@ - Sounds good. My favorite cookie is hands down, gotta be….. chewy pecan! I have never attempted to make them before, but the Great American Cookie Co. has such a great one! Their cookies are not cheap, but it's hard to resist them when you are at the "Germ Tree" aka play area, in The Woodlands Mall. I hear them whispering.. saying… come….eat….us! (the cookies) lol
K - mibluidanglz@ - try adding a 1/4 cup (i use the real stuff, but creamer would prob work just as good) to your fav dark chocolate chip cookies recipe 
 yum! i just toss in a tad extra flour for the right cookie dough consistency and use a little less liquid, if needed
Whitney - whitneygull@ - I'd love the free bailey's!!! My favorite cookies are the Lofthouse sugar cookies that you can buy at almost every store! I have been looking for a recipe to come close to them. Maybe this is it
Layla - laylakazzaz@ - My favorite all time cookie is white chocolate chip macadamia (spelling?) and oatmeal raisin…I do not keep any cookies in the house because I would eat them if it was one of those 2!!
Slobhan - siobhantwohig86@ - I like really thin golden brown sugar cookies, with a lot of icing!
Please email me with your  mailing address and I will get these in the mail to you! mylitter@mac.com
This post may contain affiliate links.