Are you on Pinterest? I think I am a little addicted and need some help! It is just too much fun to get lost looking at beautiful pictures of food, places, clothes, and SOOOO much more!
Not sure how to use Pinterest? Here is the Clif note version….
First you need to join, you can do that for FREE here. Then I would just take a quick look around and see what pretty things you can find.
The purpose of Pinterest is to basically keep an online filing cabinet of all the things you want to see, make and do in one place. Or get great ideas on just about anything. If you are someone who bookmarks a bunch of stuff this is for you!

Once you start seeing thing on Pinterest AND all over the web you might want to make some "boards." Just think of these as visual folders to hold your pictures. You can see all of mine HERE. I have a bunch from recipes, to funny stuff, to my obsession with tree houses!
Now you can add images to your "boards" or folders by "pinning" them. There are a few ways to do this. You can down load the free tool bar HERE or you can look for "pin" images on or by the pictures and just click on them.

This will then let you choose to add this picture and link to the site to either a board you have OR you can make a new one.
Boards you might want to make to get you started:
Recipes ( I like to break mine even more like, desserts, beverages, main meal, etc.)
Fashion
Places to visit
Frugal Ideas
Parties
Remodeling
DIY
Speaking of boards, you will also be able to follow OTHER people's boards, so that if you have a same interest, you can see when they add something new that board.
Let's say you find a picture you like and want to know more. Just click on the picture and you will see a larger image with more information.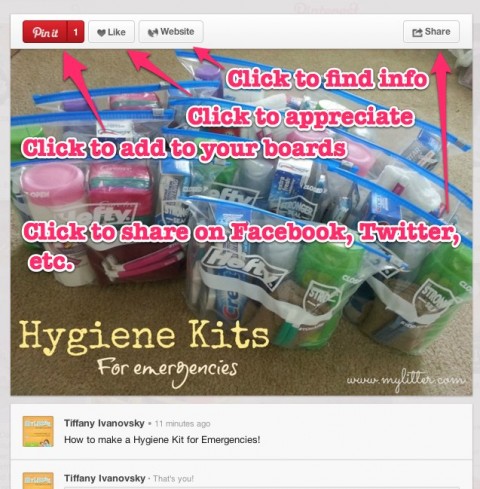 From that picture, you can "pin" it to one of your boards, "like" it, or even share it to Facebook, Twitter and more! You can also see who has pinned it before.
Anyway, you should REALLY give it a try, it is so fun, and easy to get addicted to!
Make sure to follow me at MyLitter HERE.
Pin It