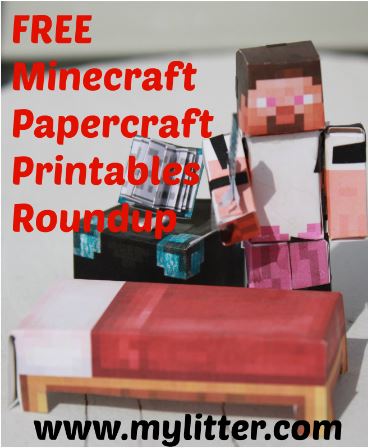 Have you been searching for Papercraft items for your child? Do you look at the prices on sites like Amazon and think NO WAY are you paying that much for sheets of paper your kids are going to cut up and eventually crush?
Well, I have your solution – buy some printer ink, set your printer to draft to use less ink (see How to Change Your Printer Settings and ignore the black & white part), grab your printer paper (hopefully that you got free after Staples rebate), and let them go at it with these free mine craft printables.
Free Minecraft Printables Roundup
Pixel Paper Craft has a huge selection of printables
There's a whole section of Minecraft Papercraft DIY at FPSX Games (the giant creeper one should be a hit!)
Minecraft Fan Club Weekly has a link to the Pixel Paper Crafts and some on site
You can spend hours in a Pinterest search for Minecraft Printables too – and be sure to search more specifically if you need a certain piece!
MCPaperCraft has a gallery of Minecraft Papercraft as well.
Bonus Minecraft Freebies
Unskinny Bop has Free Minecraft Magnet Printables
You can print Minecraft Coloring Pages or find them on Pinterest too.
 Plus, graph paper and colored pencils make a great DIY Minecraft coloring page!