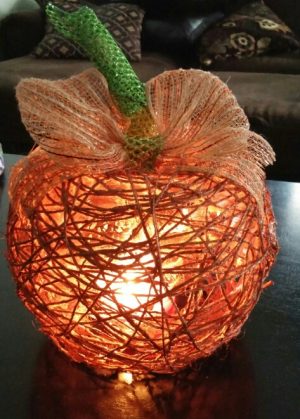 Fall is my favorite season and I am always looking for cute (and easy) crafts to make to decorate with! There is nothing quite like having the windows open, the soft glow of lit candles, and the smell of cinnamon and pumpkin in the air. I saw this cute tutorial for Twine Pumpkins on Pinterest and decided to give it a try! I got almost all of the supplies at Dollar Tree.
Pick up a box of twine, big bottle of glue, foam brushes, balloons, and gloves from Dollar Tree, or you may already have them at home! DT also had Mod Podge, but it was a tiny bottle and glue works just as well! I taped my balloon to an old jar, but you can use a bowl also. Pour glue in a bowl.
Blow up a balloon and cover it in glue.
Cut off sections of twine, around two or three feet long and dip them in glue. Wrap it around the balloon in different directions. Make sure you tuck the ends under the other twine as you wrap it.
Make sure you have a good sized opening in the bottom to insert a candle or string lights. Allow it to dry overnight, but make sure you turn it over so the bottom will dry also.
Instead of just popping the balloon, make a small slit near the tie so it will slowly deflate.
I picked up Metallic Spray Paint from Michaels. They are regularly $6.99, but there is a 50% coupon online, so I grabbed it for $3.50.
All in all, I decorated my dining room table for under $10!
I made two different pumpkins: one with the Dollar Tree twine (which is thinner) and one with twine that I already had on hand. I actually preferred the smaller twine. It was easier to work with and I like the way it turned out! You be the judge. After it dried, I made a stem out of ribbon and popsicle sticks and a bow out of burlap, but you could also use a real twig like Lisa from Recaptured Charm. Hers turned out so cute! She also used string lights and I just used a candle.
Thank you Lisa for this awesome craft idea!