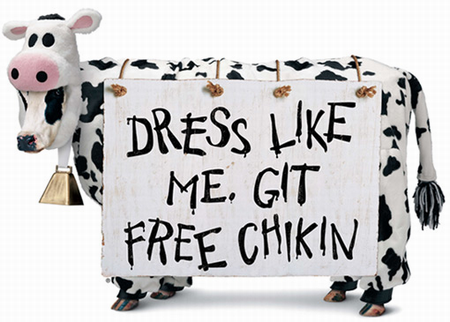 Ready for some FREE chicken?
July 11th you can head to Chick-fil-A and get FREE food until 7 p.m.!
Adult customers who dress in any type of cow attire, whether it's "head-to-hoof" or sporting a cow-spotted accessory, will be rewarded with a free Chick-fil-A entrée, such as an Original Chicken Sandwich, seasonal Smokehouse BBQ Bacon Sandwich or breakfast favorite, the Egg White Grill. Children will receive a free Kid's Meal for dressing in a cow costume. Salads will not be redeemable during Cow Appreciation Day this year. (A full list of redeemable menu items can be found here.)
The Cow Appreciation Day celebration will last from restaurant opening through 7 p.m. local time (check local individual restaurant listings for hours).