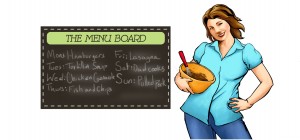 ::Last chance to get these prices today!:: * I made the Caribbean shoulder pork recipe last night and it was amazing!!
Wow, just wow. There are just NO good deals this week at Kroger unless I am missing something huge? I walked the aisles today and was just sad. OK, that is not a big deal, no one panic… we can make this work!
::KROGER::
Bar S Franks 10 for $10
Kroger Split Breasts $.99/lb
::RANDALLS::
Angus Beef Top Round London Broil $2.99/lb
Country Style Ribs $1.99/lb
Lean Ground 90% Beef $2.99/lb
Boneless Pork Chops $1.99/lb
Pork Shoulder Roast $2.29/lb
Tyson Breaded Chicken $5
::HEB::
Assorted Pork Chops $1.97/lb
Split Chicken Breasts $1.77/lb
Hill Country Fair Chicken Breasts Value Pack $1/lb
::Best Produce Deals::
HEB- Blueberries 2 for $5
HEB – Small Peaches $.47/lb
HEB – Mangos 3 for $1
Randalls – Corn 3 for $1
Randalls – Hass Avocados 4 for $5
Randalls – Texas Sweet Onions 10/lbs for $10
Randalls – Sweet Red Cherries $3.48
Randalls – Fresh Express Salad 2 for $6
Kroger – Eggplant or Artichokes 10 for $10
Kroger – Mini Peeled Carrots 10 for $10
Kroger – Fuji or Cameo Apples $.97/lb
Kroger – Tomatoes on the Vine 4/lb for $5
:THURSDAY: – Easy Garlic Broiled Chicken – You can use any cut of chicken with this recipe. I am using Kroger's split breasts for $.99/lb. This is an AWESOME and easy recipe! Make EXTRA and pull the chicken off for Friday night's dinner.
:FRIDAY: – Homemade Chicken BBQ Pizza – Using the leftover chicken from the night before… I am making BBQ chicken pizza. Just use a light coating of BBQ sauce for the first layer ( no pizza sauce) I add shredded chicken, red onions and cheese.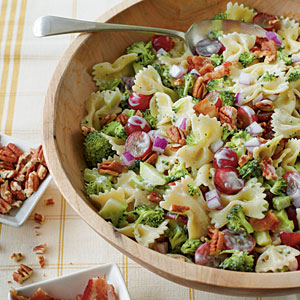 :SATURDAY: – Broccoli, Grape and Pasta Salad – This is almost like my favorite salad over HERE but you are adding some pasta and the dressing doesn't have mayo. I am going to just make a few sandwiches to go with this for a light dinner.
 :SUNDAY: – Caribbean Pork Shoulder Roast – I have not tried this exact recipe, and it does take a longer cooking time but the ones I have done are WELL WORTH IT! Make some extra, you will want leftovers for sandwiches tomorrow night!
:MONDAY: – Pulled Pork Sandwiches – Use the leftover pork from the might before and make BBQ sandwiches. Just heat the meat up and add a little BBQ and enjoy with some fresh corn from Randalls!