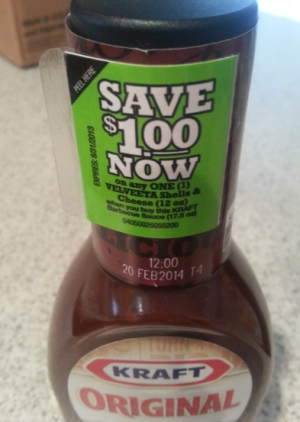 Reader Melly sent in this deal she did at her store yesterday. She was able to get all 5 of her BBQ FREE and pay under $1 each for the velveeta shells & cheese! Thanks Melly!
My store had $1/2 peelies on the bottles of Kraft BBQ sauce! The peelie is Save $1 Off (1) Kraft BBq Sauce & (1) Velveeta Shells & Cheese 12oz. My store has the 12oz velveeta shells included in the mega event for $1.49 (mega event price). Here is the deal I did, BTW my store had an entire bin filled with BBQ sauce & all had peelies!
Buy 5 Kraft BBQ Sauce – $0.49 each
Buy 5 Velveeta Shells & Cheese – $1.49 each
Use (5) $1 Off Peelies
Total: $4.90
I got all 5 bbq sauce free and paid under $1 each for the velveeta!
Don't forget to get your FREE Egg Beaters, plus find more Kroger deals HERE!
This post may contain affiliate links.