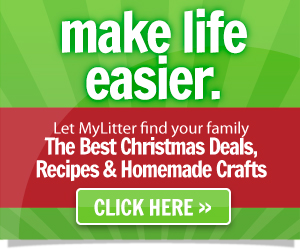 Welcome! Thanks so much for stopping by! I work hard all day to make sure I have the BEST deals, the YUMMIEST recipes and the EASIEST crafts for your Christmas season!
Make sure to bookmark MyLitter and check back often during the day, I will be posting A LOT of deals fast this Holiday season. I try very hard to make sure I hit all different ages, male and female, and items for the home for gifts and great deals.
You can check out my RECIPES daily, I post family friendly, easy recipes that you will LOVE to try!
Make sure to scroll through my Christmas section to see all the best holiday deals!
Discover my CRAFT page for fun, easy and kid friendly crafts for the Holidays!
This is the front page of my blog HERE. You will find grocery store deals, coupon matchups, and frugal living ideas.
If you would rather connect a different way, you can find me a few different places: 
A little about me:
I am the mother to 7 AMAZING children, ages 15 – 2. My husband is a blogger at I Heart The Mart and we tirelessly spend each day helping you save money so you can live better and take care of your families! I love to read and shop online, but only buy if I can save some serious money! I love to find a good deal and share them with you.
Please shoot me an email if you have any questions or need any help, mylitter@mac.com
If you are interested in shopping Black Friday deals you can see below:
[table id=2 /]