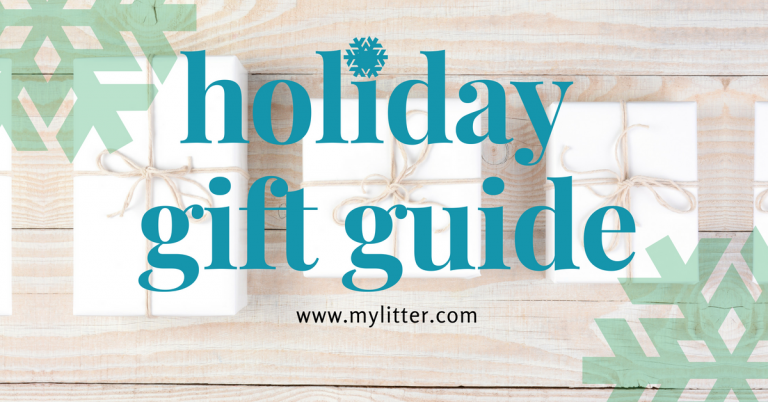 MyLitter Holiday Gift Guide 2018
Finding the perfect gift for that special someone can be hard – it's easy to get overwhelmed with options!
We've put together our annual Holiday Gift Guide with some great brands and products that will make perfect gifts this holiday season. You'll find gifts for everyone in the family, from the kids to the grandparents. Be sure to check back, because we are adding items all the time!

LEGO Duplo Jurassic World T. Rex Tower
Enter Jurassic World with your child and recreate all the drama and tension from the movie, with this exciting set! There's a T. rex on the loose and it's snapping its jaws! Preschool children will love to help Owen Grady speed in with the car, face off with the huge dinosaur and make it safely into the lookout tower to call for backup. This easy-to-build dinosaur toy with large building bricks is great for creating endless role-play stories with a dinosaur theme. Includes an Owen Grady LEGO DUPLO figure, plus a T. rex figure. Plus, the dinosaur… it's like the cutest thing EVER!
Trolls Party Hair Poppy Musical Doll
Put your hair in the air and sing along with DreamWorks Trolls Party Hair Poppy! Poppy is ready to freestyle on the dance floor with her glitterific roller-skating outfit and Troll-tastic rainbow hair! Pull up on DreamWorks Poppy's hair and hear this talking doll say a fun phrase or sound. Pull it up again and she says something else. And when she rolls on her skates, she plays "Hair in the Air," the theme song from the Netflix series Trolls: The Beat Goes On. It's just right for a roller skate jam or for any other kind of dance party where kids can show their "true colors." And Trolls are all about their hairstyles, so this Dreamworks Trolls doll comes with a comb, tiara, and 6 felt accessories for hairplay fun.
With the American Plastic My Very Own Nursery play set, your little one can simulate what it is like caring for an infant. This adorable toy features an infant bed, a storage shelf, a cupboard, a sink and a chair to complete the baby care experience. It is an excellent way to teach kids about responsibility and compassion. This nursery play set comes with six accessories: a mobile, a fork, a spoon, a plate, a sippy cup and a play baby powder dispenser. Your little one will enjoy nursing a doll when she is sick, bathing her when she's dirty, feeding her hen she's hungry and more. The American Plastic toy my very own nursery set is simple to assemble and makes an excellent gift for any occasion.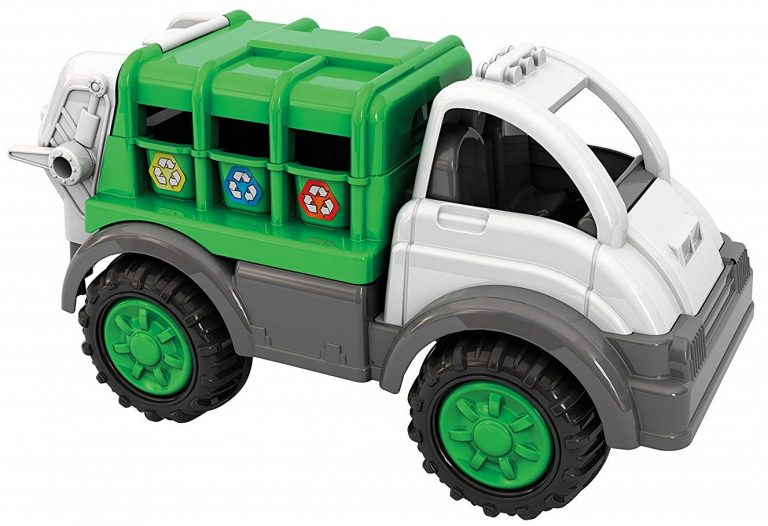 Don't let the price fool you on this one! It's a WOW gift at a FANTASTIC price! It's huge! This heavy-duty gigantic recycling truck is over two feet long! It features a swivel back bin for Pick-ups, sorting side bins, and a tiltable dump bed for emptying.
Bistro Kids Play Table and  Delta Children Bistro 2-Piece Chair Set
The perfect foundation for fun and learning, the Bistro Kids Play Table from Delta Children features a printed wood grain top that sits on top of painted metal legs. Whether your child uses it for art projects, tea parties, snack time or homework, this kids play table will enhance their sense of wonder no matter what activity they use it for. Be sure to snag the matching  Delta Children Bistro 2-Piece Chair Set to complete the set.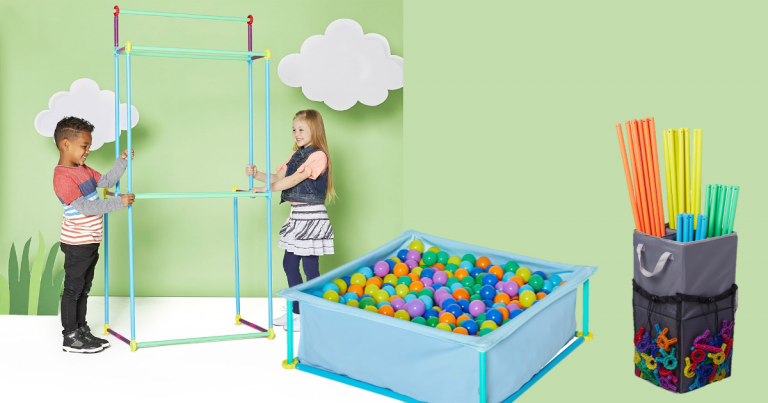 Whether your little ones are mastering poised walks or practicing jumps and summersaults, the new Antsy Pants Active Play line is sure to get any aspiring gymnast ready for the next Olympics! Antsy Pants new all-in-one Build and Play Kits are the ultimate indoor activity this winter! Sing your heart out and let your imagination hit the stage with the Pop Star Stage or help keep animal friends happy and healthy with the Antsy Pants Pet Clinic.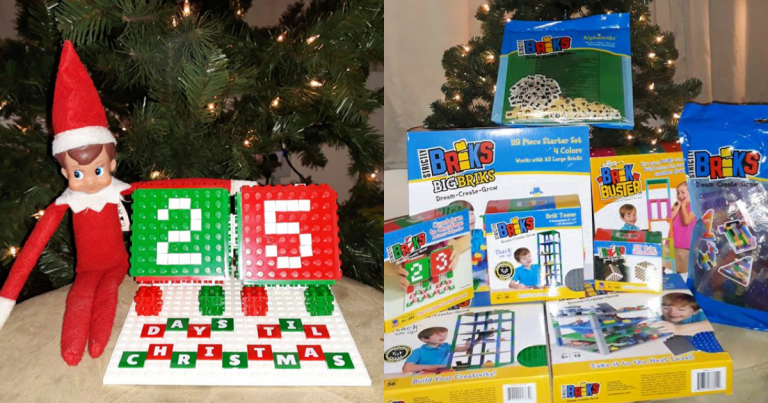 Strictly Briks allows kids to dream, create, build and imagine amazing things – all while helping them grow into engineers, designers, inventors and problem solvers. Compatible with Legos, Strictly Briks is a new way of building and creating while having fun!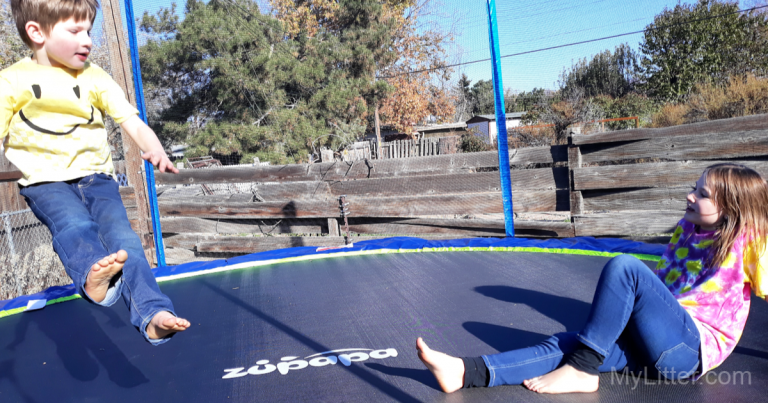 Want to wow your kids?  How about wear them out just a bit? The upgraded Zupapa Saffun 15ft trampoline is a high-quality trampoline.  It comes with all the accessories you need! The no-gap jumping mat and double layer pad give your family a safer space and fun time.  Each trampoline kit it shipped directly to your home, and includes the frame, enclosure net, pad, ladder, springs, rain cover, the mat, and a T-Hook tool to make assembly easy!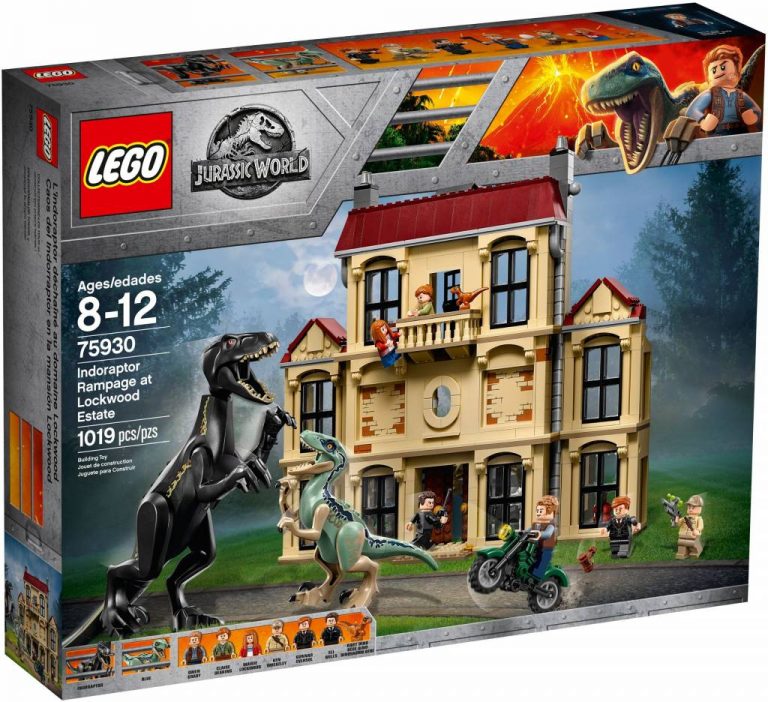 LEGO Jurassic World: Indoraptor Rampage at Lockwood Estate
Play out an epic dinosaur battle in this detailed LEGO Jurassic World 75930 Indoraptor Rampage at Lockwood Estate play set. Help Owen, Claire and Blue rescue Maisie from the hybrid dinosaur inside the 3-level building, featuring configurable walls, a museum, laboratory, office, bedroom, removable windows, collapsing roof function and a large buildable triceratops skull. This toy for girls and boys includes 6 minifigures and 2 dinosaur figures.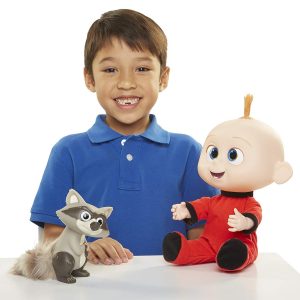 Little Jack-Jack is full of surprises and no one knows what to expect from him, especially when he can go from spontaneously combusting and shooting lasers from his eyes to just being adorable in the blink of an eye! Recreate the most epic battle of all time as Jack-Jack takes on the Backyard Invader! Press on Jack-Jack's tummy and watch him "attack" with all his might! Recommended for Ages: 3+
Calico Critters Red Roof Country Home
The Red Roof Country Home has 4 spacious rooms ready to be decorated! You can create many house layouts: keep a standard 2-story home, or stack to make it 3-stories high! Includes Heidi and Bell Hopscotch Rabbit, bed set, kitchen cart set, hutch/desk set, piano with bench, dining set and stove/oven combo with a pan!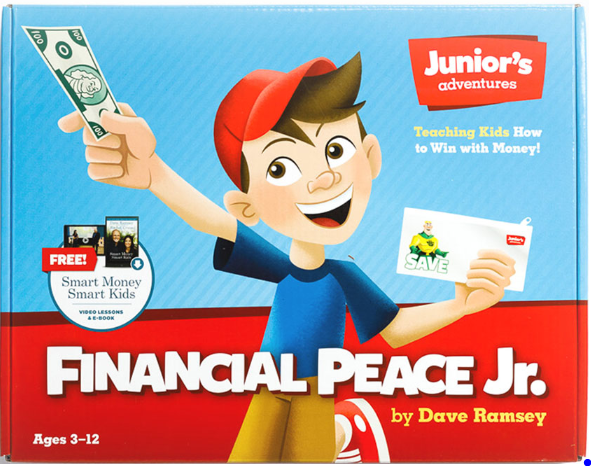 Even if your financial history hasn't been perfect, Financial Peace Jr. gives parents the tools they need to raise money-smart kids. The kit covers key concepts such as working, spending, saving and giving. The kit includes: A parent guide that walks parents through money concepts to teach their children at various ages and stages, Junior's Activity Book filled with engaging activities for each lesson, a Chore Chart with dry-erase pen to track their progress and much more.
Junior's Adventures: Storytime Book Set
As part of the Junior's Adventures series, the Storytime Book Set teaches kids the values of hard work, integrity, giving, saving, and avoiding debt. Through this six-book series, kids ages 3-10 will join Junior as he learns how to handle his money.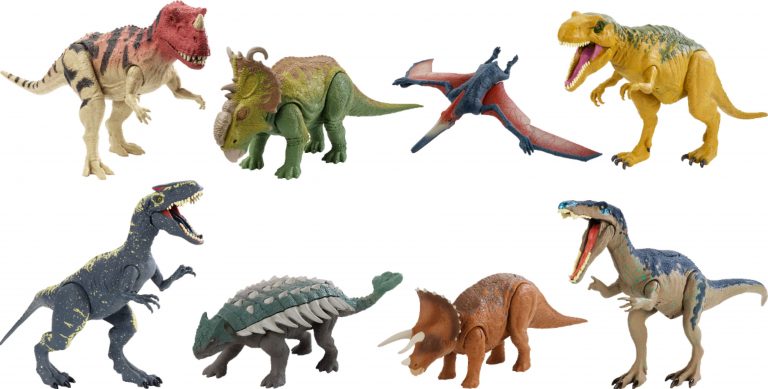 Get ready for thrilling action and adventure with Jurassic World! Roarivores dinosaur action figures are inspired by the movie and feature push button sound activation and signature attack moves iconic to their respective species. Play out movie action scenes with signature attack moves like chomping, biting and head butting. Figures also include articulated arms and legs, realistic sculpting and authentic decoration.
This LEGO Friends 41335 Mia's Tree House construction toy is packed with features and details to create hours of fun for Mia, her brother, and any friends who might come to visit. There's a folding ladder, scramble net and a zip wire for access to and from the second floor, plus a water gun, a book of ghost stories, artwork tiles, board game, pizza, sports equipment, Mia's skateboard and much more inside. Includes 2 mini-dolls plus 2 animal figures.
Junior Supers Hydroliner Playset
The Incredibles are back. Recreate all your favorite scene from Disney The Incredibles 2 with this Precool Juniors Supers Hydroliner Playset! Shoot projectiles, fold out the ice slide, use the rotating cooling chamber, trap door, watercraft launcher and the grabbing arm for Incredible action!
LEGO Harry Potter and The Chamber of Secrets Aragog's Lair
Get set for a spider showdown in the Forbidden Forest with this exciting LEGO® Harry Potter™ 75950 Aragog's Lair play set, featuring Aragog and his colony of spiders, plus a buildable tree with web shooting function. This fantasy building set recreation from Harry Potter and the Chamber of Secrets includes 2 minifigures and a buildable Aragog spider.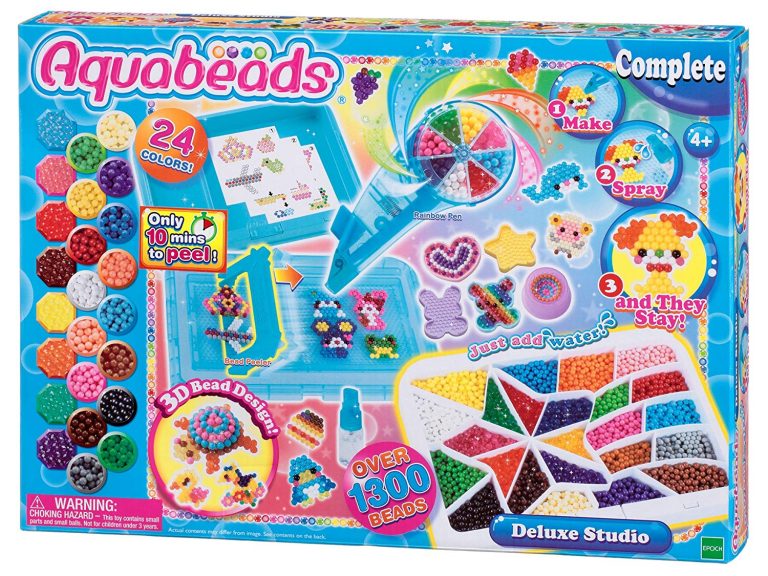 Aquabeads is the original water-activated bead craft product. Made from the highest quality materials, Aquabeads are fun and safe for the entire family. The Deluxe Studio comes with everything to create more than 20 bead art creations – the possibilities are endless! Includes over 1300 jewel and classic beads plus bead palette, table tray, tool case, rainbow pen, 3D bowl tray plus bear, rabbit, star and heart trays. Includes water sprayer, exclusive bead peeler, 3 double-sided template sheets and detailed instructions. Creating Aquabeads is easy – it's as simple as make, spray and they stay!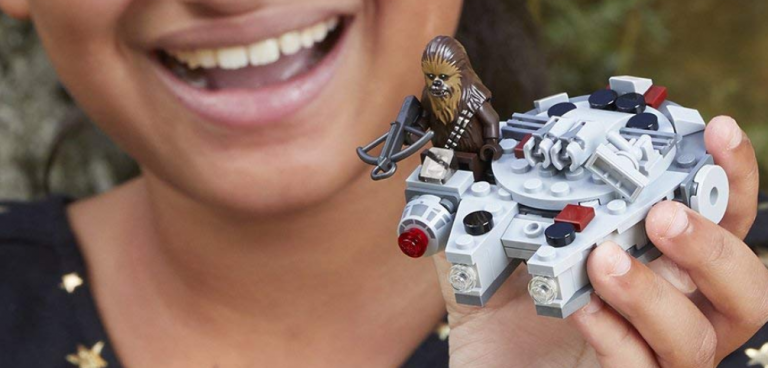 Zoom into action with the LEGO Star Wars 75193 Millennium Falcon Microfighter. This Star Wars toy features lots of authentic detailing, 2 stud shooters and space to seat the included Chewbacca Star Wars minifigure with his bowcaster.
Experience the exciting process of unearthing 6 real gemstones like a true archaeologist with the Discovery galactic fizzing dig Kit! Dig your way through vibrant and fun shaped digs with the chisel and mallet, or place it in a bowl to watch it fizz, pop and bubble to reveal the gemstones! When the reaction is over and the brick has disappeared, reach in and grab your gemstones from the bottom. Use the included magnifying glass to take a closer look at the patterns and colors within each gorgeous stone! Fizzing digs come in fun shapes including a planet fizz dig, asteroid fizz dig, and Star fizz. Recommended for ages 12 and up.

Ultimate Ears Megablast Bluetooth Speaker
The Ultimate Ears Megablast is THE bluetooth speaker to play the music at a party, by the pool, fill the whole house, or your backyard.  It's sound is EPICLY good and is also waterproof and shockproof.
MEGABLAST is the loudest and most powerful speaker from Ultimate Ears, and is 40 percent louder than Ultimate Ears MEGABOOM. On Wi-Fi, enjoy a bigger range (330 feet on Wi-Fi, 100 feet on Bluetooth), stream the highest quality audio possible, text message or make calls without interrupting the music and save phone battery. MEGABLAST is compatible with Ultimate Ears POWER UP  charging dock (sold separately) for convenient wireless charging.
This Stone Box features an agate-look lid that combined with the polished gold finish is just beautiful and unique!  This would make a perfect jewelry box for any teen girl 🙂
Adventure Force Commandfire Motorized Full-Auto Dart Hopper
Tired of reloading one dart at a time? Adventure Force brings you the first revolutionary design that allows you to load 40 darts in seconds, leaving your competition in the dust! The high-capacity Adventure Force Commandfire Motorized Full-Auto Dart Blaster Toy Gun holds 80 darts, with 40 in the dart hopper and 40 in the storage compartment. The Commandfire high-tech dart loading system is matched by the blaster's motorized full-auto firepower. Don't forget that the Commandfire is packed out with 80 high-performance waffle tip darts designed for increased accuracy boost.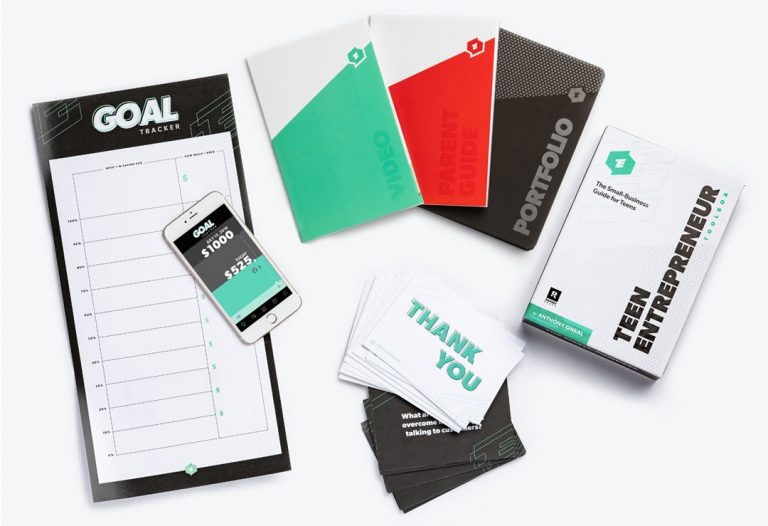 Teen Entrepreneur Toolbox from Dave Ramsey
Authored by Ramsey Personality Anthony ONeal, the Teen Entrepreneur Toolbox walks parents and teens through eight easy, practical steps for starting their own business. The toolbox includes; a Teen Portfolio that walks them through each step, a Parent Guide, a free Teen Entrepreneur Toolbox App, a 20 minute DVD featuring Anthony ONeal and much more.
Ceramic Ring Dish by 7 Charming Sisters
This charming ceramic ring dish makes the perfect gift for your bff or teen. These trinket dishes help you stay organized while making a statement!  It's also a perfect place to keep all your bobby pins…
Adventure Force Tactical Strike Quantum Motorized Team Competition Ball Blaster
Ready, aim, fun! Teens can take aim at their target and enjoy hours of hands-on play with the Tactical Strike Accelerator Motorized Ball Blaster from Adventure Force. Players will light up when they see the vibrant orange and blue body of the Accelerator Ball Blaster. The blaster comes equipped with built-in anti-jam motorized flywheels, so teens will be good to go. Plus, with a massive capacity of 100 rounds, they'll be ready to hit bulls-eye after bulls-eye without wasting their time slowly reloading balls individually one by one. Teens can hone their skills and advance their accuracy by shooting at targets in their backyard or out in the backcountry. Such a great holiday gift idea!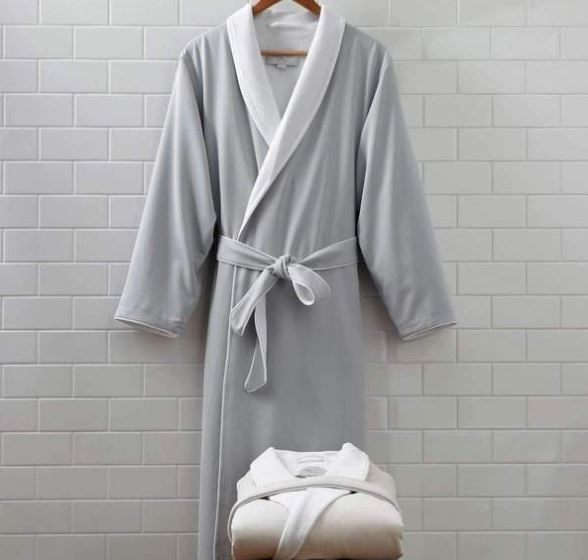 Luxor Linens St. Tropez Signature Spa Robe
Wrap yourself in a dream cloud of softness with this St. Tropez Signature Spa Robe! Made with a Microfiber shell for ultimate protection against water, the best part? They are ultra Lightweight! You will no longer feel a damp heavy robe, rather a dry plush robe wrapped around you! Available in four soothing colors.  Luxor Linens also offers beautiful monogramming – it's completely worth the extra charge to make it feel like a personalized gift!
Triducna Shiatsu Back & Neck Massager with 12 Rolling Nodes
Give mom the relaxing massage she deserves after a long day with this incredible Triducna Shiatsu Back and Neck Massager with 12 Rolling Nodes.  It has an adjustable neck massager that can go up to get the base of your skull, or down to get the tops of your shoulders in just the perfect spot!  The heated and vibrating seat relaxes your whole body – while the nodes move up and down your back, deep kneading and working out muscle pain.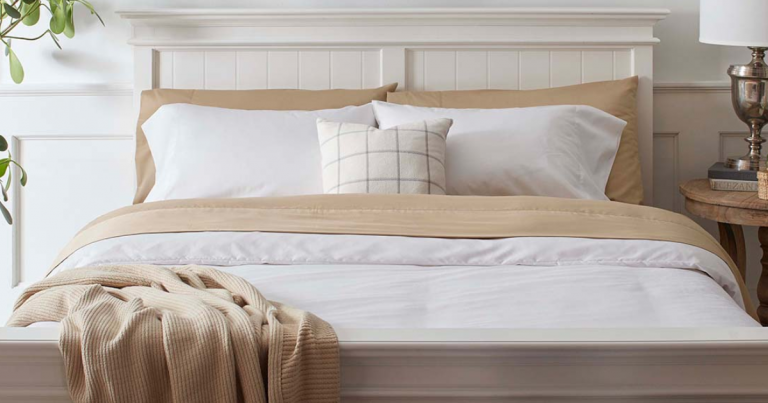 Spoil mom with the world's best 100% organic cotton rugs, towels, bed sheets and throws! The Grund difference is known for its use of high-quality material free of harmful chemicals and the innovative and patented manufacturing process. Super soft blankets, delicious sheets, towels and more all organic and perfect for the discerning person on your list!
Decidedly chic and decidedly luxe – these turkish towels are brilliant for your poolside chair or beach adventures!  Lightweight and packable, these turkish towels offer a terrycloth layer that most don't.  That makes them super absorbent and soft.  The gorgeous Lavender Aura color is my fave. 🙂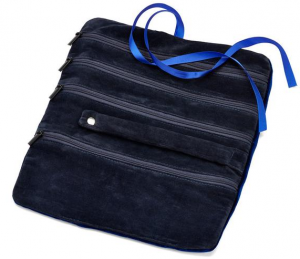 7 Charming Sisters Roll-Up Jewelry Organizer
Keep your jewelry organized and tangle-free with this pretty velvety Roll it Up jewelry organizer from 7 Charming Sisters!  Each bag contains four zippered compartments and a removable bar for storing rings.  Perfect for storing and protecting your jewelry or accessories while traveling. Available in either blue or black velvet.
Speakeasy Secret Pocket Travel Scarves
Get ready for adventure by stocking up on the latest and most popular Speakeasy Hidden Pocket Scarves! Each scarf is handmade in the USA and featured self-locking zippers and double stitched/serged pockets for durability! These scarves are not only convenient and stylish but also safe – pickpockets have no idea! Great for travel, festivals, sporting events, student life, hands-free living, work and more. They stock all different weights including warm and cozy for fall and winter as well as cooling scarves for the spring and summer!  Choose from dozens of styles and colors to fit every personality!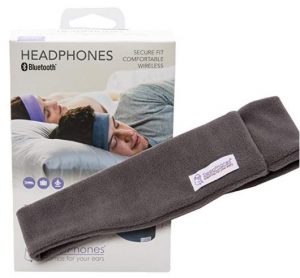 Wireless SleepPhones by AcousticSheep
There are SO MANY REASONS I love my SleepPhones.  They don't go in your ear, they block out annoying noises, and they give me better rest (Naps in the middle of the day in a noisy house???  They're BACK!!)
These little marvels by AcousticSheep make it easy and comfortable to fall asleep listening to soothing music, audiobooks or white noise.  You'll be able to block out the sound (finally!) of your spouse snoring, or any other kinds of ambient noise that makes it hard to nod off.  These AcousticSheep Wireless Sleep Phones have no wires or cords that can get tangled up while you toss and turn – and the flat comfortable speakers rest right up against your ears for a perfect fit.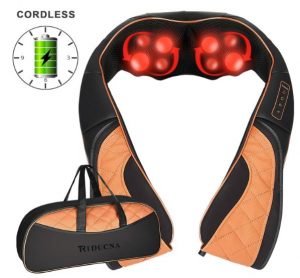 Triducna Cordless Neck & Shoulder Massager with Bag
Take your massage on the go with this amazing neck massager! You can have a therapeutic electric massage in your Home and office, or traveling. With the included bag, you can carry it to everywhere you want.  Features 8 deep-kneading Shiatsu massage nodes which provide deep tissue massages on your neck, shoulders, upper back, lower back, waist, foot, tights, calves, legs, feet and arms, help your full body to sooth tired and relieve muscle tightness.  Optional heat, adjustable strength and auto shut-off features make this exceptional!
If you've ever wanted to get out and get active on a scooter with your kids – this is THE gold standard in adult scooters!  It's extremely well built and sturdy, has a wide platform for standing, and can hold OVER 800 LBS!  And guys – this is a SMOOTH RIDE.  Even if you're not on ideal terrain – the Xootr makes it feel like you are.  The fact that it's also light-weight and foldable, makes this a perfect option for a college kid commuting around campus as well.  Check out all the models & colors here.
TMBR has high-quality wood products from watches to phone cases.  Tmbr wooden watches are crafted and designed to be an everyday watch that can be worn on your wrist to the office or around the house. The design of the wood watch from the strap to the dial is centered around quality, comfort, and bringing out the wood grain to compliment other parts of the watch. What makes crafting wooden watches so unique is that each watch is truly one-of-a-kind because of the variations in texture, grain and tones of the wood.
Husqvarna Chainsaws at Tractor Supply
Tractor Supply has all the manly gifts you'll ever need for the Holidays – plus tons of practical stuff you probably need as well!  This Husqvarna 240 38.2cc Gas 1 in Chainsaw is just one of the fantastic gift ideas you can find at Tractor Supply.  The Husqvarna 240 Chainsaw is ideal for jobs like pruning, lighter cutting tasks and hobby work. Easy to start and operate, thanks to built in Husqvarna features like ergonomic design, facilitating technology and a powerful X-Torq engine with low emissions.
Vacmaster Professional® Beast Series
This has been on the wish list for a while! He'll love a 16-Gallon 6.5 Peak HP wet/dry vac!  It's a powerful high-performance vac designed to tackle the toughest cleanup projects the jobsite, around the shop, or in the garage. On-board hose, accessory, and power cord storage eliminates unneeded hassle and minimizes total storage space. A unique Flat power head design allows you to conveniently store tools on top of the vacuum so they are easily accessible when needed. Over 28 ft. Of cleaning reach (7' hose, 18' power cord, and two 18" extension wands) allows you to reach farther without unplugging the unit. Quickly control the power with the large dust sealed on/off switch.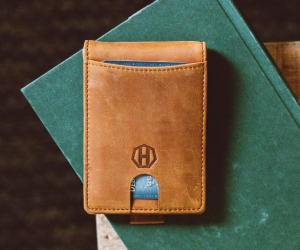 Does your guy need a wallet upgrade?   These Haxford leather wallets are just BEAUTIFUL and so classy.  Haxford makes high quality leather iPhone Cases, wallets and other items that are sleek and stylish.  My favorite is the Bi-Fold Slider!
The Haxford Bi-fold Slider RFID wallet is made from soft and genuine crazy horse leather. Crazy horse leather is made using a buffed full-grain leather, and then a special wax is applied to the leather. The leather is soft & durable and ages beautifully over time.  This is a great gift for any guy on your list!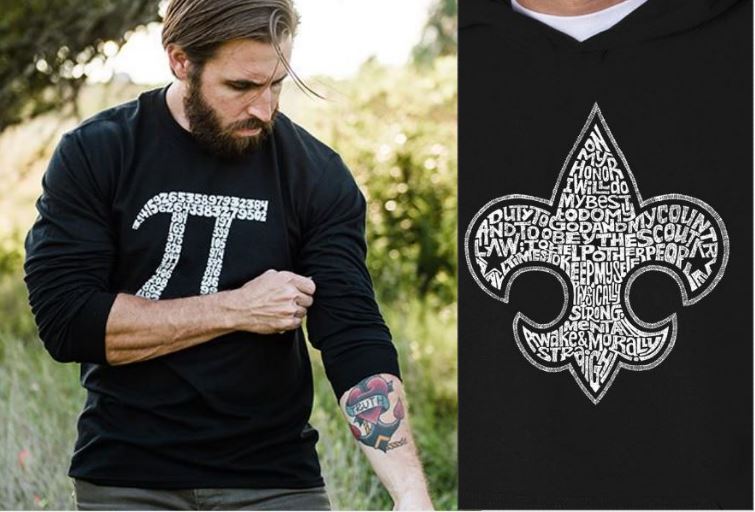 LA Pop Art has some seriously cool tees and hoodies for guys (and gals! and kids!) that incorporate word art into their unique apparel.  My favorite is the Scout Law inside the Fleur de Lis Scout Symbol – this would be a great gift for any Eagle Scout or Scout Master!  They also have military designs, hunting themes, and many many more! LAPopArt has been the world wide leader in word art design for the last 15 years. All of their designs are hand drawn and use words to create the images. Its unique, it different and there's a little something for everyone!
Is your guy tired of dinky little towels that barely cover him?  These Laguna beach cabana towels are the MOST luxurious towel you will ever wrap around your body!  Plus the cabana towels are HUGE and amazingly plush and absorbent.
These towels are oversized, measuring at 70" x 35" providing maximum coverage and comfort.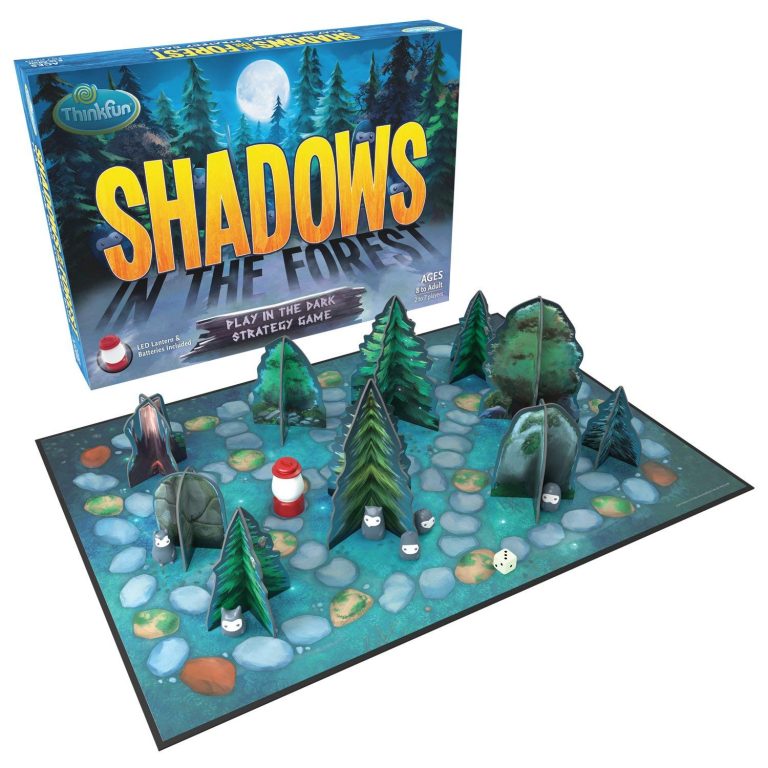 "Play in the Dark Strategy Game" is a thrilling, immersive play experience that brings a distinctive twist to game night – you play in the dark! Promotes cooperative play, strategic thinking, light and shadow physics. Winner of a Techlicious Best of Toy Fair Award.
Murbles is the lightweight Bocce ball game that is fun for the whole family. Just like Bocce but more exciting with lighter balls and a pallino that can be knocked around. Murbles are an American made outdoor family game that can be played and enjoyed by all ages. Murbles are easy to play, easy to see and easy to score. Simply toss the point ball into play, then alternate turns trying to get your game balls as close as you can to the point ball. The player with one or more Murbles closest to the point ball wins the points. Murbles are sized right so smaller hands and older shoulders can both enjoy playing the game. Murbles come in an array of school colors and have a matching heavy-duty canvas drawstring bag with the game rules permanently printed right on the back of the bag.
"Beam Directing Strategy Game" is a two-player game that combines the spatial thinking skills of chess with the high-tech fun of laser beams. Promotes STEM learning, light and reflection physics. Winner of multiple awards, including a National Parenting Product Award, MENSA Select and Parents' Choice Silver Honor.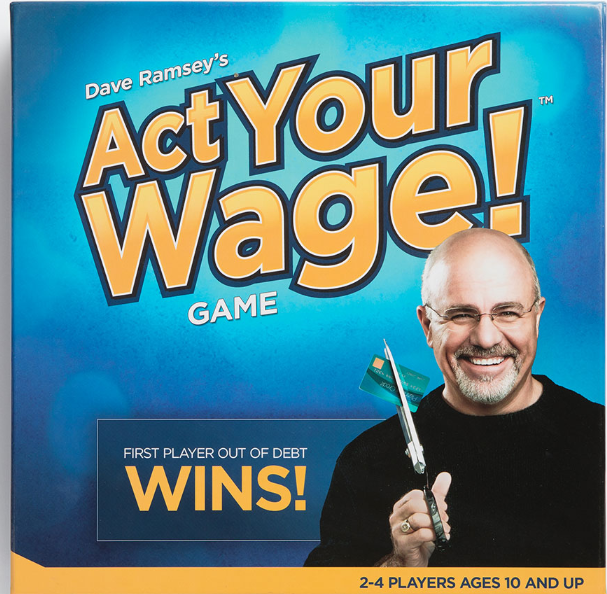 Dave Ramsey's Act Your Wage! Board Game
Families can have fun applying Dave Ramsey's life-changing money principles. Kids age 10 and up will have enjoy: keeping an emergency fund, using the envelope system for expenses, landing on "Dave Says" spaces for expert advice, paying off debt with the debt snowball method and being the first to do a Debt-Free Scream to win the game.
"Who's to Blame Logic Game" is a single player puzzle with a loveable cast of characters! Each of the 40 challenges presents a crime and a series of clues to help solve it. Stashes easily in backpacks or the car for road trips. Winner of a Parents' Choice Gold Award.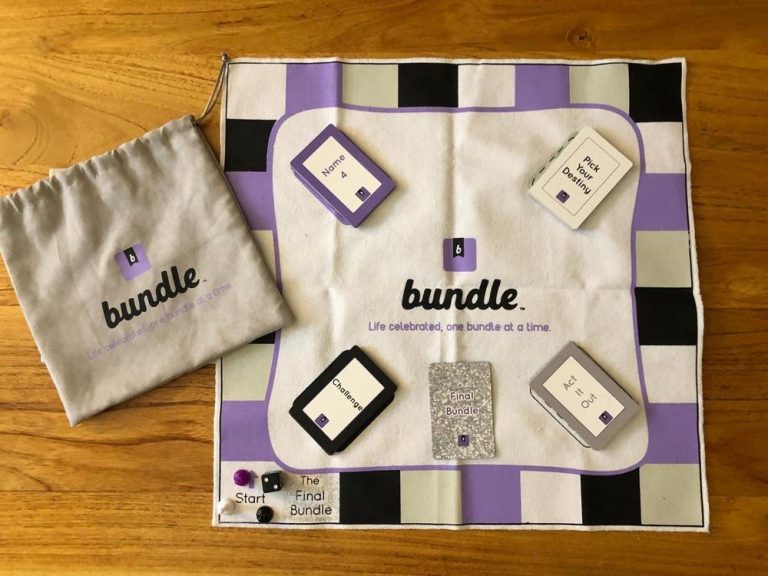 Sisters Jacklyn and Cassie Collier were looking to give their parents a unique gift for the holidays. Finding nothing in the stores, they designed a board game from scratch, crafted with their own childhood memories and family traditions. After an evening of laughing and reminiscing around the living room, this hobby soon turned into a light bulb moment for the sisters: could they scale this idea, and create personalized board games for all special moments in people's lives? YES!  Personalized or general, your family will love this game!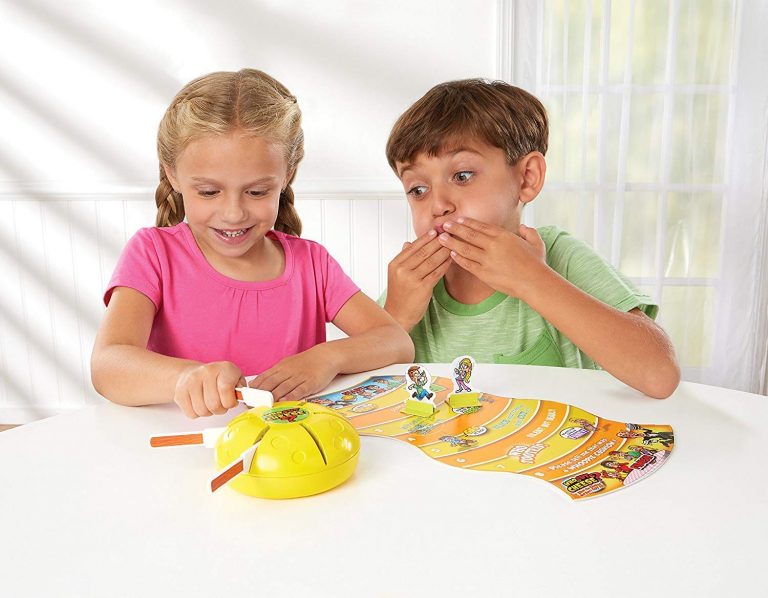 It's a race to the finish with the Who Cut the Cheese Game. Slice up the cheese to move down the board. But beware, you may find a surprise sound inside. The first person to reach finish 3 times is the winner! Kids love silly games, so what would make them happier than a game that is just one big fart joke! Its hilarious for children and adults who are children at heart.
KIC Start – Kids-in-Conversation
My kids LOVE playing this one! Often times, it's "too quiet" so I go looking for them, and they are sitting together, with KIC-Start in front of them, talking, laughing, and having a great time! KIC-Start is a card game designed to teach kids the lost art of conversation … how to ask questions and articulate answers as you get to know others better through dialogue, not texting! Featuring 150 cards in a unique container, each card contains a question designed to get kids talking. KIC-Start is suitable for all ages (there isn't any inappropriate content). Perfect for get-togethers with friends and family.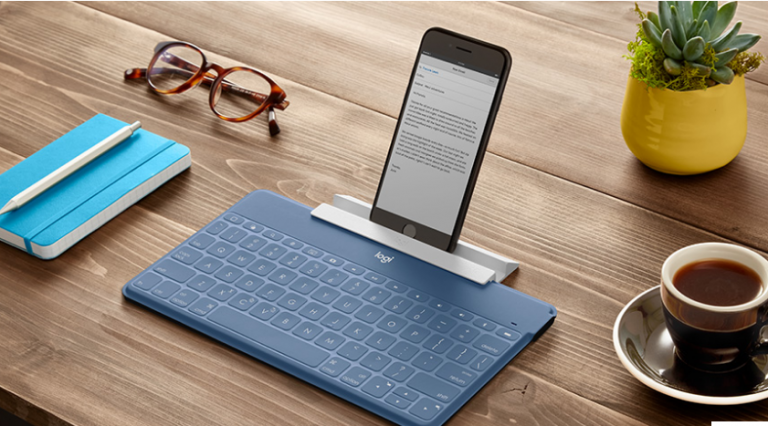 In gorgeous colors, the new Keys-To-Go comes with an iPhone stand, is perfect for all of your Apple devices as well as Android and Windows. It's ultra-slim, ultra-light, super portable and easy to tuck into your messenger bag, purse, backpack or suitcase. The durable covering is smooth to type on, spill proof and easy to clean, protecting the keyboard from spills, crumbs and dirt. Keys-To-Go provides comfortable, silent and laptop-like typing so you can break free and do what you need to do on a screen – whenever and wherever you want.
FosPower IPX7 Waterproof Bluetooth Speaker 
FosPower's IPX7 waterproof Bluetooth speaker is designed to resist up water submersion for up to 1 meter (3.3 feet) for 30 minutes. This speaker is also dustproof and built to withstand certain drops. Compatible with Amazon Alexa and Google Home Bluetooth functionality.
FosPower's PowerActive USB PowerBank
FosPower's PowerActive not only charges USB-powered technological devices but it is built to withstand tough environments: from the snow to extreme water resistance. This power bank is built tough to last and offer 10200 mAH power. Other significant features include:
Luminoodle – The Original LED Light Rope for Camping
Give the gift of light! Any time, anywhere! Simply plug the Luminoodle into any portable USB battery pack or USB port and hang, drape or stick it nearly anywhere for a beautiful, bright light. Hang the string lights in a tree to see while you make your way around camp or wrap it around your favorite power bank and place it in the nylon bag to make a handy LED lantern to diffuse light and spread it 360 degrees.

Therapedic Silky Plush Heated Blanket
This would make a great gift for almost ANYONE (IF you are able to give it up instead of keeping it for yourself) 😉  The Therapedic Silky Plush Warming Blanket features pre-heat technology that warms your bed quickly and dual zone control for personalized comfort. Its programmable digital controller sets your desired temperature and time for personalized comfort.  Also guys?  It is SO SOFT!!
FosPower's Ultrasonic Essential Oil Aroma Diffuser
Reap the benefits of using essential oils with Fosmon's essential oil ultrasonic diffuser. The ultrasonic oil diffuser uses misting and aromatherapy to aid in stress and allergy relief, relaxation, mood enhancement, and respiratory, circulatory and immune system function.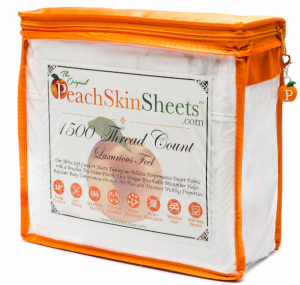 *LOVE* these ultra-soft sheets – you won't want to leave your bed!
The Original PeachSkinSheets are GREAT for hot sleepers! Breathable, ultra soft, anti-pill and anti-snag bed sheets featuring thermal control and moisture management properties…warm sleepers stay cool, and cool sleepers stay cozy. The durable athletic grade performance SMART fabric wicks away moisture to keep you drier and more comfortable. Best of all, they have a luxurious 1500 Thread Count softness with a brushed PeachSkin finish on both sides. Available in Split King, Cali King, King, Queen, Full, Twin and XL Dorm Twin and XL Dorm Full.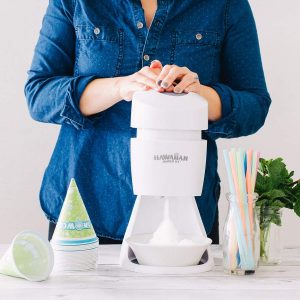 The machine provides a taste of summer even when it's cold. It's a unique gift for the whole family around the holidays to bring back summer memories. It has year round-appeal for everyone/every gifting event: kids birthdays, BBQs, back to school parties, and more.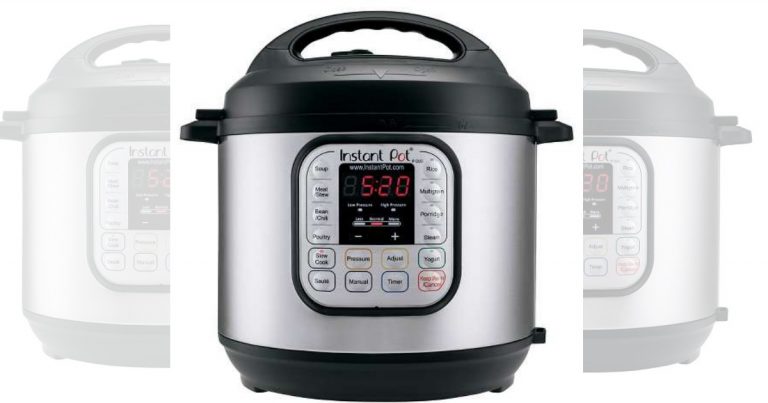 7-in-1 Instant Pot Meal Cooker
An Instant Pot has reached the level of popularity to where you no longer have to explain to people what it is – they already know and they already want one!  If you have someone on your list who loves to cook or needs a time saver in the kitchen, this is a perfect gift!
Helping you prepare delicious, nutritious meals faster and more easily, this unique 6-quart pressure cooker combines the functions of a slow cooker, rice cooker, electric saute pan, steamer, yogurt maker, and stock pot warmer for convenient one-pot meal preparation.
Titanium Ceramic Nonstick Pan 3-Pc Set
You will LOVE these pans!  Their non-stick, scratchproof ceramic-titanium coating that makes for easier cooking and cleanup. In tests, fried eggs slid off the ungreased pan as if cooked on air, and the impervious non-stick surface suffered no damage when scrubbed with an abrasive pad and scratched with a metal fork. They also allow chefs to cook confidently without oil or butter!
Laguna Beach Grey Blush Mexican Blanket
This Laguna Beach Mexican Blanket comes in a softer more on-trend palette of blush and grey – and is the perfect roadtrip blanket!  Woven by artisans in Tlaxcala, Mexico—a region known for crafting these blankets for centuries—this Mexican blanket is made of a cotton, polyester, and acrylic blend. The combination of these fabrics provides maximum durability while still maintaining softness, making it perfect for lounging at the beach, hosting a picnic, as a throw blanket on your couch, or even just a beach bonfire wrap.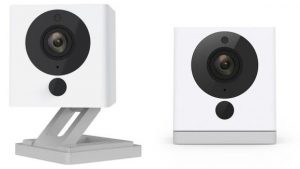 Wyze Cam is a 1080p smart home camera that you can set up anywhere there is wifi. Customers can pull up a live stream view of the camera anytime day or night. Turn it into a pet cam, a security cam, or a nanny cam! The cameras have night vision and motion and sound detection, including the ability to detect the sound patterns of smoke and CO monitor alarms, and can send you a notification when an event occurs.  You can add a microSD card to record 24/7 (a 32GB card holds 2-3 days of footage), or record only when sound or motion occurs. It even includes 14-day cloud storage of alert videos for free (most other cameras charge for this service).
The Wonderful World Of Disney Christmas Tree
From Mickey and Minnie to Pooh and Tigger, Disney's beloved characters have given us countless gifts over the years – moments of love, laughter and imagination. Now this spectacular tabletop Disney Christmas decor brings together Mickey and Minnie, Donald Duck, Snow White and more to deliver the joys of the holidays in your home. Standing 16″ high and decorated with over 50 hand-painted Disney character figures, this animated tabletop Christmas decoration celebrates The Wonderful World of Disney and is available from Hawthorne Village.

The DoubleNest Hammock is the "gift that keeps on giving"! You will be able to enjoy hours of suspended relaxation with this gift.   The ENO DoubleNest reigns supreme!  It's your all-access pass to relaxation.  Big enough for two and palatial for one, the DoubleNest still manages to stuff easily into its attached compression sack.  Take it anywhere, set it up in seconds flat with the ENO Atlas Straps, and lay back and relax.
I'm in love with this Motorola Talkabout T600 set!  It's the perfect grown up set of walkie talkies!  This is perfect for the outdoors person in your life, hunter, fisher, camper 🙂
The Motorola Talkabout T600 H20 two-way radios are ideal for outdoor adventures when out of cell phone range.  Two-way radios are important for communication and safety.  These feature NOAA weather updates and alerts and the T600 H20 is completely WATERPROOF and FLOATS, so no need to worry if it accidentally falls off the boat or canoe.  It also comes equipped with a handy water-activated flashlight, which includes a white and red LED (to preserve night vision.) These are perfect for weekend camping, hiking, fishing, skiing and paddling adventures.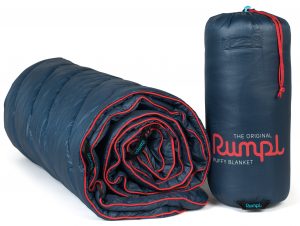 Designed to provide optimal warmth in any environment. The Original Puffy Blanket is made with the same technical materials found in premium sleeping bags and insulated puffy jackets. Utilizing a weather-resistant 20D ripstop nylon shell with DWR treatment, the blanket resists water, dirt, odor, pet hair, and other debris. The Puffy fits easily in an included stuff sack for quick storage or taking on the go.
Kleemont RollTop Waterproof Backpack Dry Bag
Wouldn't you love going on a day of outdoor trekking, planning a week-long camping trip or going on a boat and never worry about the fact that the stuff in your backpack may get wet? Then you'll probably want to try Kleemont Waterproof Backpack! The high-quality fabric with TPU coating and high-frequency welding technology makes the backpack waterproof and durable enough to keep your items dry and clean and save you from troubles under all weathers.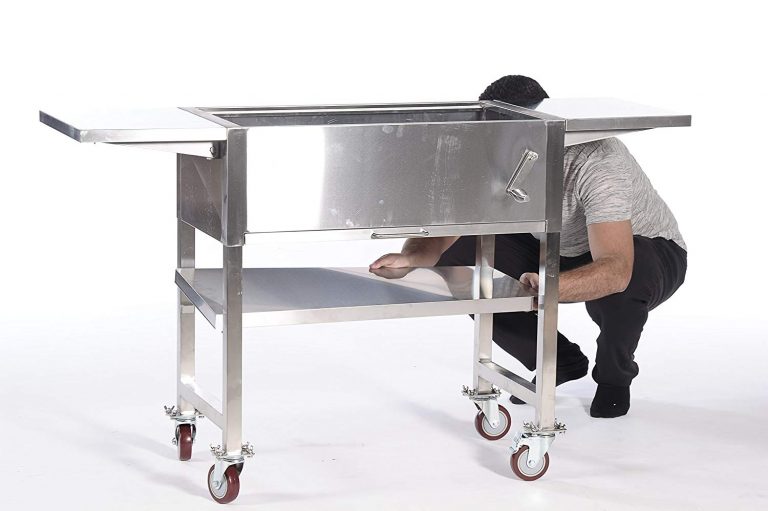 IG Charcoal BBQ is a stainless steel charcoal barbecue. This barbecue is multi-functional with a grill top that is made especially for cooking skewers. The grill also has other features such as a rotating charcoal handle for raising and lowering the heat level of the charcoal. The grill comes with a sliding ash collector tray for easy and fast cleanup. Lastly, the grill has folding side trays and easy installation.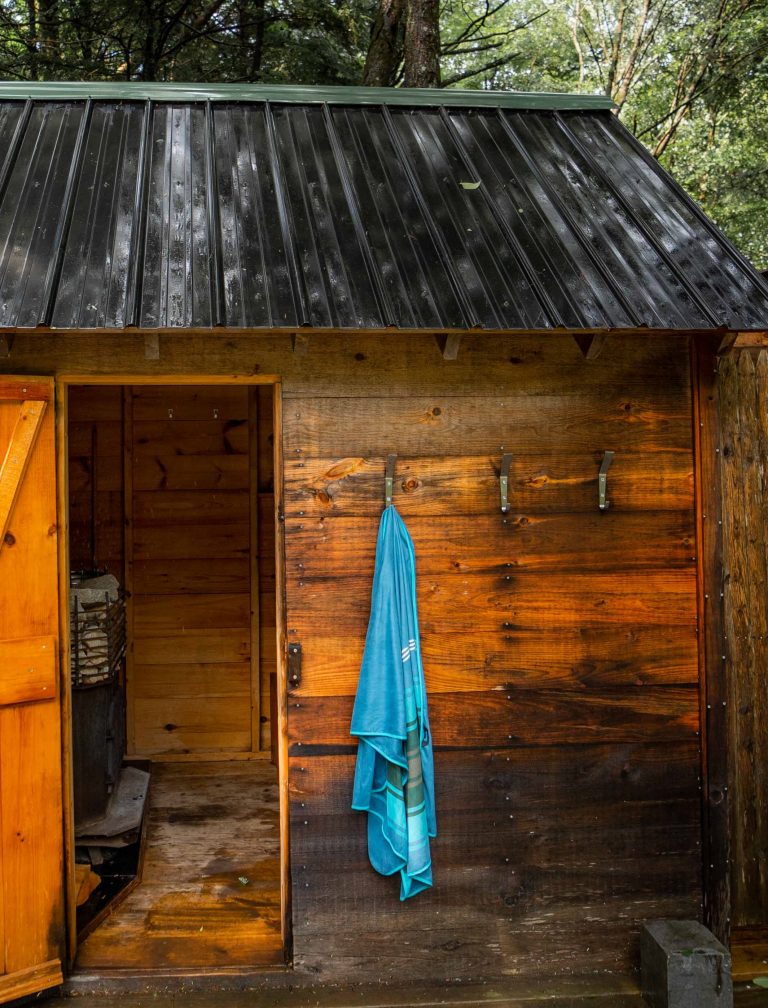 Beach, pool, shower, hot yoga, you name it – a towel is a must. It's time to upgrade your towel game with an impossibly soft towel that will absorb every last drop. Rumpl's OG Shammy Towel repels sand, pet hair, odor, and stains – keeping you fresh and, most importantly, dry.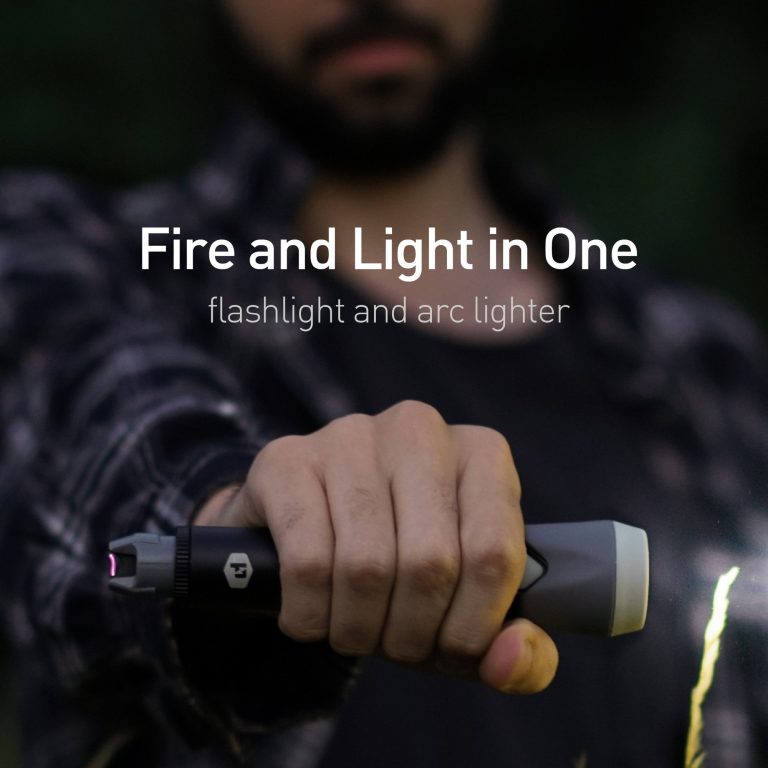 Sparkr Windproof Plasma Lighter and Flashlight
Regular ol' butane lighters are riddled with problems – they don't work well in the wind or when they're wet, and they can run out of fuel without warning. Have no fear, the Sparkr is here. Its high-intensity plasma lighter – which creates an electrical arc, rather than a flame – works in the wind, rain, and snow. The large 3,350 mAh rechargeable Li-Ion cell keeps it sparking for hundreds of uses.
DynaTrap XL Full Acre Decora Insect Trap
This one is SO COOL if you love being outside but HATE the bugs…. what a gift for your whole family!  DynaTrap® is a technology-driven, indoor/outdoor insect trap that protects against mosquitoes, biting flies, moths, wasps, and more. Unlike other bug prevention solutions, DynaTrap is uniquely chemical and pesticide-free, affordable, easy to maintain, environmentally friendly, and most importantly—effective.
When run 24/7 during mosquito season, DynaTrap brilliantly works to disrupt the mosquito life-cycle with maximum impact in 6 to 8 weeks.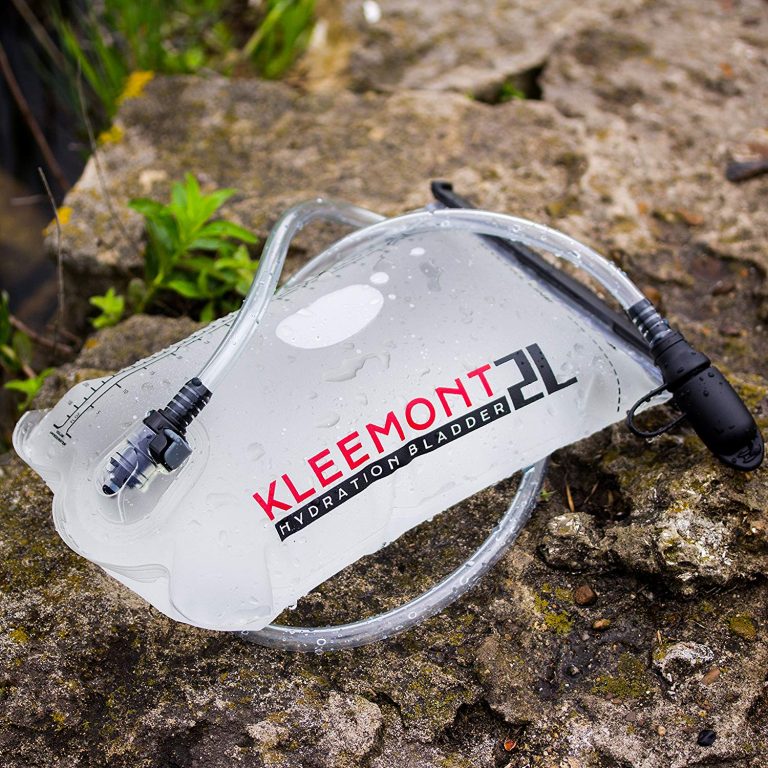 Whether your loved one is riding their bike, hiking up a mountain, hunting or simply going for a stroll at the neighborhood park, Kleemont Hydration Bladder will help them have access to clear water so they can stay hydrated for all the time!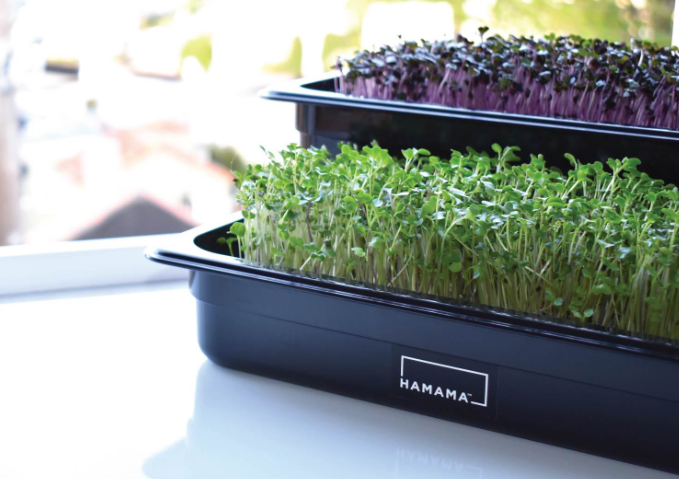 Have a green thumb? What about a black one? These are perfect for both, and exceptional for winter growing!  Microgreens and micro herbs are the seedling versions of leafy greens, vegetables, and herbs. They are a few days older than "sprouts". These kits make a great gift for avid gardeners looking for a convenient way to grow year-round. They are an amazing gift for urban apartment dwellers who want to garden indoors. The Grow Kits are also a great gift for exposing kids to gardening and trying new healthy foods.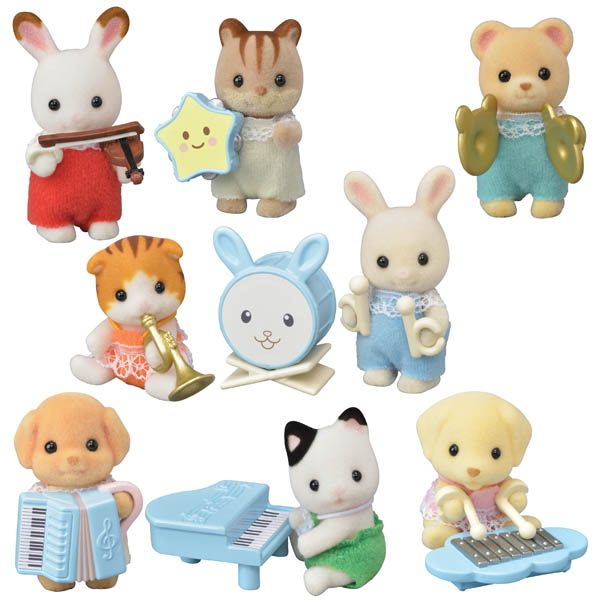 Blind bags add the element of surprise to Calico Critters play!  Hidden in each bag is a new Baby Band critter that children can add to their nursery collection. They won't know which critter is inside until they open the bag. Each bag includes a Baby critter and a uniquely designed musical instrument.  The collection includes eight new collectable babies to complete the band: Shiloh Yellow Labrador on xylophone, Daisy Maple Cat playing the Trumpet, Jason Cuddle Bear with cymbals, Henry Sweetpea Rabbit on the drums, Milo Toy Poodle with accordion, Grace Hopscotch Rabbit playing the violin, Joseph Tuxedo Cat on the piano, and last but not least, Luke Hazelnut Chipmunk playing the tambourine.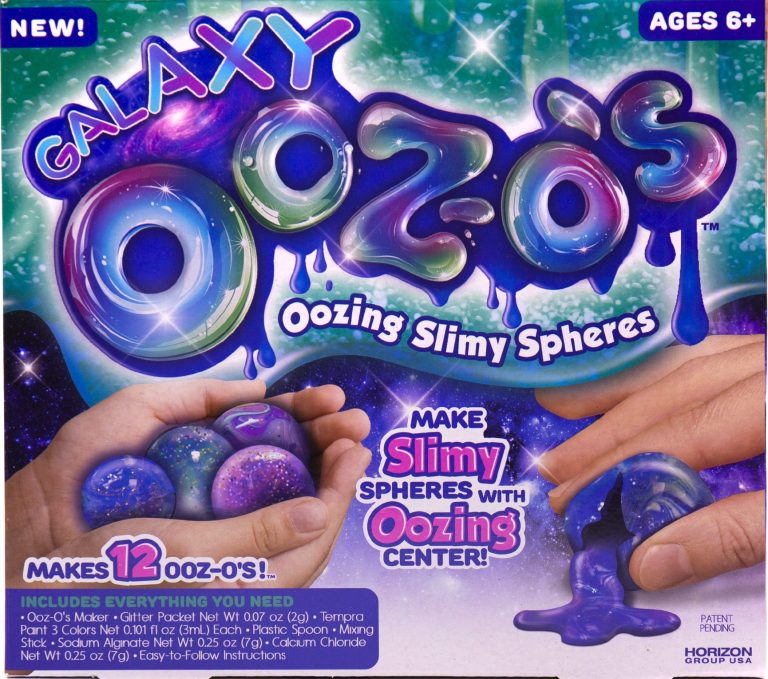 Create an out-of-this-world sensory experience with vibrant Galaxy OoZ-O's! Combine simple ingredients and watch a cool chemical reaction take place turning your vibrant paint mixture into a slimy sphere of colorful swirls using the Ooz-Os maker! Squish, squeeze and pop your slimy spheres to watch the bright and shimmery slime ooze out. Continue the cycle again and again as you collect your slime into your Ooz-O's maker. Creating Ooz-O's are a fun, hands-on way to introduce kids to chemistry and express creativity.
kittd Travel Play Set – Unplugged Activities in Travel-Ready Tins
Portable playsets – perfect for travel, restaurants, and keeping kids engaged in creative play! kittd is the brainchild of two moms who were sick of seeing their kids on electronics – so they made the antidote! There are tons of different options to choose from, and you are sure to find something your kids will love! They may not even be able to choose a favorite!
Unleash their creativity with the Creative Roots stepping stone! Mix different colors to create a custom color palette, then design and decorate your ceramic stepping stone. Display on a shelf, in an indoor plant or in an outdoor garden! Be sure to apply an exterior varnish to outside to protect your design from the elements. For decorative purposes only.
Sunski Recycled Sunglasses Collection
Sunglasses that look amazing and convey that Sunski love-of-life vibe, now made of 100% recycled plastic. Sunski's new Recycled Plastic Collection have frames that live at the intersection of style and performance and built for the radical human who's always on the move and wants a look that shifts from one environment to another as easily as they do.
7 Charming Sisters Pin Up Girl Crystal Hair Pins
Perfect Stocking Stuffer!  Set your hair in place with a pair of Pin Up Girl Hair Pins from 7 Charming Sisters. These elegant hair accessory pins are available in red, rose gold and white crystals to add fun and a little sparkle to your hairstyle. Use this pair of designer bobby pins to tuck your bangs back. The hair accessory offers a no-fuss way to braid your crown. These crystal stone hair pins are pretty embellishments, and easily hold sections of hair when styling.
Please note: The MyLitter.com team received several of the items in this list to review – to see if they were a good fit for the gift guide.  Receiving an item didn't guarantee inclusion and there are many items that were not provided for review included in this guide.