Coffee is a great pick-me-up and a staple to many people's morning routine. You drag yourself out of bed, sleepy-eyed and zombified and flip the switch to make your morning cup of joe. What do you do after brewing a cup or 10, though? Check out these 10 uses for coffee grounds to quit throwing away this useful item in your trash every morning!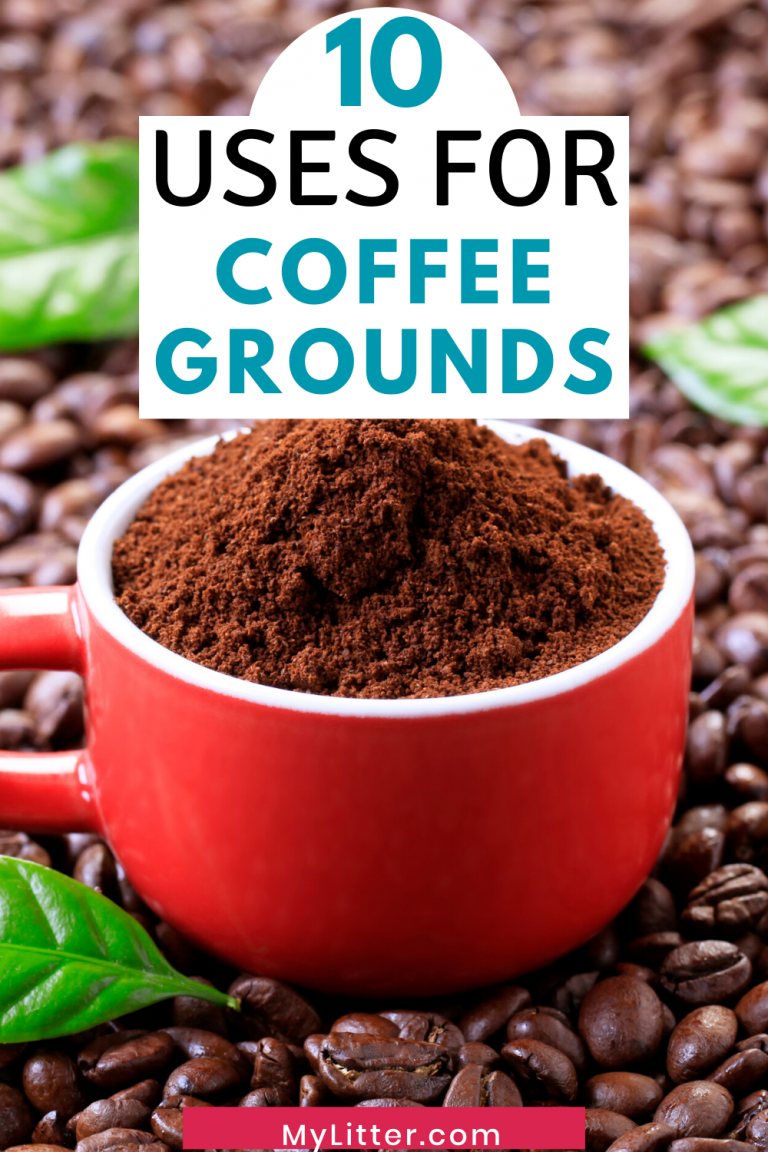 Over 150 million Americans drink coffee on the daily. While making it at home is a great way to save on your daily java fix, using those leftover coffee grounds will help you stretch that even further!
One of the most common ways to use coffee grounds is to add to your compost pile.  Don't have your own compost?  See if your city offers a composting program! Or get started at home with a small kitchen composting bin.
While many of you may add it to your compost pile, did you know there are ways to use the grounds again before you toss it there? Coffee can get pretty expensive, so why not use it for more than one thing?
10 Uses for Coffee Grounds
If you grow acid-loving plants such as roses, use the grounds in your mulch. You can sprinkle it on the ground and then apply your mulch or mix into the soil.
This might sound strange, but sprinkle used, DRY coffee grounds in your cat's litter to make it smell less offensive. Coffee grounds are also commonly used to get rid of unwanted outdoor cat urine smells as well.
If you hate that onion or garlic smell left on your hands after preparing it, keep some dry grounds in your fridge and rub them on your hands to get rid of the smell easily.
Touch up furniture scuffs with a paste made from coffee grounds and a little bit of water.
Deter ants with coffee grounds. Just sprinkle some dry grounds near where you see ants coming in and it will deter them away from that entry point.
If you have little boys, they may enjoy some play (in a contained area, of course!) with their trucks and using the coffee grounds as a replacement for dirt.
Mix grounds with shea butter or coconut oil to make a great facial or body exfoliate. Coffee grounds have actually been said to reduce cellulite as well. Double bonus!
Add an extra layer of flavor to your marinated meats. Just add a tablespoon of used grounds to your meat as it is marinating for a great flavor boost. This works especially well with beef or wild game.
Make some amazing espresso brownies by adding a tablespoon to your favorite brownie mix. For frosting, steep some used grounds to form a very strong shot of espresso. Add it to your homemade frosting for a great boost in flavor. Just make sure not to give these to the kids or you may end up with some rowdy children!
Stuck on grease? Try using used coffee grounds as an abrasive cleaner. Works well on glass baking dishes.
Don't drink coffee but want to try out some of these ideas?  Check with a local coffeeshop.  They have to pay to dispose of a lot of coffee grounds and may let you take some off their hands!
What are some of your favorite uses for coffee grounds?
More Ways to Save: