Have you seen the 52 Week Money Challenge Savings plan? It is a fun way to save a little extra money in the new year and this time in 2020 you can create an extra $1378 in a savings account.
The idea is to deposit a little money each week into a separate savings account. OR you can do an account for each of your children, this will help get them saving too!
There are 3 ways you can do this: 
1. The basic 52-week money challenge – On week 1, you save $1. On week 2, you save $2. On week 3 save $3 and so on. When you end on week 52, you will have saved a total of $1378! Try to deposit your money on the same day every week to make it easier for yourself. Can you set up a direct deposit each week? My bank will let me and I just scheduled mine out for the entire year!
2. The backward plan – If you are broke during the holiday season and can't imagine the biggest chunk coming out during November and December, start backwards! The first week of January you will be depositing $52 and so on.
3. The BIG TIME Saver – Have some extra money but have a hard time saving it? Try doing this same idea DAILY. That means each day you deposit the same amount of money as the date of the day. For example, Jan. 1st you deposit $1, Jan. 15th it is $15 and the 20th $20 and so on. At the end of the year, you will have close to $6000!!
There are so many ways to save a little extra money that can really add up! Remember Paul's Walmart savings plan? He rounds up his totals and adds the money to a gift card every time he buys something at Walmart. Hey! It works!
You can print off a 52-week challenge HERE to get you started!
You may also enjoy:
The Total Money Makeover: Classic Edition: A Proven Plan for Financial Fitness By Dave Ramsey

Design a sure-fire plan for paying off all debt—meaning cars, houses, everything
Recognize the 10 most dangerous money myths
Secure a big, fat nest egg for emergencies and retirement
Blue Starter Envelope System: Financial Peace University
The Starter Envelope System has all the tools that you need to begin Dave's proven, easy-to-use cash management system. Try this simple way to manage your household income and expenses and avoid spending more than you earn!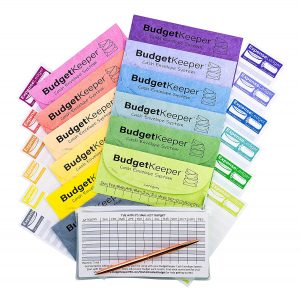 Cash Envelope System-Budget Envelopes-Saving Money by Budget Keeper-12 Pack
12 Assorted Tear Resistant Cash Envelopes


Water Resistant Material

Also includes, 12  Assorted expense Ledgers zipper case and metallic twist pen