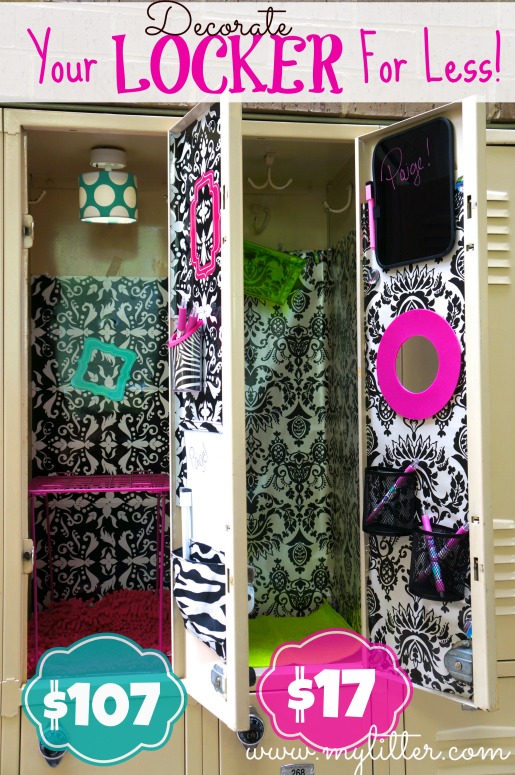 Just thought I'd repost this again for those of you who like to plan ahead!
Do you have a tween or teen in school with a locker – or one who's going to be gaining a locker starting this school year? Have you wanted to know how to decorate a school locker for less seeing all the crazy ways kids are decorating lockers now days?!
My older girls have decorated lockers for a few years. The first year I about had a heart attack and said, "no way!" and had them figure out how to do it for less!
You can see a news segment my daughter and I did for ABC 13 in Houston last year on saving money on lockers HERE.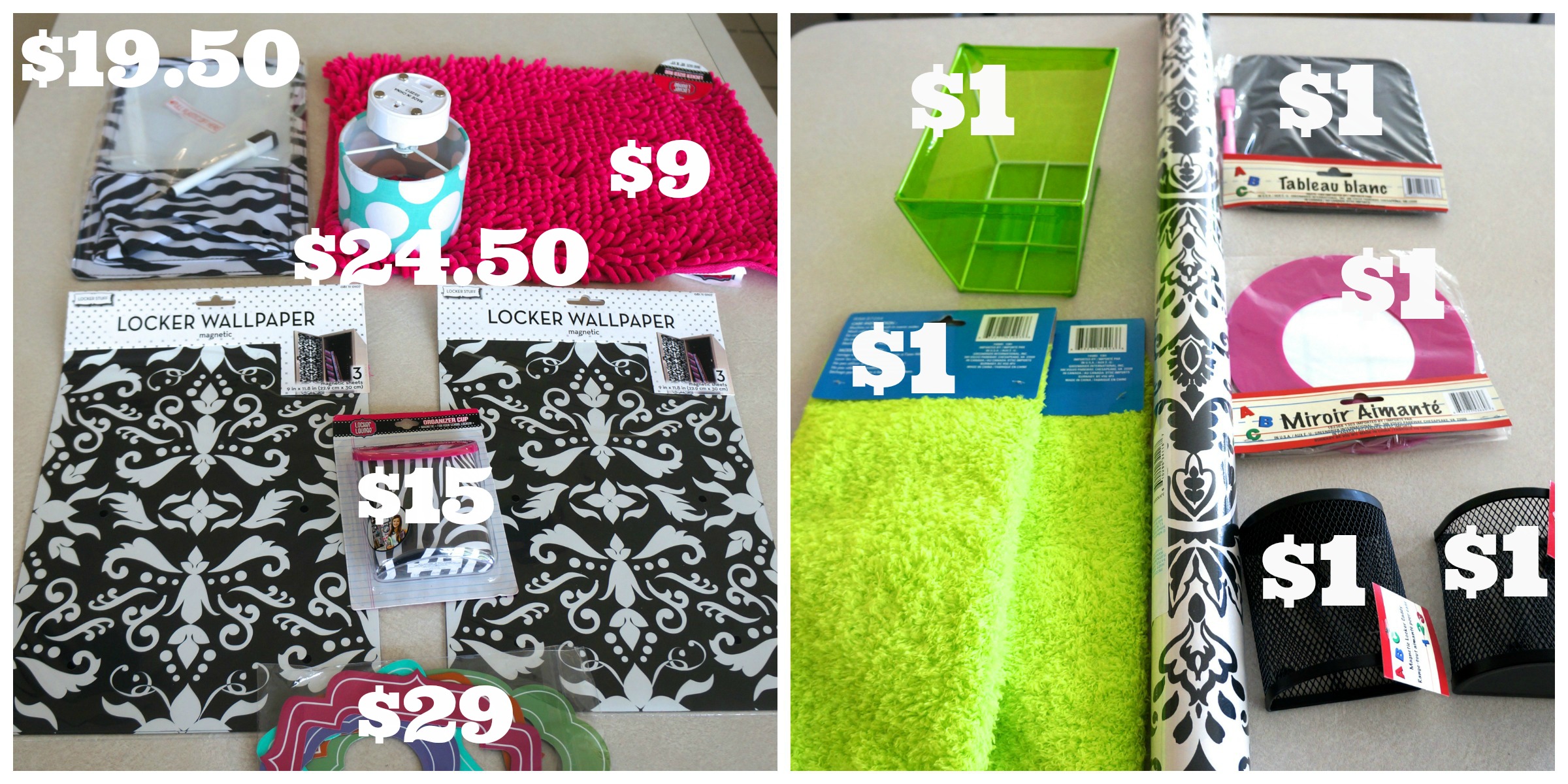 For the expensive lockers: 
Wallpaper Sheets – Target for $15 for 3 sheets ( it will take 6 sheets to 1/2 way do a locker)
Black Zebra Locker White Board – PBTeen $19.50
Mini Photo Frames – PBTeen $29
Locker Carpet – Walmart $9
Locker Shelf – Walmart $5
Locker Lamp – PBTeen – $24.50
For the budget locker: 
Roll of Wrapping paper – Dollar Tree $1
Basket – Dollar Tree $1
Locker magnetic baskets – Dollar Tree $1
Magnets for the wallpaper – Dollar Tree $1
Locker Shelf – Walmart (not shown in picture) $5 (prices will get lower the closer we get to school time)
Locker Mirror – Dollar Tree $1
Locker Black Board – Dollar Tree $1
Microfiber cloth used as locker carpet – Dollar Tree $1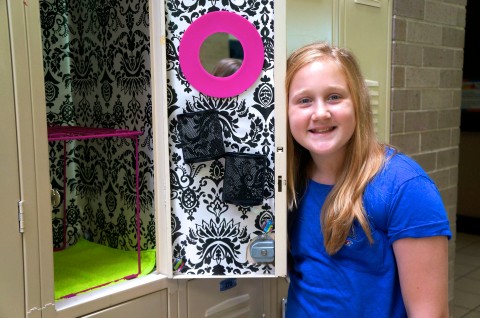 Paige honestly could not tell the difference between the high end locker and the budget locker. According to Paige, either would have been just as cool at school!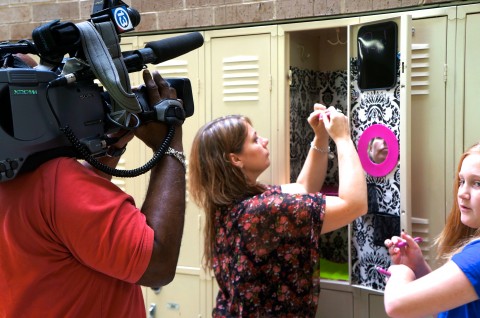 One thing that we did not have time for in the video segment was to laminate the wrapping paper. In the past for the girls I have taken the wrapping to a school supply store and paid a few dollars to laminate it so that it held up better through the school year.
:: Locker on a budget $17::
We use magnets to attach the wrapping paper to the locker walls. You can use tape but Paige has told me horror stories of trying to get it off at the end of school. Magnets worked well for us last year.
This locker also had a locker shelf in it that you can find at Walmart for $5.
For Paige the most important thing to have in her locker was a mirror, shelf, and the magnetic containers on the wall to hold pens and pencils.
:: High End Locker $107::
The wallpaper sheets in the high end locker came from Target. They are really nice and easy to work with, but we used 2 packages ($15 each) on this locker and you can see we needed even more.
The thing that FREAKED me out the most was $29 for the magnetic frames. ARE YOU CRAZY!?
The other tip from Paige is that she thinks the locker lights and locker chandeliers are cute and had one last year. But it only lasted a few days. See they block the hook at the top of the locker where the kids hang their backpacks and it was a hassle to try and maneuver around the lamp and she took it down (along with all her friends) after a few days.
In conclusion, you are more then welcome to spend $100 on your kids locker for school. But acording to the kids we interviewed, they couldn't tell a difference between items from Pottery Barn and ones from Dollar Tree!
Plus, as we were doing the segment a teacher walked by and asked about the shoot. I explained to her what we were doing and she told us that at the end of the year they line up trash cans all along the hall for kids to clean out their lockers and place trash in. After school was done and the kids were gone, the teachers would pull out all the HIGH END nice locker decorations that all the kids just THREW AWAY!
They use them in their classrooms and save them for kids next year who can't afford to decorate at all. I almost cried. But the teacher said NO WAY would she spend more then $20 on a locker as she watches the kids just toss it all when school is out!
Do your kids decorate lockers? What so they ask for? What do you spend??