Today marks one month since Emma passed away. It is only getting harder. Every day the pain is getting deeper and deeper as the shock and disbelief of what happened wears off. I have wanted to write about what is happening and what my family and I are feeling and doing but so far it just has been to hard. At some point though I know I will as writing it out helps a little, even if it is just for a few minutes.
You can read my original post here if you need to get caught up.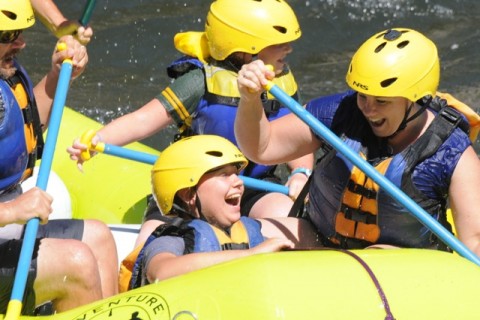 Emma and I rafting this summer in California
I have quickly realized that people are scared of you when something like this happens. They are scared to approach you or talk to you mostly in fear of saying the wrong thing or making you sad by asking about it. Please know that is actually worse by not saying anything at all. Because that leaves us wondering if you even know, if we should tell you, or if you just don't care.
We WANT to talk about Emma. We want to think about her. We want to hear your memories of her. Yes, there are some things that you can say that hurt and are insensitive, but speaking for my family we know that it is coming from a good place and you are not trying to hurt anyone, we are just glad you reached out.
Emma at the ballpark
I want to tell you about Emma today. I want to tell you how amazing she was, how kind, generous and gentle. I want to tell you how fierce she was for a little girl and how she never backed down.
Emma was born on a Thursday night. Back in 2000 you might remember that Thursday nights were a big deal on TV with Friends and ER. I had her right in the middle of "Must See TV." Her labor was very hard. I had her at a birth center with a midwife and no drugs. The contractions for hours were back to back with no space in-between for me to rest. After she was born my midwife who had been delivering babies for 20 years said it was the hardest delivery she had ever seen. Emma was perfect and tiny and so very beautiful. She was dark complected and had the thickest dark hair and long eyelashes with the biggest cheeks.
Out of my 7 babies she was actually the most "difficult" baby and toddler. She never, ever, ever slept. Like, NEVER slept. I was exhausted for 2 solid years until she slept through the night for the first time a week before her little sister was born. She was so tiny. People were always guessing she was 12 months old when she was really 24. I nursed her right up until her sister was born, they are 20 months apart.
Emma playing with Paul in the pool
Emma started walking on January 1, 2001, she was 8 months old. She quickly began running soon after that and never stopped. It was always shocking for people to see her running down the hall at church, being so tiny they didn't even think she could walk.
Emma was a natural athlete from day one. She had a spark inside her that made her quick and tough. She just got how to be a competitor, it was natural for her. I would tell people all the time just how fun it was watching her play. I loved to see her run the bases and steal home. I hated her playing in high school because many of the games you could not go to when they traveled, or I wasn't able to go because I needed to be home to get the other kids.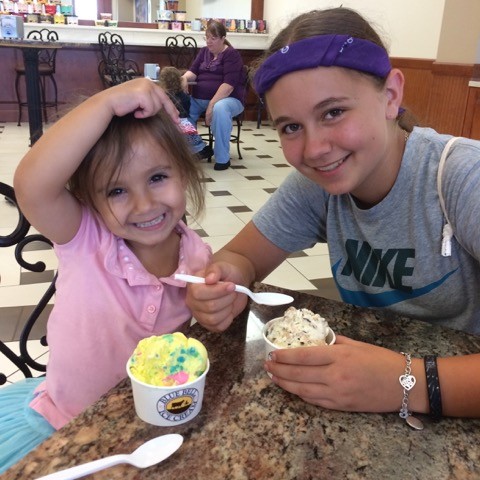 Emma and Andie at Bluebell
Although Emma was small, she was fierce. She never backed down when a bigger girl would come barreling down the third base line right into her as a catcher. She stood her ground. In basketball I have a fond memory of a larger girl bullying Emma's teammates from the time the game started until she tried to tackle Emma and take the ball away. Emma would have none of it and went complete "spider monkey" on this girl, taking the ball back and willing to get into a fight on the court with a MUCH larger girl over the ball. I was ridiculously proud of her.
As a sports parent I am pretty reserved in the stands. I don't yell much and try to be positive. One game Emma wasn't getting to play much and I was frustrated. The coach put her at the back of the line up although she was a good hitter. Emma always hit the best with 2 strikes on her which stressed me out like crazy, but she had a cool and calm head on her and wouldn't get rattled. This game was super close and very intense. They were down by 2, last inning, and Emma was up with 2 strikes much to the coaches dismay. He had given the game up. Last pitch and Emma hit the ball solid to the left field fence. I literally threw my camera and little kid off my lap, jumped off the bleachers and was climbing the fence like a crazy woman behind home plate screaming "RUN, EMMA, RUNNNNN." She hit a home run, brought 2 other girls in and slid into home plate as they tried to tag her out. It was the most beautiful sporting moment I had ever seen. I sat there crying tears of relief and because of how proud I was of her. I didn't even care I had made a total fool of myself.
Paige and Emma on our girls trip to Baltimore
Emma was so kind, she didn't have a mean bone in her body, and she loved to play cards. The kids have spent hundreds of hours playing cards at my kitchen table. She taught everyone how to play, she loved playing and teaching the little kids most. At her viewing we had kids who we had never met before come up to us and tell us Emma had taught them to play cards. One boy made his Mom take him to the viewing because Emma was one of the only people who he felt like was his friend. She had taught him to play a few card games and would sit quietly with him in class playing cards. It meant so much to him to have someone to sit with in class. Emma never told us about doing any of these things, she never wanted any attention, she just always did the right thing. She was kind. She did it for the right reason and not for a pat on the back. That is a the BEST kind of person.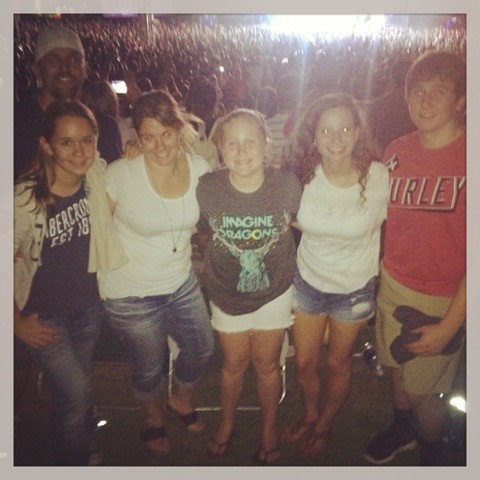 Imagine Dragons concert 
Emma was a natural Mother. She was so at ease with little kids and loved them so much. She couldn't wait to get home from school to take her little brothers and sisters for bike rides. She would often have her friends drop her off at the little kids school so she could walk them home. I would tell people all the time "I could disappear and no one would notice for weeks because Emma could run everything so well."
Emma babysat to earn money so she could spend it on her siblings. She often rode bikes to the mall with them and bought them things. On the weekends she would ride with them to get groceries from the store to make pancakes and to the candy house to buy them a treat. When my husband went to California to get her, in her wallet he found over $200. He commented to our daughter Paige about how much money Emma had and Paige told us why… Emma had been saving money for the little kids to buy them souvenirs for a trip we had planned to Orlando. She never thought of herself. The last thing she did for her big brother was give him $50 to spend in China on a trip to see his Grandpa.
Emma was the best kind of person there is. We needed her here with us.
I am finding that as each day goes by it gets harder and the pain deeper. There is a black hole that I feel like I am fading away into and I really don't care, I miss her so much. All I want to do is see Emma again, to hold her, tell her how much I love her and how sorry I am that this happened to her. The thought of waking up each day for my lifetime feeling this way and missing her makes you feel completely hopeless. Please remember my husband and kids in your prayers.