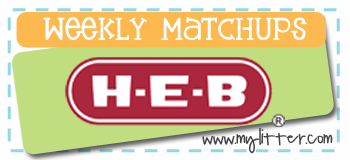 HEB is a Texas based grocery store with low prices!
You can check out the HEB coupon policy HERE.
HEB also had a lot of yellow in store coupons.
If you are not sure what they are and how to use them read my post HERE.
These are the TOP deals for the week, not the entire matchup.
Make sure to click the links at the bottom for all the deals!
::TOP DEALS::
H-E-B Breakfast Bread, 20 oz – Buy H-E-B Breakfast Bread, 20 oz; Get FREE H-E-B Texas Peanut Butter, 18 oz
With In Store Coupon
H-E-B Corn Tortillas, 36 ct – $0.98
With In Store CouponIncludes: Yellow or White
Hill Country Fare Pastries, 6 – 8 ct – $1.00
Includes: Select varieties
Condiments, Spice & Baking
4C Bread Crumbs, 8 – 15 oz – $0.83
With In Store CouponExcludes: Gluten Free
Whataburger Ketchup, 40 oz – Buy Whataburger Ketchup, 40 oz; Get FREE Whataburger Sandwich Sauce or Mayo, 14 – 18 oz.
With In Store CouponIncludes: Fancy Or Spicy
Hot Pockets Value Pack, 12 ct – Buy Hot Pockets Value Pack, 12 ct; Get FREE Sara Lee Regular Cheesecake, 17 – 19 oz
With In Store Coupon
Jimmy Dean Breakfast Sandwiches, Frittatas, or Stuffed Hash Browns, 4 – 6 ct – Buy Jimmy Dean Breakfast Sandwiches, Frittatas, or Stuffed Hash Browns, 4 – 6 ct; Get FREE State Fair Corn Dogs, 5 – 6 ct OR Mini Corn Dogs, 14 – 16 ct
With In Store Coupon
Nathan's Franks, 11 – 32 oz – Buy Nathan's Franks, 11 – 32 oz; Get FREE Pepsi, 2 L
With In Store Coupon
Blackberries, 6 oz – $0.77
Pillsbury Grands! Biscuits, 5 ct – $1.00 – Mix & Match; 5/$5.00
Must Buy 5; With In Store CouponIncludes: Select varieties